Teheran, Braves lose 5-4 to White Sox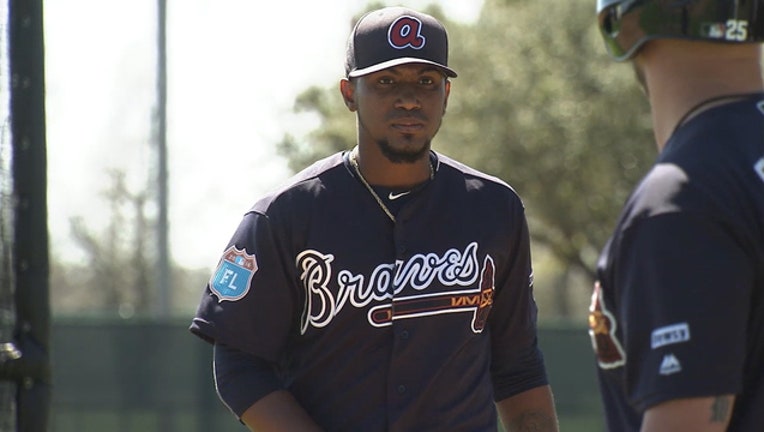 article
CHICAGO (AP) — Julio Teheran approached the start just like any other game, even though he was pitching against his friend Jose Quintana in the majors' first all-Colombian pitching matchup.
Teheran returned to the mound after missing his last start with an infection in his right thigh and pitched six innings in Atlanta's 5-4 loss to the Chicago White Sox on Saturday.
Quintana won his second straight start despite giving up home runs to Gordon Beckham, Jeff Francoeur and Freddie Freeman in six innings.
"We're pretty close," Teheran said. "Sometimes in the offseason we get to work together. It was exciting to be able to pitch against him. I was excited, but I was thinking it was like a regular game."
Teheran (3-8) allowed five runs and nine hits. After the All-Star gave up three runs in the third, he faced the minimum over his final three innings.
"I felt strong," he said. "When you give up five runs in the first three innings, you're expecting to finish strong, and that's what I was able to do. I made one mistake on the homer, and the other three runs, they hit pretty good pitches."
Chicago third baseman Todd Frazier, who will go for his second straight Home Run Derby title Monday, hit a two-run shot in the second for his 25th homer. He also had an RBI double in the third.
Quintana (7-8) allowed four runs and five hits. He struck out five and walked one.
A Colombian flag hung outside a suite down the left field line to celebrate the pitching matchup. Quintana and Teheran were born about 25 miles apart in the northern department of Bolivar.
"I felt excited for that," Quintana said. "Teheran is my friend, and we have a good relationship. I enjoyed this game."
Teheran missed his last start Wednesday against the Phillies due to an infection from an ingrown hair.
"The kid's been hooked up to all the antibiotics and being stuck all week," Braves interim manager Brian Snitker said. "So I thought he did a great job getting through six."
Jose Abreu and Melky Cabrera hit consecutive RBI singles in the third, helping the White Sox rebound from a loss to the last-place Braves in the series opener.
Atlanta had chances in the last two innings.
Zach Duke replaced Quintana and got four straight outs. Chase d'Arnaud then doubled off Matt Albers. After a groundout, the White Sox walked Freeman intentionally.
Nate Jones then struck out Nick Markakis, who had hit three homers in two games.
With closer David Robertson (upper left leg strain) unavailable, Jones came out for the ninth and allowed one-out singles to Adonis Garcia and A.J. Pierzynski. After a wild pitch put runners on second and third, Jones struck out Erick Aybar before walking ninth-place hitter Ender Inciarte intentionally to load the bases.
Jones then retired d'Arnaud on a grounder to third on the first pitch.
"We had some good at-bats again today, just kept coming back at them, gave ourselves a good chance," Snitker said. "We had the go-ahead run at second base. Just a hit away."
TRAINER'S ROOM
Braves: C Tyler Flowers is day to day after he left with a left hand injury in the second inning. He is expected to be re-evaluated Monday in Atlanta. "I had a checked swing my first at-bat and felt something not good, just really uncomfortable, painful right there after," Flowers said. A.J. Pierzynski, a member of Chicago's 2005 World Series-winning team, replaced him and was greeted with a standing ovation. "At least one of the former White Sox got applause instead of boos," Flowers, another former White Sox catcher, joked. "That was nice to hear."
White Sox: LHP Carlos Rodon wore a brace and was sheepish after spraining his left wrist when he slipped on the dugout steps before Friday night's game. Rodon was placed on the disabled list and replaced by RHP Tommy Kahnle from Triple-A Charlotte.
NO HELP NEEDED
Freeman pulled off unassisted double play in the fifth. He fielded Cabrera's one-out grounder and stepped on first, then chased down Adam Eaton, who stopped halfway to second to get in a rundown.
UP NEXT
White Sox RHP James Shields (4-9, 5.67 ERA) seeks his third straight victory in the series finale Sunday against Braves RHP and Minooka, Illinois, product Mike Foltynewicz (2-3, 4.29 ERA).