Smart: 'A lot is at stake' in UGA-Kentucky match-up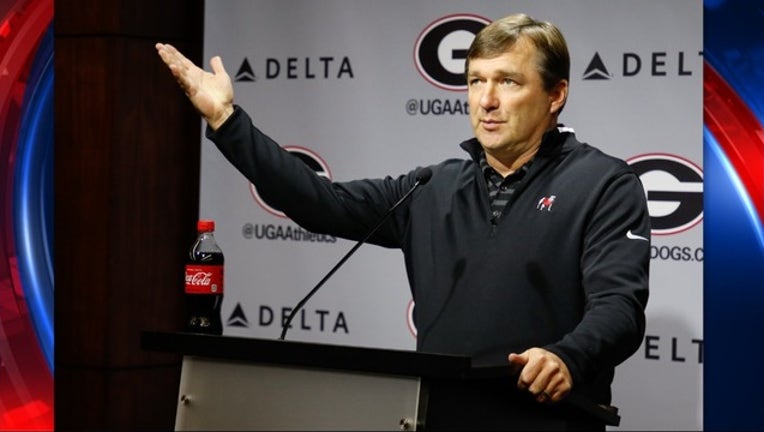 article
ATHENS, Ga. - Georgia head football coach Kirby Smart called Kentucky a really good and very physical football team Monday, in advance of Saturday's big game in Lexington.
A win by #6 Georgia will clinch its second straight S.E.C. East title, while a win by #11 Kentucky will put the Wildcats in the driver's seat for their 1st division title.
Following are comments by Coach Smart and selected Georgia players, at Monday's weekly news conference in Athens.
Head Coach Kirby Smart
Opening comments … 
"We're excited about this game. Obviously there's a lot is at stake. I think our kids and players understand that. I got a lot of respect for Mark (Stoops) and the job he's done. I think it's really remarkable, and it shows the patience of an athletic department to stick with a guy who I think is one of the best coaches in all of college football. He's now put his roster together. He's got a senior class that's really incredible across the SEC.
When you talk to the other coaches, which we all talk to each other week to week, everybody talks about Kentucky's group of seniors. They've got either 12 or 13 starters, however you want to look at it, which is the most starters of any team in the SEC. Their whole defense, I think it's seven or eight defensive players, seems like they've been playing for four years. You look back at the tape two years ago when we were up there playing, all those guys are still there. They're really good football players. Their back end and linebackers, their defensive coordinator, Coach (Matt) House, is doing an incredible job.
They've got a really good football program, a very physical football program, one that in the last two years each time we played them our players said, "That was one of the most physical games we had to play, Coach." They are tough and they are physical.
So they do a tremendous job, and we've got a lot of improving to do to be able to complement and to match up with these guys because they have a really good football team. And we're excited for the opportunity to go up there and play."
On what Kentucky does well defensively … 
"They play complementary defense. They're on the same page at all times. You don't see busts. They understand where each guy is. They leverage the ball well. They tackle well. They're extremely long in the secondary. They've got 6'2, 6'3 corners that are good tacklers. They have good safeties. They have big men up front, which is built for the kind of defense they play, and they've obviously got one of the best pass rushers in the country. So, they do a tremendous job of playing team defense. They're very organized, disciplined. They know the game plan; they know what they're going to take away and they do it. It's a credit to what they've built, because when you build on the long-term and you have this many seniors in a group, any defense I've coached or any team that I've been involved in coaching that has this many seniors is usually pretty successful, because they've played in our conference. Everybody wants to talk, how many stars do they have, how many great recruits do they have. How many games have these guys played? Pretty successful when you play that many games."
On his concerns over short-yardage situations on offense … 
"The first thing I would say is we hadn't been real good on short yardage defense either. When you look at it, 3rd and 1s haven't been our flavor on either side of the ball and haven't been as successful as we would like to be. I think it comes with a combination of things. Sometimes it may be putting too much on one player, asking them to do too much. Some of it is execution. At times we've had some really good play calls that we didn't execute, and then other times it's on play design and play call that we didn't do a good job as coaches. I think a combination of those things you have to improve on. Third and short is what you should want to be in from an offensive perspective. Not defensively, but we gotta do a better job executing in those. And some games we've gone in with a game plan that we've converted all those. Then other games we haven't, and we didn't do a good job of that against Florida, and we gotta improve it."
On his celebration in the locker room after the Florida game … 
"I don't know. Go by the moment. I wouldn't say that was unique. That was just your first time getting to see the inside. That's not unique to me in the locker room with the players. I certainly enjoy and treasure the opportunity to celebrate with our guys, and they needed that, and I need it. So players enjoyed it, and on to the next one."
On what kind of motivation he uses for his team … 
"I don't know that you have to use it. Players get it. They know what's at stake. I don't know that you have to build that up. This game is exactly what it is. It's an opportunity to earn the right to win your division. And they have a great program, we have a great program. It's at their place. It's going to be a great atmosphere. I don't know. We really build this program on being neutral and understanding that every game is just as important as the other, because if the other games weren't important, we wouldn't be in this position in this game. And they just get bigger and bigger from here. So that's the way we look at it."
On Kentucky LB Josh Allen … 
"He's faster. He's bigger. He can strike, play the run. He can drop, play and coverage. They move him around. They do a great job using him. He's the total package. He's not one-dimensional. He can do a lot of things. He's very disruptive. You gotta know where he is at all times. He's what you want when you design a three-four defense. He's your prototype guy, and he has been disruptive to everyone in this conference, and everybody you talk to talk about how good a player he is."
On making improvements to the run defense…
"You know, it's tough in the midst of a season to just magically get better. We try to do it through fundamentals, technique, individual block destruction, demeanor, and attitude. But you can't go out and replace players. We have what we have. We'd love to have some more depth at those positions, but we don't. And we have to do a better of job of helping the guys we have to be successful, whether that be by scheme or that be by effort or fundamentals. And at the end of the day you have to block protect and you have to tackle. It's hard to say, well, we're going to just change all that in one week and get better.

We're just going to keep working at it. That's all we know how to do, and there are no magical defenses that we can call that say, this defense stops every run. It's not. You have to physically whip a man in front of you, get off a block and go make the tackle. They do a really good job of blocking you, and they have one of the premier guys in the country toting the ball, who's probably the best I've ever seen with his vision. I mean, he never misses a hole. He sets his blockers up, and he does not want to be tackled. You have to go in with a willingness to be more physical than him. To answer your question, it's not going to be easy. We have to do a good job of playing with a little better demeanor."
 
On the injury update of the offensive line and other players…
"I think we're pretty clean across the board on the offensive line. All of those guys are fine. They'll be practicing. Kendall (Baker) will be back. Solomon (Kindley) is fine. Andrew (Thomas) is fine. He continues with that ankle, but he went back and played. He'll be out there today. Ben (Cleveland) is going to get some work this week. We don't know if he'll be cleared yet or not. We don't know if he'll play yet or not, but he's going to try to go out and do some practice stuff. David (Marshall), I don't know yet still. I think that's everybody."
On playing a team with resiliency like Kentucky has shown this season…
"(Kentucky is a) very senior-laden team. They believe. They have a good coaching staff. They have a good group of young men that fight. I mean when you have a defense that plays like they do, they're in every game. And their offense matches it perfect because they grind you to a nub. They're just extremely physical. They play a lot of offensive linemen. They have a quarterback that can run as good as most receivers in our conference. They're hard to defend. And they're very talented when you look at it across the board, and you see why they've been successful."
On the complication of the run defense when facing a quarterback like Terry Wilson that can run with the addition of Benny Snell…
"It makes you have to tackle people. You have to tackle people in space. You have to be good tacklers. You have to get a lot of people to the ball. And you have to strike and get off blocks, because you don't unblock people. You don't just all of a sudden say, well, we're going to call this and he's not going to be blocked. Everybody's going to have a blocker on them. Somebody has to get off a block. And this is not for the faint of heart. This is not going to be for the lack of physicality. This is going to be for people that want to hit people and people that want to strike people because that's the kind of team they have."
On if he learned anything about his team after the Florida game…
"You know, I don't feel that way. I feel like that we see so much of these guys in practice where we give them adverse situations, which we had in the game. We give them ups and downs. There's momentum swings in every game, and there are momentum swings in that. I always thought our guys would respond and fight. I was proud of the way they kept fighting, because we had some situations that we didn't get what we needed to get out of, whether it was the goal line situation, whether it was the opening drive of the second half, defense, whatever it was, they responded well and they kept fighting and kept grinding. That's the kind of group this is. They'll fight you, and they'll fight hard. We just have to fight smarter."
On if he and his staff keep track of yardage after contact…
"Yeah, we do. I don't know exactly what they are, but (assistant head coach) Dell (McGee) gives them a report each week – calls them Dawg yards. That's a big deal to us is yardage after contact. And (Elijah)Holyfield and (D'Andre) Swift have both done a good job of that and will continue to. I was proud of Swift. He had some runs, some explosive runs and opened some things up and seems to be getting back on track again."
On how additional playing time has benefited the offensive line, specifically Cade Mays and Trey Hill…
"I think it's really helped all the time they've got leading up to this. We had to plug guys in plug-and-play; it seems like every game the offensive line is a little bit of a merry-go-round. But it's that way every day in practice. You guys don't get to see the practice, but they just do that all the time.
For you all it may be 'Oh, that guy's at that position.' For us, we have a period where he does this position, that position. We just kind of share time so that they're comfortable going into the heat of the battle. And I think (offensive line coach) Sam (Pittman) does a really good job of putting guys in spots in practice where they have to block really good players defensively so when they get in the game they're not overwhelmed by having to match up on a really good pass rusher."
On leaving the past behind and moving forward as a core principle of the Georgia program…
"It's important to life. Our guys are trying to learn. I mean, classes. They get a bad grade, they have to put it behind him. That's life, you guys have dealt with it. We deal with it as coaches all the time. You get setbacks. You get setbacks maybe with your family. You have to deal with that kind of thing, and that's what's great about our sport, is that we're going to have to deal with things that happen that we don't like or we don't do well, and it's not really what happened. It's how you respond. And we tell our guys that all the time. You have to respond the right way. And we have to respond the right way this week because we didn't play our best game last week, and we're going to play a really good football team this week. So we have to execute and do better."
On concerns with the inability to convert short yardage plays..
"Some of the field goals were because we didn't convert short yardages. We had to kick field goals because we didn't convert short yardages. I think the biggest thing that stuck out – and I'm through with that game – but that we did convert third downs to get us there, and three of the touchdowns I think were on third downs. So those were huge conversions, but they were long yardages. We worked really hard on third-and-long a couple weeks ago and we got a little better at it. You know what I mean? Now we're not converting on third-and-short, so we just have to do a good job of working on it all and have to have a good plan and help our players."
On the response to the questions regarding co-offensive coordinator Jim Chaney's play calling…
"I don't respond to it. It's people's choice, people's decision. That stuff doesn't bother us as coaches. We live in that world. So it's part of being who we are. You're going to be open to criticism everything you do, just like I am, just like (defensive coordinator) Mel (Tucker) is. It's part of life. I don't really need to respond to criticism of our coaches."
On the effect of Jake Fromm's performance at Florida on the rest of the season…
"We like to build momentum, but momentum is based on your behavior. It's not based on something that happened. The next event will be determined by our behavior, not by something that happened in the past. And I think Jake acknowledges that. He'll continue to work hard, get better, try to build momentum off of what he did and how he played. And I think he'll be the first to admit that he still could have played better, and we're always looking to get better as a team, and you hope that he uses that to build on, and hopefully that confidence builds up for him."
On junior DB Tyrique McGhee's foot injury and its effect on his season…
"The foot injury probably cut back his reps and his volume. We had to be smart because we can't give him -- we cut down his yardages in practice. We looked last year at what he did and what he did this year, we cut down some of that, but it probably hasn't cut down his playing time because he's a good nickel star, good role player there and does a good job. But he probably wouldn't be playing at corner. He probably wouldn't be playing at safety. But he's at the position he plays. He just doesn't take as many reps in practice."
On what has led to the success of sophomore WR Jeremiah Holloman…
"Everything has been gradual improvement. He had some good games early in the year, if you all remember. He had some really good games, and I think everybody just thinks that if you have a good game here, then you're definitely going to have a good game here. A lot of things are dictated by when we call the play, what is the coverage, what is the defense doing, what hash is it on, things that people don't think about. That determines who gets the ball, and it's not like you can just go out there and say, we're throwing J.J. the ball, he's hot; we're throwing (junior WR) Riley (Ridley) the ball, he's hot. It's dictated by what coverage they play, what defense they play, what hash we're on. There's so many multiples, that you can't control where the ball may end up.
What J.J. has done is just grind it. And J.J. is the epitome of if you work hard, good things will happen to you. So he blocks consistently, because he controls his blocking. He doesn't control where the ball is thrown, but he controls his blocking. He controls how he practices, because you control that. So the things that you can control you try to control, and J.J. does a great job of that."
On if wildcat is still part of the offensive package…
"We'll say that's classified."
On Rodrigo Blankenship's glasses and his previous performance against Kentucky two years ago…
"I don't understand eyesight, but I don't see how those could help anybody see. I don't really understand. I've never really tried anybody's glasses on. I guess the harder it is for me to see with them on, then maybe the worse off and he needs them. But I know one thing, he sees that ball on the ground, and he gets his toe on the leather real well. So they must work for him. But he did a great job in that game two years ago, and I think that certainly gave him the confidence, gave us the confidence in him that he was a pressure player and enjoyed the moment and did a good job of that."
#18 Isaac Nauta | Jr. | TE 
On everything at stake in this weekend's game and how you use that for motivation… 
"Obviously, it is a huge game, you know we are playing for a chance to go to Atlanta. I would say that is all the motivation that we need for this weekend's game." 
On playing a defense that hasn't allowed more than 20 points in a game all year… 
"They have gotten better every year that we have played them, so what they have done this year is no surprise to me. Lexington was a tough place to play in my freshman year. I think we only won that one by a field goal. It is a tough place to play, they have a really good team with a lot of good players so it is going to be a big game this weekend." 
On some teams being more physical than others and if we should expect a physical game this weekend… 
"I would think so. Just by looking at the way they run the ball and watching them on tape, they are a physical team like Coach Smart said. But that is just something that we are going to have to match and we are going to have to play more physical than them. We will try to get after them that way, but they are definitely a physical football team." 
On what you know about Josh Allen… 
"I know he is up there in sacks in the country. He is a big and athletic guy who is going to be a challenge for us. We are going to have to hold up in pass protection against him." 
On how dangerous it is to play a team that refuses to lose… 
"It is going to be a four quarter game because that is the kind of team they are. The good thing for us is we have been a good second half team this year, doing well finishing in that regard. I think that is an advantage for us. They are a great team that is going to keep fighting. You know, they have a chance to go to Atlanta as well. They are going to pumped up and ready to go." 
#26 Tyrique McGhee | Jr. | DB
On playing in games that will determine the SEC East title…
"They're big. The whole program, everybody involved, knows what's at stake, especially with a week like this. A great SEC opponent like this in Kentucky with an explosive offense, playing well on defense, everybody knows what has to be done and what we've got to do this week."
On Kentucky running back Benny Snell, Jr. …
"He's a hard runner and a tough football player, first and foremost. The guy loves football, you can see it in the energy he brings every Saturday. He's going to be the engine to their offense on Saturday. … I can't say he reminds me of anyone, he's a player in his own. The guy just runs hard, he runs with a purpose and he knows each and every guy on his offensive line, they trust him and they like what they've got going on at Kentucky."
On Kentucky being in a spot to play for an SEC East title…
"I'm not surprised at all. Playing them during my freshman year, they had a great team and even last year, they've been building and they're a great program. … In this conference, it's not a surprise at all which team comes up but like I said, we're going to go in and focus on us and do what we've got to do."
On his personal success at nickel or star rather than corner or safety…
"Knowing the defense, first and foremost, at that position. You have to know our defense and be willing to get physical; I don't have any trouble or problem playing inside the box or coverage. I think the trust that Coach Smart and Coach Tucker have in me to play that position shows as well."
#9 Jeremiah Holloman | So. | WR
On Kentucky's defense not giving up 20 points yet this season… 
"It is a tough defense. They have an experienced squad in the secondary and we will have to be on our A-game this week in practice in preparation. I do have faith in our offense though and believe we can go out there and do what we have to do to get the job done."
On his breakout season thus far… 
"I was confident in myself going into the season. I feel like I stepped up mentally and became more of a vocal leader in being able to talk to everybody and know what is going on. On the field, I knew I was able to make the plays. I have been going about the game differently. I'm becoming a student of the game like taking notes in meetings and studying different players that I have to go up against to find their weaknesses. I've found out that those are the things I need to do to separate myself from others. "
#98 Rodrigo Blankenship | Jr. | PK
On the game winning kick in the 2016 Kentucky game… 
"It was a special moment to go out and do that for that team. It was an intense moment that gave me a lot more confidence the rest of that season. It gave me something to build off of the rest of the way and it meant a lot that they trusted me in that situation to execute my job…I didn't talk to many people, I was off to the side by myself going through my process when it becomes field goal range. Jacob Eason was my holder at that time and he just said 'Let's go bud, you got this' and that was the extent of our talking before I kicked it."
On Kirby Smart's dance in locker room… 
"It was awesome. Coach (Kirby) Smart is one of the most passionate coaches in the country. It is awesome when we have such a great team win like we did on Saturday and to see him just as fired up about it."
On Kentucky's defense making his role bigger… 
"I try not to pay much attention to that. I try to focus on things that are my own and the statistics that I contribute to the team. I'm looking at field goal percentage, touchback percentage, field zone percentage which is the how much of the time I hit the ball where the coaches are asking me to hit the ball and things like that."