Patriots depart New England for Houston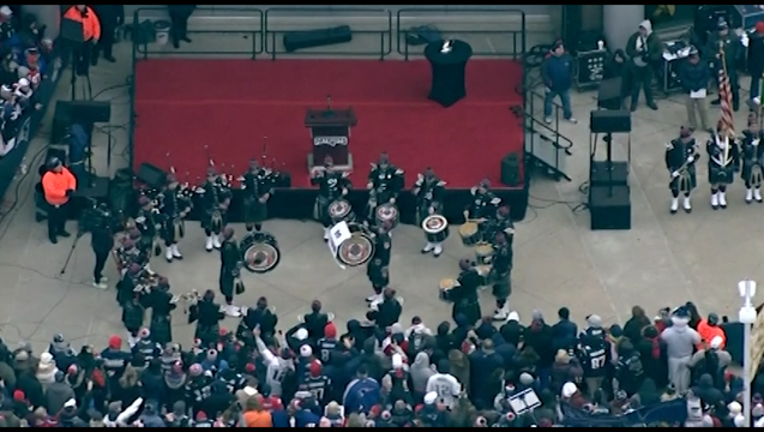 article
HOUSTON - The New England Patriots tried to match what the Atlanta Falcons did on Sunday at Atlantic Station.
The NFC Champions had a goodbye party before boarding a plane to Houston. The Falcons touched down in Houston for the Super Bowl and quickly got to work.
Monday, it was the Patriots turn. The team left Foxborough, Massachusetts under similar fanfare. A large crowd gathered as a band played and fans chanted. Quarterback Tom Brady and Coach Bill Belichick spoke to the crowd.
"Now it's starting to feel like the Super Bowl. We need you guys at your best, [be]cause we need to be at our best. And get ready for Sunday because it will be a hell of a game. Go Pats! Let's GO!" Tom Brady said addressing the large crowd.
PHOTOS: New England Patriots head to Super Bowl
Going to the Super Bowl almost seems routine for the Patriots, with this being their seventh appearance at the big game.
"I mean we just go out there and prepare every day at practice like we've been all year. Try to keep it simple as that," said Malcolm Mitchell, Patriots wide receiver.
"We're just focused on getting prepared. Getting, getting... watching film. Just getting ready to play them," said Danny Amedola, Patriots wide receiver.
It was a little overcast in Massachusetts when they left. The high there was just below freezing which is quite a contrast to the sunny skies and 75 degree temperature in Houston.
The Patriots are calling their campaign to win the Super Bowl this year the "Drive for Five." The Patriots has won four Super Bowl titles in the Belichick era began in 2000.
Super Bowl LI will be played at NRG Stadium in Houston, Texas on Feb. 5 at 6:30 p.m. Full coverage can be found on FOX 5 Atlanta.