Old coaching colleagues meet as rivals in Battle of the Bay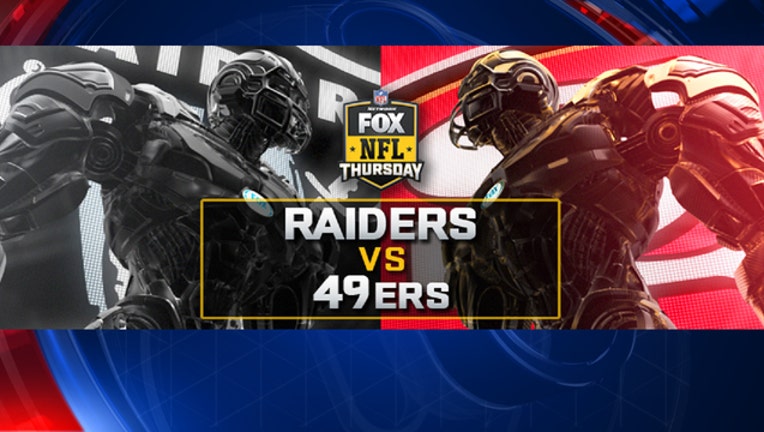 article
SANTA CLARA, Calif. (AP) - When Kyle Shanahan was looking to get into the NFL as an assistant coach more than a decade ago, his father, Mike, called Jon Gruden and asked him to hire his son for an entry-level job in Tampa.
Shanahan joined the Buccaneers as a quality control coach in 2004 on Gruden's staff and got his introduction to pro football on a staff that featured five assistants who have gone on to get head coaching jobs in the NFL.
"It was such a good place for me to go to because Jon was doing everything," Shanahan said. "It wasn't just his stuff. He was always on top of it with the film, which everyone is now because of the computers and everything, but he was one of the first guys doing that stuff, probably being a little bit younger than most guys at that time and just introduced me to pretty much every play known to man."
WATCH: FOX 5 Atlanta starting a 7 p.m. for FOX 5 Thursday Night Kickoff followed by NFL on Fox Pre-Game Show at 7:30 p.m. Coverage of the big game starts just after 8 p.m. on FOX 5 Atlanta, the FOX Sports app and Amazon Prime.
Now 14 years later, Shanahan gets his first chance to coach against his old boss when the San Francisco 49ers (1-7) host Gruden and the Oakland Raiders (1-6) on Thursday night.
Gruden said he took great pride in that staff that featured Mike Tomlin, Rod Marinelli, Jay Gruden and Raheem Morris during Shanahan's two seasons there in 2004-05. The Bucs won just five games the first season before winning the NFC South with an 11-5 record in 2005.
"We had a lot of fun back in those days. The woodshed, I called it," Gruden said. "People are going to take me to the woodshed here pretty soon, if we don't get this thing going."
Both the Raiders and 49ers are struggling heading into this matchup, with Oakland losing three straight and San Francisco on a six-game skid.
Shanahan has struggled without starting quarterback Jimmy Garoppolo, while Gruden's return to the NFL has been rocky after nine seasons as a broadcaster at ESPN.
But Shanahan believes Gruden will turn the Raiders around if given time and sees no signs that the game has passed him by.
"Jon lives and dies football," Shanahan said. "He never got away from it. He probably had even more time to sit and look at everything, and not get so caught up in his own team. The whole league's evolved since then. It evolves year to year. But, you watch his system, he has a foundation of what he used to do and things like that, but he's kept up with everything."
Here are some other things to watch:
BEATHARD'S HEALTH
The 49ers could be forced to go with their third-string quarterback this week. Garoppolo went down with a season-ending knee injury in Week 3 and backup C.J. Beathard is questionable this week with an injured right wrist. The next man up is Nick Mullens, who has never taken a snap in the NFL. Mullens spent last season on the practice squad and was promoted after Garoppolo's injury this year. He has impressed his teammates with strong play in the preseason and practice.
"He's a baller," running back Matt Breida said. "He doesn't let the game get too big for him. I think he'll do a great job if he has to play this week."
DRIVE THE CARR
Raiders quarterback Derek Carr is coming off perhaps his best game of the season, throwing for three touchdowns and running for a fourth score in last week's loss to the Colts. Carr completed 17 straight passes at one point and thrived in his first game after leading rusher Marshawn Lynch went down with a groin injury and No. 1 receiver Amari Cooper was traded to Dallas. Receiver Brandon LaFell, who wasn't targeted at all in his previous two games for Oakland, had three catches for 39 yards and a TD after getting the start in place of Cooper.
"He's friendly to the quarterback," Carr said. "He always runs friendly routes. He can play with anybody. I'm glad that we had some time to work and all those things, but he's the kind of guy that you can just throw him in and just play."
SAFETY DANCE
The Niners go into this game thin at safety. Starting free safety Adrian Colbert is on injured reserve with an ankle injury and San Francisco could be without its top two strong safeties as well. Starter Jaquiski Tartt (shoulder) and backup Antone Exum (concussion) are out this week. Jimmie Ward fared well last week at free safety after moving over from cornerback. San Francisco is thinner at strong safety with Tyvis Powell, who has never started a game, and rookie Marcell Harris, who could be activated from IR to make his debut, the main options.
DYING RIVALRY
This will be the final scheduled meeting between these Bay Area rivals before the Raiders move to Las Vegas in 2020. The teams have rarely been successful in their 36 seasons as NFL neighbors here with both making the playoffs in the same year only four times in that span (1970, '72, 2001, '02). The teams have combined for a winning record just once in 2003 and are on pace for the worst record for a two-team market since the 1970 merger.
___
More AP NFL: https://apnews.com/NFL and https://twitter.com/AP_NFL