No. 1 Georgia, defense dominate Florida in Cocktail Party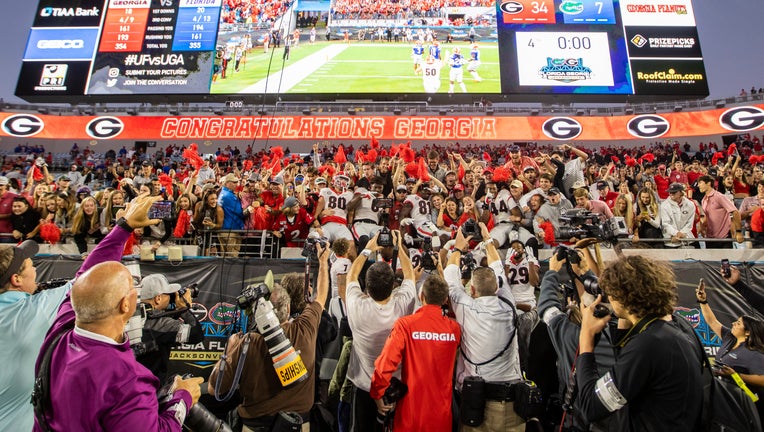 article
JACKSONVILLE, Fla. - No. 1 Georgia and its top-ranked defense dominated Florida, scoring three touchdowns off turnovers in a 12-play sequence that turned "The World's Largest Outdoor Cocktail Party" into another lopsided affair in a 34-7 victory Saturday.
Georgia (8-0, 6-0 Southeastern Conference) won its 12th consecutive game since getting steamrolled in Jacksonville a year ago.
The Bulldogs' injury-riddled defense allowed 571 yards in that one, the most in coach Kirby Smart's six seasons.
Georgia vowed to not let it happen again and responded with another demoralizing effort that might be their most impressive all season.
Florida (4-4, 2-4) managed no points, 11 first downs and 214 yards through three quarters and looked like its decades-old, NCAA-record scoring streak might be in jeopardy down the stretch. But the Gators finally got on the scoreboard with 2:49 remaining, extending the streak to 418 games. 
They have scored in every outing since getting shut out by Auburn in 1988.
POLL IMPLICATIONS
Georgia will surely retain its spot atop the AP college football poll and probably will begin the season's first College Football Playoff rankings at No. 1 on Tuesday night.
FAILED TRICKERY
Florida went 0 for 2 on trick plays, throwing incomplete passes both times.
The first one came with Richardson and Jones on the field together. Jones lateraled to Richardson, who threw into double coverage. Jacob Copeland failed to make the catch.
The second one was a halfback pass by Malik Davis, who threw incomplete to Xzavier Henderson.
Walker hurried both plays.
UP NEXT
Georgia hosts Missouri next Saturday. The Bulldogs have won seven straight in the series.
Florida plays at South Carolina next Saturday. The Gators have won three in a row and five of the last six.