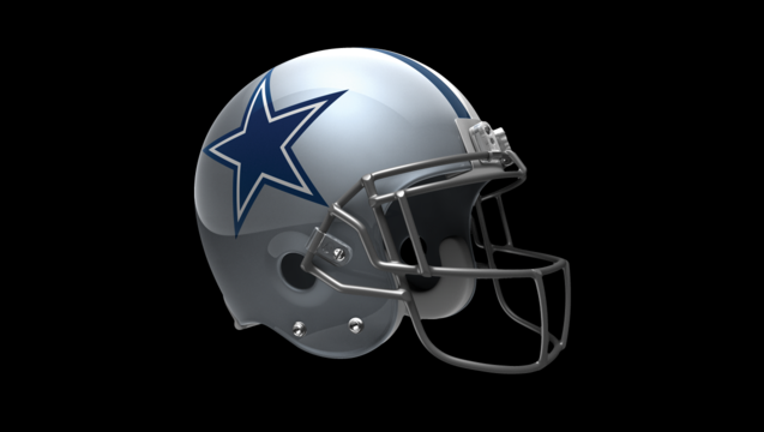 The Dallas Cowboys Offensive Line is the BUILT FORD TOUGH OFFENSIVE LINE THE YEAR. The award was announced at NFL HONORS.
On the eve of Super Bowl LI, the NFL and The Associated Press announced their annual accolades in an awards show saluting the best players, performances and plays from the 2016 season.

Emmy Award-winning actor and writer Keegan-Michael Key hosted the show on FOX and many of the winners were at at the Wortham Theater Center in Houston to accept their awards.
The AP will bestow seven of the awards which are voted on at the end of the regular NFL season by a nationwide media panel of fifty people who regularly cover the league. The ballots are tabulated solely by the AP.
Arizona Cardinals wide receiver LARRY FITZGERALD and New York Giants quarterback ELI MANNING were named the 2016 WALTER PAYTON NFL MAN OF THE YEAR, the NFL announced today. The award, which is presented by Nationwide, recognizes a player for his excellence on and off the field.

The announcement was made during NFL Honors, a two-hour primetime awards special that will air nationally from 8 – 10 p.m. ET/PT on FOX tonight.

ANQUAN BOLDIN, the 2015 Man of the Year, will honor Fitzgerald and Manning on-field tomorrow before kickoff of Super Bowl LI. 

"Quite simply this is the most meaningful honor an NFL player can receive and I am flattered beyond words that the selection committee deemed me worthy of it," said LARRY FITZGERALD. "More than anything it is a reflection on my parents whose words and example taught my brother and me the value of service and the importance of giving back."

"It's a commitment that I know is shared by Eli (Manning), Greg (Olsen), all the other 2016 Man of the Year nominees and countless others throughout the NFL. I accept this honor with immense gratitude and humility but also in full recognition that it is on behalf of all of them as well."

Larry Fitzgerald understands the responsibility that comes with being a professional athlete and uses his platform to give back to the community. Continuing a family legacy, Fitzgerald's charitable work keeps him grounded and in touch with his roots. He looks for ways to increase the impact of his charitable work by teaming with others in Arizona and Minnesota.
Fitzgerald's foundation, The Larry Fitzgerald First Down Fund, has provided grants of more than $1 million to promote reading and technology access for students K-12 and to support efforts to prevent and cure breast cancer and support breast cancer survivors. Fitzgerald has also teamed with national and international charities to serve as a volunteer to promote vision care for children, to fit people around the world with hearing aids and to visit countries in Africa to promote economic development.

Since being drafted by the Cardinals third overall in the 2004 Draft, Larry Fitzgerald has been a leader on and off the field. Since 2004, Fitzgerald leads the NFL in receptions (1,125) and receiving yards (14,389) and has 104 career touchdowns. 

A father of three daughters, Eli Manning is a fervent champion for causes involving children. He has served as the Chair of the New York March for Babies for the past seven years, helping raise over $25 million since. Manning also spearheads "Tackle Kids' Cancer," an initiative with Hackensack University Medical Center. Prior to kicking off an extensive media campaign to raise awareness of this cause, Manning spent time with patients and doctors at the hospital's pediatric cancer center, learning more about the greatest needs in cancer research.

"It's an honor to be selected as the Walter Payton Man of the Year and I want to congratulate Larry Fitzgerald and Greg Olsen, two guys I have great respect for on and off the field, for being named as finalists," said ELI MANNING. "It's truly an honor to be in their company; they do such great work in their communities and in representing their teams and our league."
"I think I speak for all of us when I say that anytime you're mentioned in the same breath with Walter Payton, it's a tremendous honor.

"None of us do what we do on behalf of charity or in our communities to get recognized. We do it because we truly care. You want to make a difference in people's lives and in our communities. But to be recognized and know that that people do notice your work is nice."
"I really appreciate the way the Giants are supportive of me and my teammates in the community, and the people who give of themselves on behalf of the charities I have had the privilege to assist. I appreciate all their help."

Dismayed by the existence of only one children's hospital in Mississippi, Manning and his wife founded the Eli and Abby Manning Children's Clinics in 2007, kicking off a five-year fundraising campaign that raised close to $3 million. Building on that accomplishment and model, they also established the University of Mississippi Medical Center Manning Family Fund, which raised nearly $1.5 million in its first year.

A two-time Super Bowl champion and two-time Super Bowl MVP, former No. 1 overall pick Eli Manning has spent the entirety of his 13-year NFL career at the helm of the New York Giants. He holds numerous team records, including passing touchdowns, pass completions and passing yards, and also currently has 199 consecutive regular-season starts, most among active players.

"We are proud of Larry and Eli, who inspire us all with their unwavering commitment to philanthropy and dedication to supporting communities throughout the country and abroad. These two impressive men of character and integrity are role models for the NFL community," said NFL Commissioner ROGER GOODELL. "They are champions on the field and champions for others and we congratulate them on this well-deserved honor."

Fitzgerald and Manning will each receive $625,000, half of which will go to a charity of their choice and half of which will support the expansion of Character Playbook across all NFL markets. Character Playbook is a digital education initiative launched by the NFL and United Way that teaches students the skills to cultivate character and maintain healthy relationships. As the runner-up, Greg Olsen will receive a $125,000 donation to the charity of his choice and a $125,000 donation in his name to expand Character Playbook. The other 29 team finalists received a $50,000 donation to both a charity of their choice and to expand Character Playbook. Donations are courtesy of the NFL Foundation, Nationwide and United Way Worldwide.

"Larry Fitzgerald and Eli Manning have demonstrated a tireless dedication to their communities through the Larry Fitzgerald First Down Fund and the Tackle Kids' Cancer Initiative. They are most deserving of this prestigious award," said Nationwide Chief Marketing Officer TERRANCE WILLIAMS. "On behalf of Nationwide's associates, agents and members, I congratulate Larry and Eli on being named this year's Walter Payton NFL Man of the Year. Nationwide also wants to thank Greg Olsen as well as all of the nominees for the life-changing work they are doing every day."

The Walter Payton NFL Man of the Year finalists and overall winner are selected by an elite panel of individuals comprised of:
NFL Commissioner ROGER GOODELL

2015 Man of the Year ANQUAN BOLDIN

USA Today writer CHRISTINE BRENNAN

NFL Senior Vice President of Social Responsibility ANNA ISAACSON

MMQB writer PETER KING

President of the Walter and Connie Payton Foundation and wife of the late Walter Payton CONNIE PAYTON

2006 Man of the Year LADAINIAN TOMLINSON

Presenting sponsor Nationwide CMO TERRANCE WILLIAMS

United Way Worldwide CEO BRIAN GALLAGHER

One representative each from NFL broadcast partners CBS, ESPN, FOX, and NBC
Pittsburgh Steelers running back Le'Veon Bell wins the Courtyard's Greatness on the Road™ Award at NFL Honors
Bell set a franchise record with 236 yards rushing and a three-touchdown performance in a 27-20 victory over the Buffalo Bills. Courtyard's Greatness on the Road Award is given to the player who demonstrates the best performance in a road game during the regular season. NFL Media Analysts selected Le'Veon Bell's Week 14 play as the pinnacle of "Greatness On The Road."
Tampa Bay Buccaneers wide receiver Mike Evans' one-handed catch during the Week 9 Tampa Bay Buccaneers game against the Atlanta Falcons was the Bridgestone Performance Play of the Year, selected from twenty Performance Moments voted on by NFL fans on NFL.com.
FRANK GORE of the Indianapolis Colts is the winner of the 2016 ART ROONEY SPORTSMANSHIP AWARD. The announcement of the Art Rooney Sportsmanship Award was made at NFL HONORS, a two-hour primetime awards special recognizing the NFL's best players, performances and plays from the 2016 season that will air nationally tonight at 8 PM ET/PT on FOX.
The award, which was founded in 2014 in honor of the late founding owner of the Pittsburgh Steelers and Pro Football Hall of Famer ART ROONEY, SR, recognizes the NFL player who best demonstrates the qualities of outstanding sportsmanship on the playing field, including fair play, respect for opponents and integrity in competition.
Gore will receive a $25,000 donation from the NFL Foundation to a charity of his choice.
A 12-year NFL veteran, Gore ranks eighth in NFL history with 13,065 rushing yards and is one of only five players in league annals with at least 13,000 rushing yards and 400 receptions in his career. Gore joined the Colts prior to the 2015 season after a 10-year stint with the San Francisco 49ers, where he rushed for a franchise record 11,073 yards and 64 touchdowns. A five-time Pro Bowler and 2006 AP All-Pro selection, he was a third-round draft choice of San Francisco in 2005.
The winner of the Art Rooney Sportsmanship Award is determined by a vote of current NFL players. Previous recipients of the award include LARRY FITZGERALD of the Arizona Cardinals (2014) and CHARLES WOODSON of the Oakland Raiders (2015).
Each NFL team nominated one of its players for the award, which recognizes players who exemplify outstanding sportsmanship on the field. A panel of former players from the NFL Legends Community selected eight finalists (four in the AFC; four in the NFC) from the 32 nominees. The panel of Legends Coordinators was comprised of WARRICK DUNN, CURTIS MARTIN, KARL MECKLENBURG and LEONARD WHEELER. 
The eight finalists were listed on the Pro Bowl ballot under the Art Rooney Sportsmanship Award when players voted on December 16, 2016. From the eight finalists, each team's players submitted a consensus vote of its choice for the winner. As in Pro Bowl voting, a team could not vote for its own player.
The finalists, featuring four players from each conference, were linebacker BRIAN CUSHING (Houston), Gore, tight end GREG OLSEN (Carolina), linebacker JULIUS PEPPERS (Green Bay), running back DARREN SPROLES (Philadelphia), tackle JOE STALEY (San Francisco), linebacker DE MARCUS WARE (Denver) and guard/tackle MARSHAL YANDA (Baltimore).