Morgan's Late 34-yard FG Lifts Georgia Past Missouri 9-6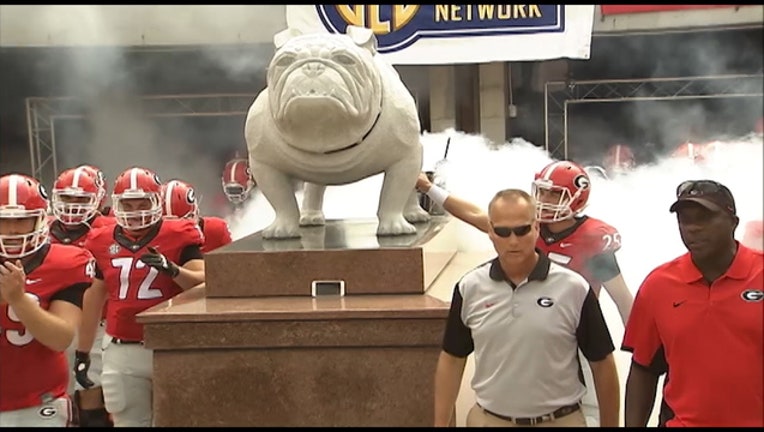 article
ATHENS, Ga. (AP) - Marshall Morgan, who missed from 26 yards about 4 minutes earlier, kicked a 34-yard field goal with 1:44 remaining and Georgia edged Missouri 9-6 on Saturday night in a game with no touchdowns.
Georgia (5-2, 3-2 Southeastern Conference) snapped a two-game losing streak by holding Missouri (4-3, 1-3) to six first downs and 164 total yards. Missouri has lost two straight.
Georgia's Sony Michel had 26 carries for 87 yards rushing while taking over as the starter following star tailback Nick Chubb's season-ending knee injury.
The Tigers showed why they lead the SEC in pass defense and scoring defense. They had allowed an average of only 13.5 points per game before frustrating quarterback Greyson Lambert and the Bulldogs. Lambert's first pass was intercepted.
The win allowed Georgia to protect its hopes of catching SEC East leader Florida, which lost to LSU 35-28.
Lambert completed 23 of 32 passes for 178 yards. He suffered a rough start when his first pass was deflected by linebacker Michael Scherer and intercepted by Ian Simon, whose 39-yard return to the Georgia 1 set up a 20-yard field goal by Andrew Baggett.
Georgia's red-zone defense was strong in the half, holding the Tigers to a 6-3 halftime lead.
Freshman Drew Lock completed only 11 of 26 passes for 143 yards with no interceptions for Missouri. Russell Hansbrough had 11 carries for only 24 yards. The Tigers were held to 21 yards rushing.
Michel was accompanied to the locker room for an undisclosed reason in the first quarter. Georgia turned to Brendan Douglas, who was stopped for no gain on consecutive plays, including a fourth-and-one at the Missouri 45.
Michel returned for Georgia's next possession but couldn't consistently replace Chubb's power that helped him record 13 straight games with more than 100 yards rushing.
Chubb, accompanied by former star tailback Todd Gurley, now with the NFL St. Louis Rams, walked to the Georgia sideline on crutches and sat on a trainer's table during the game. The Rams have a bye week.
Georgia's first-half follies also included a botched onside kick that didn't travel 10 yards. The Bulldogs also had a long incomplete pass from Lambert on a busted play when his intended receiver, Reggie Davis, was at least 20 yards away. That drive still produced Georgia's only points of the half on Morgan's 29-yard field goal.
Georgia safety Dominick Sanders was ejected for targeting on his hit on Emanuel Hall in the third quarter. The call was confirmed following a quick review by the officials.
An apparent interception by Missouri safety Anthony Sherrils was overturned by a review as officials determined the ball hit the ground. The call set up a tying 24-yard field goal by Morgan late in the third quarter.
Morgan was wide left on a 26-yard field goal with 5:40 remaining.
___
AP College Football website: www.collegefootball.ap.org