Mets survive Matz's meltdown, hold off Braves 8-6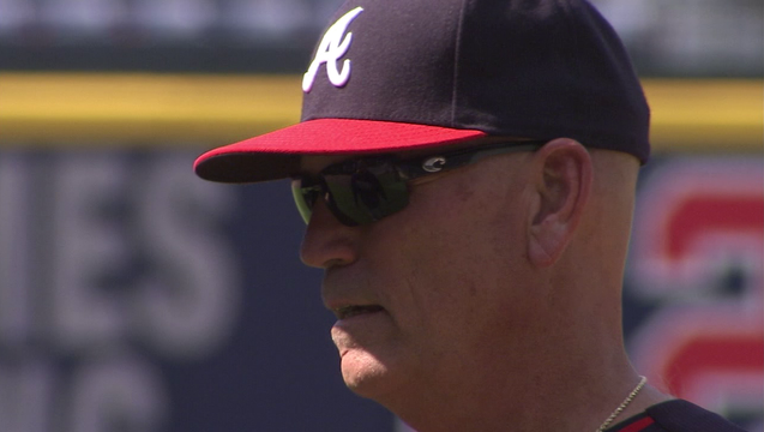 article
ATLANTA (AP) - James Loney hit a three-run homer, Travis d'Arnaud drove in three runs and the New York Mets survived Atlanta's six-run fifth inning to beat the Braves 8-6 on Friday night.
The Mets led 8-0 after Loney's three-run homer in the fifth. Steven Matz almost blew the lead as he allowed six runs on eight hits in the bottom of the inning.
Brandon Snyder hit a pinch-hit, three-run homer and Adonis Garcia had a two-run double in Atlanta's big inning.
Hansel Robles (2-3) threw 2 2/3 perfect innings to stop the Braves' comeback. Jeurys Familia recorded the final four outs for his major league-leading 25th save, with the last coming when he struck out Jace Peterson — but the ball bounced away from d'Arnaud, who quickly recovered it and threw a one-hopper to a stretched-out Loney, who dragged his foot along the bag. A video review confirmed the final out.
The Mets had lost four straight to the last-place Braves, and had to hold on in this one.
Familia gave up a leadoff single to Tyler Flowers before hitting Erick Aybar with a pitch in the ninth. Pinch-hitter Chase d'Arnaud — brother of the Mets' Travis — hit into a double play while trying to advance the runners with a bunt. D'Arnaud's sacrifice attempt was popped up and third baseman Wilmer Flores made a diving attempt for the ball, which dropped.
But Flores picked up the ball and stepped on third for one out, and then threw to second for a forceout. Then, Familia finished it off, with a big hand — and stretch — from Loney.
Braves rookie right-hander Aaron Blair (0-5) allowed eight runs and seven hits and three walks in 4 1/3 innings, leaving his ERA at 7.99.
Matz allowed six runs and nine hits in 4 1/3 innings in his fifth straight start without a win. He experienced elbow tightness in his previous start, also against the Braves.
After Jeff Francoeur led off the fifth with a double, Mets center fielder Yoenis Cespedes lost Nick Markakis' fly ball in the twilight sky. The ball dropped for another double, helping to set up the big inning.
New York's Michael Conforto, who struck out in his first at-bat and entered the game hitting .110 (8 for 73) since May 24, was given an intentional walk to load the bases with one out in the fourth. The Braves were hoping for a double play, but Travis d'Arnaud instead hit a two-run single to right field for a 4-0 lead.
The Mets knocked Blair out of the game in the fifth. Loney pulled a 0-2 pitch over the right-field wall for his second homer.
AARON PULLS 44
The Braves are counting down their home games in their final season at Turner Field. Each game, someone is selected to pull down a number which reflects the games remaining before the team moves to a new stadium in the northern suburbs.
With the countdown at 44, the obvious choice was Hall of Famer Hank Aaron, whose No. 44 is retired by the Braves. Aaron, 82, earned an ovation when he slowly walked onto the left-field warning track and pulled the number from the wall.
TRAINER'S ROOM
Mets: Cespedes remained in the game after he rolled his left ankle as he was picked off first base in the seventh. He was making his return after missing one game with a mild sprained left wrist.
Braves: IF Gordon Beckham (strained left hamstring) could be cleared for a rehab assignment if he can run the bases without difficulty on Saturday. ... RHP Mike Foltynewicz (right elbow soreness) will make a rehab start for Triple-A Gwinnett on Saturday.
UP NEXT
Mets: RHP Jacob deGrom (3-4, 2.96) will face the Braves for the second time in a week on Saturday night. He gave up three runs in six innings in a 6-0 home loss to Atlanta on Sunday. He is 3-3 with a 2.25 ERA in seven career starts against the Braves.
Braves: RHP Julio Teheran (3-7, 2.66) will try to extend his history of success against the Mets. He allowed only one hit in a 6-0 shutout of the Mets on Sunday to improve to 6-3 with a 2.67 ERA in 12 career games, including 11 starts, against New York.