Martinez scores two more in Atlanta United win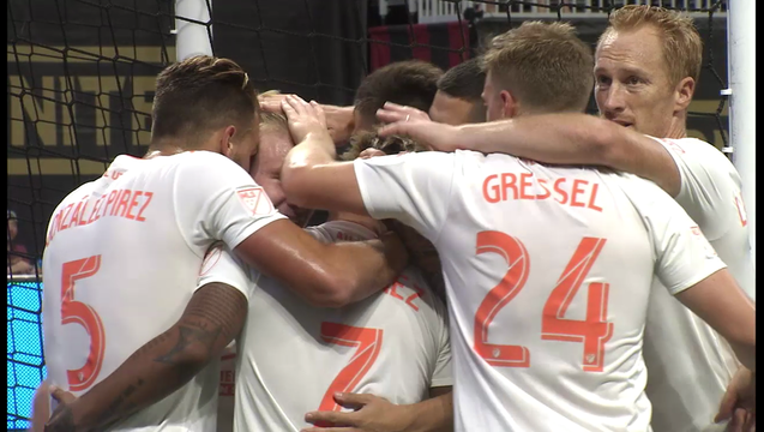 article
MONTREAL (AP) - WASHINGTON (AP) - Wayne Rooney scored his first MLS goal to help D.C. United beat the Colorado Rapids 2-1 on Saturday night.
United (4-9-5), who won for just the second time since May 19, took a 2-1 lead on an own goal in the 90th minute when Ulises Segura's cross deflected off Colorado's Niki Jackson into the net.
Rooney, the 32-year-old English star who ranks second with 208 career Premier League goals, opened the scoring in the 33rd minute. Rooney ran onto a pass from Luciano Acosta and slipped it between the legs of Tim Howard into the net.
Colorado's Kellyn Acosta, who was acquired in trade with FC Dallas on Monday, chipped a first-timer over goalkeeper David Ousted and inside the near post to make it 1-1 in the 82nd.
The Rapids (4-12-5) are winless in their last five games.
ATLANTA UNITED 2, IMPACT 1
MONTREAL (AP) - Josef Martinez scored his 23rd and 24th goals in MLS-leading Atlanta's victory over Montreal in a rain-delayed game.
With 11 games left in the regular season, Martinez is only three short of the MLS season record of 27 goals shared by three players. Atlanta (14-4-5) has a four-game unbeaten string.
Ignacio Piatti scored for Montreal (9-13-1). Goalkeeping coach Joel Bats acted as Montreal coach as Remi Garde served a one-game suspension.
Atlanta opened the scoring in the 31st minute. Hector Villalba won a race for a ball down the right flank and crossed a ball in front that defender Rudy Camacho just missed before a leaping Martinez headed it under the crossbar.
The 75-minute rain delay, which started during the intermission, was announced as a thunder shower passed over Saputo Stadium, soaking the field as fans sought shelter under the grandstands.
When play resumed, players were sliding around on the slick grass and Atlanta took advantage on another counter when Jukka Raitala stopped a shot on the goal line, only to see Martinez steal the ball and tap it over the line in the 57th minute.
Piatti scored in the 87th minute.
CREW 3, RED BULLS 2
HARRISON, N.J. (AP) - Patrick Mullins had a goal and an assist and Jonathan Mensah scored his first goal of the season to lead Columbus past New York.
Zack Steffen had four saves, including a diving stop on Aaron Long's header, for Columbus (10-7-6). The Crew have won back-to-back games for the first time since winning three in a row in May.
Mensah, a 28-year-old defender, opened the scoring in the seventh minute. New York's Michael Murillo picked up the ball when he mistakenly thought it was out of bounds, giving Columbus a free kick. Pedro Santos' entry was headed by Mullins to Mensah for the finish from near the spot.
Mullins ran onto a long feed from Harrison Afful and side-netted a left-footer in the 24th and an own goal by New York's Sean Davis made it 3-0 in the 31st minute.
Mensah deflected a cross from the Red Bulls' Daniel Royer into the net early in the second half and Royer's header in the 69th minute capped the scoring.
The Red Bulls (13-6-2) had their three-game winning streak snapped.
TORONTO FC, FIRE 0
TORONTO (AP) - Jozy Altidore, Jonathan Osorio and Sebastian Giovinco scored in the second half in Toronto FC's victory over Chicago.
Defending champion Toronto (6-11-4) won for the first time at home since May 18. Chicago (6-12-5) has lost five straight and is 1-5-3 in its last nine.
Altidore opened the scoring in the 52nd minute off a rebound. The U.S. star celebrated by taking off his orange boot and pretending to use it as a phone.
Osorio made it 2-0 in the 72nd minute, and Giovinco connected in the 89th.
WHITECAPS 4, MINNESOTA UNITED 2
VANCOUVER, British Columbia (AP) - Alphonso Davies showed why he landed a big transfer deal with German soccer giant Bayern Munich, dazzling the home crowd in the Vancouver Whitecaps' 4-2 victory over Minnesota United on Saturday night.
The 17-year-old Canadian midfielder had two goals and two assists in his homecoming. He missed Vancouver's three previous matches as negotiations took place over his $22 million transfer.
Yordy Reyna and Kei Kamara also scored for the Whitecaps (8-9-5). Abu Danladi and Ibson scored for Minnesota (9-12-1).
FC DALLAS 3, SPORTING KC 2
KANSAS CITY, Kan. (AP) - Michael Barrios had his first MLS hat trick to help FC Dallas beat Sporting Kansas City.
Dallas (12-3-6) is unbeaten in its last three games and has four wins in its last six.
Gerso Fernandes and Daniel Salloi scored for Kansas City (9-6-6). Gianluca Busio, a 16-year-old homegrown who came on in the 77th minute, made his first MLS appearance for Sporting KC.
TIMBERS 2, DYNAMO 1
PORTLAND, Ore. (AP) - Fanendo Adi tapped in a short-range goal during the 80th minute and Portland extended its MLS unbeaten streak to 14 matches, beating Houston.
Adi, coming off the bench earlier in the second half, finished a close-in shot that had rebounded off two teammates.
Sebastian Blanco scored a first-half goal for Portland (9-3-7). The Timbers moved into third place in the West with 34 points.
Portland won for the ninth time during its unbeaten streak. The Timbers haven't lost since April 8, when they dropped a 3-2 decision to Orlando City.
Romell Quioto provided the lone goal for Houston (7-8-6). The Dynamo have won just once in 10 road games this season.
EARTHQUAKES 0, REAL SALT LAKE 0
SAN JOSE, Calif. (AP) - Andrew Tarbell had three saves to help San Jose tie Real Salt Lake.
The 24-year-old Tarbell had his first clean sheet of the season and the third of his career. It was San Jose's first shutout in 25 games, dating to a 1-0 victory over the Houston Dynamo on Sept. 16.
Nick Rimando had three saves in his sixth shutout of the season for Real Salt Lake (9-9-4).
The Earthquakes (2-12-7) are winless in their last 12 games after a 3-1 victory over Minnesota United on May 12.