Martinez, Pollock, Greinke power Diamondbacks past Braves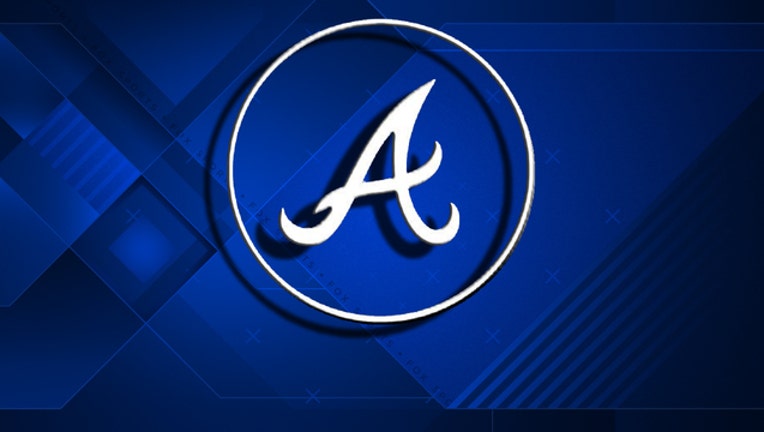 article
PHOENIX (AP) - J.D. Martinez's time as an Arizona Diamondback started a little rough. Last week in his debut with the team, he was hit in the hand with a pitch, and didn't return to the starting lineup until Monday night.
Add to that the adjustment and logistics of moving from Detroit to Phoenix and getting acclimated to a new team that is in contention for the postseason.
But after going hitless in his first five at-bats as a Diamondback, Martinez hit a three-run home run to help Zack Greinke and Arizona cruise to a 10-2 win over the Atlanta Braves.
Martinez, who came over in a trade with the Detroit Tigers last week, hammered a 1-2 pitch from reliever Matt Wisler high off the center field batters eye with nobody out in the bottom of the sixth. It was his 17th home run of the season.
"Definitely felt good just to be able to get that monkey off my back," Martinez said, "and just get that first hit and contribute to the team."
Martinez admitted he was pressing a little to try to show his new team and its fans what he can do.
"He's just getting his feet on the ground," Diamondbacks manager Torey Lovullo said. "I know that he wants to impress people, that's just the nature of the game ... today was a great moment for him."
Greinke (12-4) pitched eight innings and allowed two runs on five hits with six strikeouts. He's 10-0 in 12 starts at Chase Field this season. Greinke added a run-scoring double in the second inning and a pair of sacrifices.
"Command was as good as it's been in a while," Greinke said.
A.J. Pollock hit a two-run homer, doubled twice and drove in four runs, and Jeff Mathis reached base four times with three singles and a walk, scoring twice for the Diamondbacks.
"It's a fun lineup. You look up there and you've got a lot of guys that can do damage," Pollock said. "If we get everyone clicking it's going to be pretty scary."
R.A. Dickey (6-7) took the loss with his knuckleball often more wild than baffling. Dickey threw a career high-tying four wild pitches that helped the Diamondbacks get into scoring position over his 3 2-3 innings of work, and walked five while striking out four.
The Braves lost their third straight game.
"For whatever reason I was kind of fighting some things out there, which is evident by five walks," Dickey said. "I haven't done that in a long time."
Atlanta's Freddie Freeman came close to his 19th home run of the season in the top of the third, but it was ruled a double on the field when the ball hit the yellow line extending vertically in left-center field. The Braves asked for a review hoping for an overturn to a home run, but after 54 seconds the call was upheld.
Sean Rodriguez, pinch hitting the top of the fifth, lined a two-run homer to left field with Johan Camargo on second base, cutting the Diamondbacks' lead to 4-2.
But Arizona plated four runs in the sixth, one on Paul Goldschmidt's RBI double and three by way of Martinez. Pollock's home run came in the seventh with the Diamondbacks already ahead by six.
"You like your chances at 4-2 right there. A big pinch-hit homer because you never know," Braves manager Brian Snitker said. "The game is different when you keep it close but we just weren't able to do that."
The Braves totaled six wild pitches for the game, which tied a 38-year-old franchise record.
GOODBYE TO GARCIA
The Braves traded starting pitcher Jaime Garcia to the Minnesota Twins before Monday's game, and Garcia said goodbye to his Atlanta teammates before Monday's game.
"He's a pro, and he'll be an asset to the Minnesota Twins," Snitker said. "We'll be following him and wishing him nothing but the best."
Garcia was slated to start Wednesday against Arizona. Snitker said either a minor-league callup or a relief pitcher will step in for that start.
ENDER GETS A DAY
Snitker gave All-Star Ender Inciarte, a former Diamondback, Monday off. Snitker said Inciarte "just needed a day" after not having an All-Star break and playing every day after that.
'FREEZE' BURN
The Diamondbacks poked fun at Atlanta in-game entertainment sprinter The Freeze, trotting out a runner dressed in a body suit that was inflated to make him look overweight. The Arizona version of The Freeze lost a race against the Diamondbacks Legends mascots.
TRAINER'S ROOM
Braves: The Braves reinstated catcher Kurt Suzuki from the bereavement list before Monday's game. Suzuki left the team last Friday and missed three games. He pinch hit on Monday.
Diamondbacks: P Rubby De La Rosa (right shoulder inflammation) is scheduled for another rehab outing Wednesday for Reno.
UP NEXT
Braves: RHP Mike Foltynewicz (8-5) faces Arizona for the second time in his career on Tuesday.
Diamondbacks: RHP Taijuan Walker (6-4) rejoins the rotation after missing his scheduled start July 20 while on the paternity list. Walker hasn't gotten a win since June 21 at Colorado, but has allowed three or fewer runs in 10 of his last 11 starts.