Jones still not 100 percent for Falcons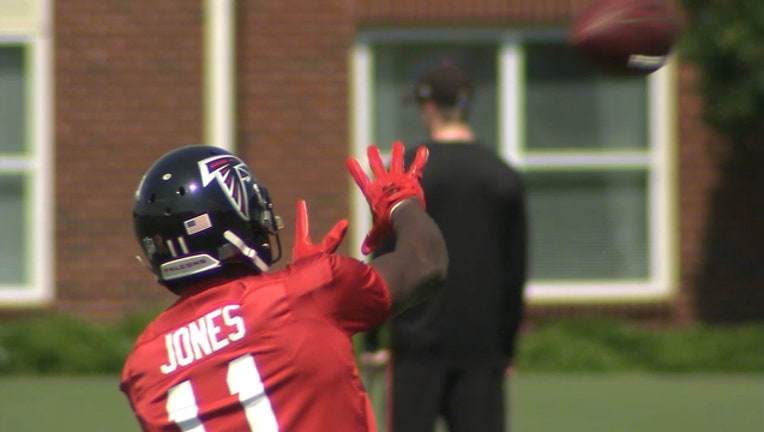 article
FLOWERY BRANCH, Ga. - Receiver Julio Jones doubts he'll be at full capacity when the playoff-bound Atlanta Falcons end the regular season against New Orleans.
After missing the previous two games with a sore toe, Jones played just 39 of 63 snaps, catching four passes for 60 yards, in last week's win at Carolina.
But Jones, the NFL leader with an average of 101 yards receiving, expects to have enough stamina to be a factor.
There's a lot at stake. A victory over the Saints will give the Falcons the NFC's No. 2 playoff seed, a bye next week and a home game in the divisional round.
"It's a week after that," Jones said. "I'm going to feel better."
The Falcons listed Jones, receiver Taylor Gabriel (toe), left guard Andy Levitre (hip), cornerback Robert Alford (toe) and safety Keanu Neal (ankle) as limited in practice on Thursday.
Linebacker De'Vondre Campbell (concussion), defensive end Dwight Freeney (rest) and tight end Joshua Perkins (neck) were full participants.
Tight end Austin Hooper hasn't practiced in two weeks and might miss his second straight game with a knee injury.
Offensive coordinator Kyle Shanahan said the key for Jones is to play, but not reinjure his toe when the Falcons (10-5) host the Saints (7-8) on Sunday.
"He definitely wasn't 100 percent (last week)," Shanahan said. "I think you could see that watching the tape. I think he knew that. But I think he's gotten better this week, too, and I think he will continue to get better each week. No one is feeling great this time of year, but I definitely think he's getting better as opposed to these past couple weeks."
___
For more AP NFL coverage: http://pro32.ap.org and http://twitter.com/AP_NFL