Johnny Lujack, 1947 Heisman winner who led Notre Dame to 3 national titles, dies at 98
SOUTH BEND, Ind. - Johnny Lujack, the Heisman Trophy-winning quarterback who led Notre Dame to three national championships in the 1940s, died in Florida on Tuesday following a brief illness. He was 98.
Lujack's death was confirmed by his granddaughter, Amy Schiller, who said he had entered hospice care recently after having been in good health until a couple of weeks ago.
"He was not only a legend in Notre Dame football and the sports world," Schiller said, "he was a legend as a father and grandfather and great grandfather."
Lujack is considered one of the greatest Notre Dame players of all time, having won the Heisman in 1947 and leading the Irish to national titles in 1943, 1946 and 1947.
Lujack posted a 20-1-1 record as starting quarterback for coach Frank Leahy. He played for the Irish in 1942 and '43, served two years in the Navy during World War II, and returned to Notre Dame for the 1946 and '47 seasons.
SUBSCRIBE TO FOX 32 CHICAGO ON YOUTUBE
He was The Associated Press athlete of the year in 1947, when he was a first-round draft pick of the Chicago Bears. He played four seasons for the Bears, leading the team in scoring each year before retiring at age 26.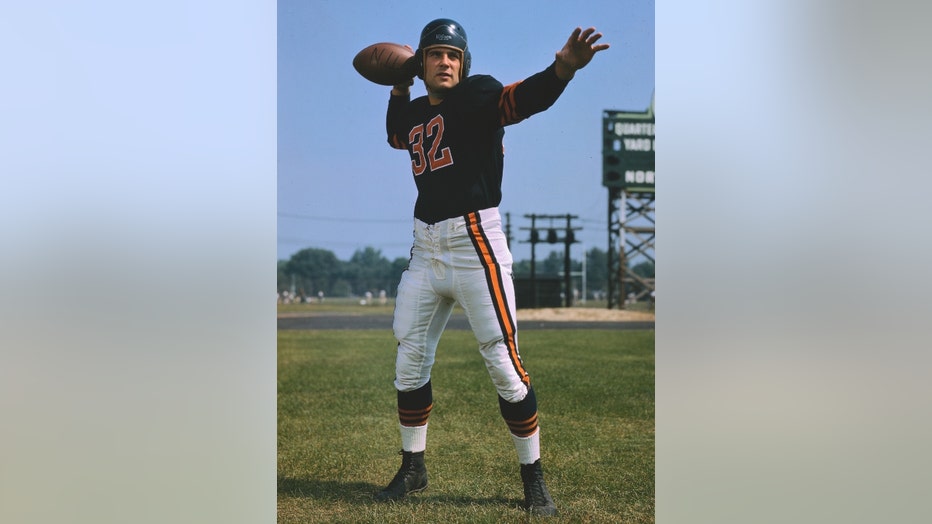 While Lujack had plenty of offensive highlights at Notre Dame, he is best remembered for a play he made as a defensive back in an era when players stayed on the field for nearly every play.
A standing-room-only crowd of about 75,000 packed Yankee Stadium in 1946 to see No. 1 Army — the two-time defending national champions — face then-rival Notre Dame, which was ranked No. 2. Lujack made the game-saving tackle against Doc Blanchard in a 0-0 tie. That contest is frequently referred to as the game of the century.
Lujack, in a 1996 interview with the AP, said that was the game he was asked about most often. He downplayed the tackle of Blanchard, who won the Heisman in 1945.
"You were back there," Lujack said. "You were supposed to make the tackle."
Lujack finished third in Heisman voting in 1946 before he won the award as the college game's outstanding player the next year, when he completed 61 of 109 passes for 777 yards with nine touchdowns in leading the Irish to a 9-0 record and their second straight title.
He took over as the starting quarterback for the top-ranked Irish in 1943, after Angelo Bertelli left after six games to join the Marines. Among the other Irish greats he played with were Creighton Miller, Terry Brennan, Emil Sitko, George Connor, Bill Fischer and 1949 Heisman winner Leon Hart.
"We always felt that a game was kind of an easy scrimmage because the scrimmages we had against each other were mean and rough," Lujack once said.
The one loss in his college football career came in the final game of his sophomore season against Great Lakes Naval Training Station, a military base team that had some college players serving in the military, including some Notre Dame players.
Lujack intercepted eight passes as a rookie with the Bears and in 1949 he threw for 468 yards and six touchdowns in a 52-21 win over the Chicago Cardinals. He played in the Pro Bowl his final two seasons before retiring.
He served as an assistant coach at Notre Dame in Leahy's final two seasons. He then moved to Davenport, Iowa, where he owned an auto dealership until 1988.