Home-run happy Dodgers rout Braves 12-6 for series sweep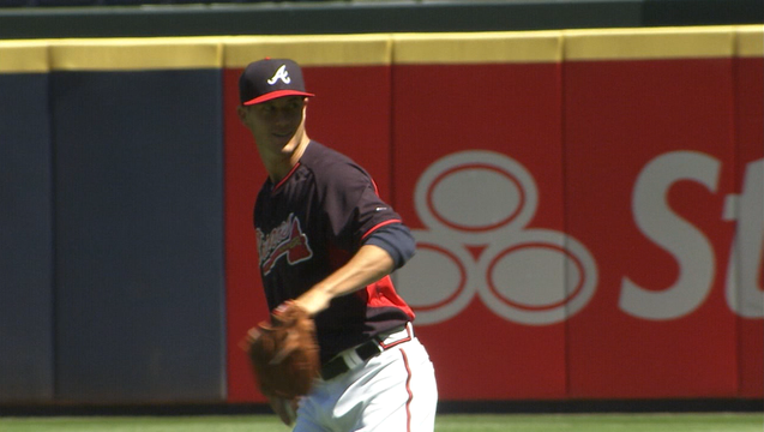 LOS ANGELES (AP) - Corey Seager's compact swing is carrying the Los Angeles Dodgers while the veterans try to find their offense.
Seager homered twice — his second multihomer game in three days — and Yasmani Grandal hit a three-run shot in a 12-6 victory over the Atlanta Braves on Sunday that completed a sweep with the Dodgers' seventh win in a row at home.
"It's one of those things that you try and do every day, but it's working right now," Seager said.
He went 3 for 5, drove in a career-high four runs and scored twice two days after hitting three homers in Friday's 4-2 win in the series opener. The 22-year-old rookie shortstop edged ahead of Adrian Gonzalez (.284) as the team's top hitter with a .286 average.
"He is the perfect No. 2-hole hitter for them," Braves veteran Jeff Francoeur said. "I can't believe how tall he is (6-foot-4) and he's got some pop and not many shortstops have that. He's going to be an All-Star for a long time."
Scott Kazmir (5-3) overcame a rocky first inning in which he gave up two runs before settling down and allowing three runs and seven hits in five-plus innings. He struck out five and walked one before leaving early because of cramping in his left quadriceps.
"Even in warmups it felt like my quad was tight," said Kazmir, who felt worse running the bases after he went 2 for 3 with a run scored. "Using my legs a little bit more it shut down some things. They got me out of there out of precaution. I think I'll be fine."
Matt Wisler (2-6) took the loss for the last-place Braves, who dropped their fourth in a row and were outscored 20-8 in the series.
"It was a tough series for us considering that we played pretty well in San Francisco and then we get here and these guys are swinging the bats well at home," interim manager Brian Snitker said. "We just got to keep fighting."
Wisler gave up eight runs and nine hits in four innings — his shortest outing so far — in his first start at Dodger Stadium. The right-hander struck out five and walked three.
"I was pretty bad," he said. "I got behind in a lot of counts and they made me pay for it. I have to learn how to fight through it. It was a bad overall effort by me."
Grandal broke the game open in the third with his three-run blast for a 7-2 lead after Joc Pederson's RBI single.
Seager led off the fourth with a solo shot on Wisler's first pitch to make it 8-2. In the fifth, he sliced a two-out, RBI single to shallow left, extending the Dodgers' lead to 9-2.
"Anytime we got the ball up in the zone against him, he put a big swing on it," Wisler said. "I know he's a rookie, but he's a great hitter."
Seager wasn't done yet.
He slammed a two-run homer — his team-leading 14th — with two outs in the seventh to make it 12-3. It was Seager's third multihomer game of the season.
"It keeps happening every day and I can get used to it," Dodgers manager Dave Roberts said. "He has a short, sound swing, power to all fields. It starts with his pitch recognition."
After Atlanta took a 2-0 lead in the first on a RBI double by Francoeur and a RBI single by Nick Markakis, the Dodgers tied the game at 2 in the bottom of the inning. Gonzalez had a RBI double and Howie Kendrick added a RBI single, both with two outs.
Hernandez put the Dodgers ahead for good in the second, homering for a 3-2 lead.
Braves defensive replacement Brandon Snyder hit a solo homer in the ninth, his first since July 29, 2013, with Boston.
TRAINER'S ROOM
Dodgers: OF Carl Crawford was designated for assignment after being frequently injured since being acquired in 2012. ... OF Andre Ethier, on the DL with a broken right foot, is progressing, but he's not ready for the team to decide on a rehab assignment.
HOME COOKIN'
Thompson went 1 for 3 with two runs scored. He's scored at least one run in a career-high four straight games and is batting .345 in 23 home games so far.
UP NEXT
Braves: RHP Williams Perez (2-1, 3.86 ERA) starts the opener of a three-game set at San Diego.
Dodgers: RHP Mike Bolsinger (1-2, 4.20) starts the opener of a three-game series against Colorado.