Hauschka's 2 late FGs lift Bills past Falcons, 23-17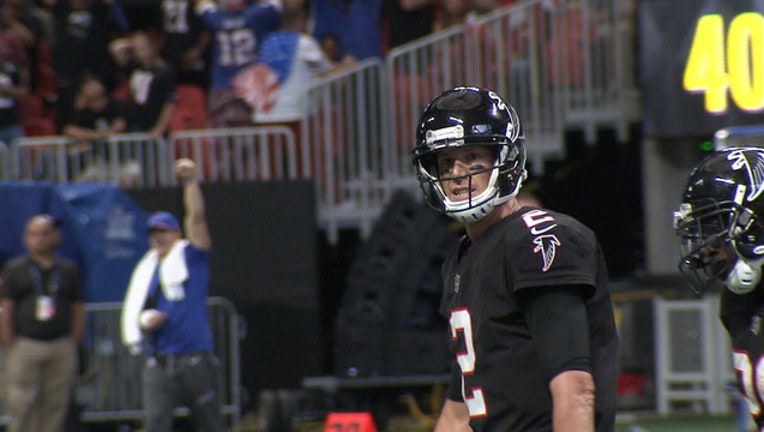 article
ATLANTA (AP) - The Buffalo Bills stand alone atop the AFC East at the latest point in a season in nine years.
For that, coach Sean McDermott offered both cheers and restraint.
"It feels good," McDermott said before adding, "still a long way to go."
Stephen Hauschka kicked a tiebreaking, 56-yard field goal with less than five minutes remaining and the Bills made a last-minute defensive stand to beat Atlanta 23-17 on Sunday after the Falcons lost wide receiver Julio Jones to a hip injury.
This is the latest the Bills (3-1) have been alone in first place in their division since Week 7 in 2008, when they were 5-1.
Hauschka padded the lead with a 55-yarder with about three minutes remaining.
"It's a fun position to be in when you want to kick like that at the end of the game," Hauschka said.
Buffalo's defense stopped the Falcons at the Bills 10 with less than a minute remaining when Matt Ryan couldn't complete a fourth-down pass to Taylor Gabriel. Atlanta became the last NFC team to lose this season.
Tre'Davious White returned a fumble recovery 52 yards for a third-quarter touchdown as the tough Buffalo defense delivered again even in a game it gave up its first passing touchdown of the season.
Bills defensive end Jerry Hughes hit Ryan's arm as Ryan was trying to pass, forcing the fumble.
"I didn't hear the whistle, so I just ran full speed," White said.
It was one of three turnovers by Atlanta. Micah Hyde intercepted two of Ryan's passes, giving Ryan five in his last two games.
There will be an emphasis on protecting the ball in coming bye week for Atlanta (3-1).
"More important than anything for us, let's get our turnover margin in order," said coach Dan Quinn.
Jones left the game in the second quarter with a hip flexor injury. Atlanta's receiving corps took another hit when starter Mohamed Sanu was ruled out with a hamstring injury in the third quarter.
Falcons left tackle Jake Matthews said losing the team's top two receivers was no excuse.
"We know we're good enough to score even if we're missing a couple guys," Matthews said.
Hauschka's go-ahead field goal was set up by Tyrod Taylor's 34-yard pass to tight end Charles Clay, who had five catches for 112 yards.
The Falcons failed to take advantage of Andre Roberts' 61-yard kickoff return following the field goal. The Bills stopped Atlanta when Hyde intercepted a pass off the hands of receiver Nick Williams.
The teams traded long scoring drives in the fourth quarter. Buffalo's 19-play drive, which lasted 11 minutes and 20 seconds, ended with a 24-yard field goal by Hauschka for a 17-10 lead.
The Falcons answered with a 10-play touchdown drive capped by Ryan's 3-yard scoring pass to Justin Hardy . It was the first scoring pass allowed by the Bills this season.
Taylor threw a 9-yard scoring pass to Jordan Matthews in the second quarter.
INJURIES
Bills: S Colt Anderson left in the first quarter with an arm injury and was ruled out. Buffalo also lost LB Ramon Humber (thumb), WR Jordan Matthews (thumb), and CB E.J. Gaines (groin).
Falcons: Jones left the game in the second quarter with a hip flexor injury and was ruled out for the game. Quinn said Jones wanted to return but could not have played with his usual explosiveness. Jones was limited during practice this week with a lower back injury. Sanu (hamstring) and DT Jack Crawford (biceps) also were ruled out.
STAT LEADERS
LeSean McCoy had 20 carries for 76 yards and three catches for 32 yards. ... Taylor completed 12 of 20 passes for 182 yards and one touchdown. ... Atlanta's Tevin Coleman had nine carries for 79 yards and four catches for 65 yards. ... Ryan completed 24 of 42 passes for 242 yards with one touchdown and two interceptions. ... Tight end Austin Hooper led Atlanta's thin receiving corps with five catches for 50 yards.
KNEELING
Six Buffalo players knelt during the national anthem. The group included defensive end Jerel Worthy, wide receiver Kaelin Clay, cornerback Shareece Wright, running back Taiwan Jones, fullback Mike Tolbert and defensive tackle Cedric Thornton. Cornerback Leonard Johnson stood beside those kneeling.
Falcons players stood for the anthem.
PROTECT THE BALL
The Bills set a team record for most consecutive quarters without a turnover (15). The previous team record was 12, set in 2015.
UP NEXT
Bills: Play at Cincinnati next Sunday.
Falcons: After their bye week, host Miami on Oct. 15.
___
For more NFL coverage: http://www.pro32.ap.org and http://www.twitter.com/AP_NFL