Ground Game Fails No. 20 Georgia Tech in 34-20 Loss to Duke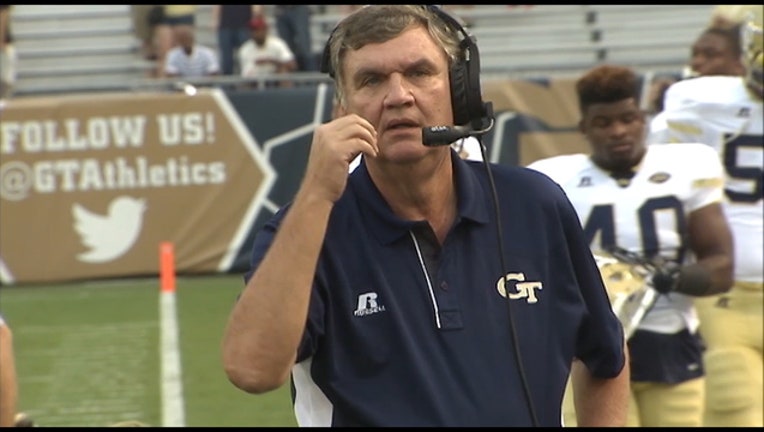 article
DURHAM, N.C. (AP) - When No. 20 Georgia Tech can't run, the Yellow Jackets don't win.
Coach Paul Johnson's triple-option offense managed its worst rushing performance since 2013 in a 34-20 loss to Duke on Saturday.
The Blue Devils held Tech (2-2, 0-1 Atlantic Coast Conference) to just 173 yards rushing — its fewest since it had 151 in a loss to Mississippi in the 2013 Music City Bowl, according to STATS.
"When you rush for ... 173 yards in this offense," Johnson said, "you're not going to win."
Justin Thomas pulled Tech to 26-20 with his 12-yard TD run with 8:02 left, and the Yellow Jackets had two chances after that to reclaim the lead.
They were stuffed on four downs deep inside Duke territory, a series before Thomas fumbled at his own 39 after a hit from Jeremy Cash with 2:12 left.
"I knew the game was on the line, we needed somebody to step up and make a play," Cash said. "And my teammates believed in me, and felt that I could do that, so I did just that, and was able to get the ball out."
Shaquille Powell then took a fourth-and-1 handoff up the middle for his third touchdown, a 30-yarder that iced Duke's second straight win over a ranked Georgia Tech team.
Duke managed 75 total yards and two first downs in the second half, but its improved defense shut down a rushing offense that's typically one of the toughest to stop.
Tech averages 377 yards rushing — second-best in the FBS — but couldn't do much against a Blue Devils defense that allows only 93 yards rushing per game but watched how No. 6 Notre Dame defended the Yellow Jackets last week in the Irish's 30-22 win.
"They hit them right in the mouth, frankly," Cash said.
Georgia Tech, which entered averaging 7.3 yards per rush, had just 2.9 yards per carry against Duke.
"We're just not a very good offensive football team right now," Johnson said.
Some consolation for the Yellow Jackets: In each of the past two years, the loser of this matchup has rebounded to win the Coastal Division.
DeVon Edwards returned a kickoff 100 yards for a score for Duke (3-1, 1-0). A week after some critical errors by the defense led to a loss to No. 17 Northwestern, the Blue Devils controlled Georgia Tech's powerful offense from start to finish.
"We came out with the mindset that we weren't going to let that happen again," Cash said.
Thomas Sirk was 17 of 25 for 114 yards with an 11-yard touchdown pass to T.J. Rahming for Duke.
"We showed ourselves that we can step it up when we need to, and how we need to be to compete for championship sand win the ACC," Powell said. "It showed the team that we can do something great."
Thomas finished 6 of 21 for 143 yards with a 10-yard touchdown pass to Ricky Jeune for Georgia Tech, which forced three Duke turnovers but only converted them into 52- and 48-yard field goals by Harrison Butker. The shorter of those pulled Tech to 19-13 with 7:07 left in the third.
Edwards took the ensuing kickoff at the goal line and burst through the right side for his fifth career score on a kick-return. Only one active player — UTEP's Autrey Golden (six) — has more.
The Blue Devils led 19-3 after one quarter after holding Tech to 14 total yards and scoring on three straight drives in the opening 15 minutes.
Powell's two shorter touchdowns — including one on the final play of the quarter — sandwiched Sirk's quick-strike pass to Rahming. Ryan Smith's 69-yard punt return to the 1 set up Powell's second TD.
Thomas' scoring pass to Jeune with 30 seconds left in the half trimmed Tech's deficit to 19-10 at the half.
___
Follow Joedy McCreary on Twitter at http://twitter.com/joedyap
___
AP college football website: collegefootball.ap.org