Georgia Tech prepares for Top 25 showdown with Notre Dame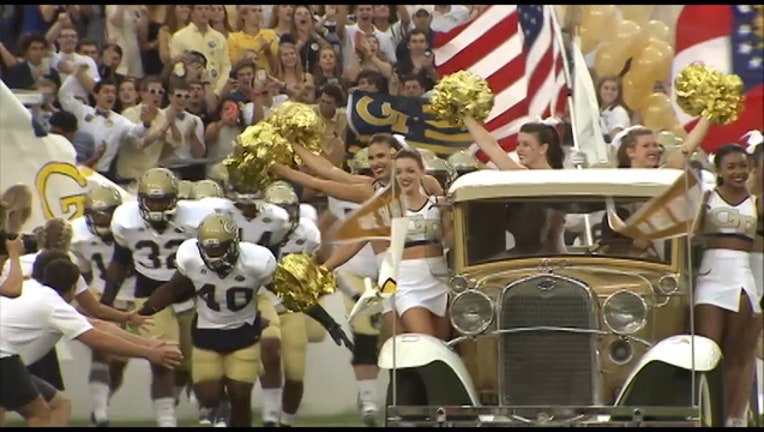 article
ATLANTA (AP) — Now that all the fun and games are over, Georgia Tech is about to begin its real season with a matchup at No. 8 Notre Dame.
And while the 14th-ranked Yellow Jackets have been rolling, they aren't likely to score their usual 67 points against the Irish.
That's why head coach Paul Johnson sees this as a potential trap game of an odd sort. He is not concerned about players taking the Irish (2-0) lightly, but taking themselves too seriously after blowing out Alcorn State (69-6) and Tulane (65-10).
"Certainly, it's a huge step up in competition," Johnson said. "It's really a tough place to play. They have a great home-field advantage, a lot of tradition, and some really good football players.
"You're never as good or bad as it seems. There's a middle ground, and it's my job to point that out to our guys. Sometimes, when everybody is telling you you're all this and the cat's meow, that's a trap and you better not fall into it."
Georgia Tech's offense has been purring, scoring 19 touchdowns already. But the Yellow Jackets (2-0) have not been battle tested this season.
They know they can count on junior quarterback Justin Thomas, who has run the spread option exquisitely in playing time limited by back-to-back blowouts. The Yellow Jackets also have an experienced offensive line and eight starters back on defense, but Johnson has plenty to learn about his team.
Even after 13 different players carried the ball against Tulane and several dozen players have seen action, Georgia Tech has not faced adversity or played a road game.
Conversely, Notre Dame had to rally to win 34-27 at Virginia Saturday on DeShone Kizer's 39-yard touchdown pass to Will Fuller with 12 seconds left.
Kizer replaced starting quarterback Malik Zaire, who suffered a season-ending ankle injury in the game, and starting tailback Tarean Folston was lost to a knee injury a week earlier against Texas.
Thomas sees the potential for mistakes, but the quarterback is fine with the Yellow Jackets' "preseason" schedule.
"I remember my first (road game) because it wasn't the best one I've played in; it was Tulane," he said of a game the Yellow Jackets trailed three time last season before winning. "You're going to have some adversity, especially being young, and you just have to play through it.
"The last two games, we didn't have much, (but) . . . I think the games were exactly what we needed. They gave the guys confidence."
Johnson will get plenty of chances to evaluate his squad. Tech follows Notre Dame with eight straight ACC games — including Oct. 10 at No. 11 Clemson and Oct. 24 against No. 9 Florida State — and then No. 7 Georgia on Nov. 28.
Notre Dame will be quite a first road trip for a relatively young Georgia Tech squad.
"Even last week, when it was another home game, I had the same jitters," said Marcus Marshall. "Definitely, going to Notre Dame with all that tradition, there will be some nervousness. I pretty much just grind through it."
Johnson is counting on upperclassmen to set the pace.
"We'll have probably 30 or 40 guys who haven't traveled before so it will be interesting to see how they react," Johnson said. "You hope they don't get big-eyed. I'm pretty confident . . . but you never know until you see it."
Johnson has had success against Notre Dame. In 2007, his final season as head coach at Navy, the Midshipmen beat Notre Dame 46-44 in triple overtime to snap a 43-game losing streak to the Irish — the longest in college football history.
Georgia Tech also won at Notre Dame that season, 33-3, in Chan Gailey's final campaign as the Yellow Jackets' head coach. The Irish lead the series 27-6-1.
But this Notre Dame team is a whole lot better than in 2007, when the Irish went 3-9 under Charlie Weis.
Kizer will work behind a veteran line, and Fuller already has 12 receptions for 266 yards and four touchdowns. Last season, he caught 76 passes for 1,094 yards and tied the school record with touchdowns.
Johnson also suggested that junior Jaylon Smith might be the best linebacker his team has faced in years, and the Irish have considerable size and depth.
"They always have good players," Johnson said. "It's going to be a step up. We've just got to do our thing. It's as much about us as about who we play. We've got to be dialed in . . . It ought to be fun. (Players) ought to embrace it."