Georgia Tech debuts defensive 3-4 alignment at spring game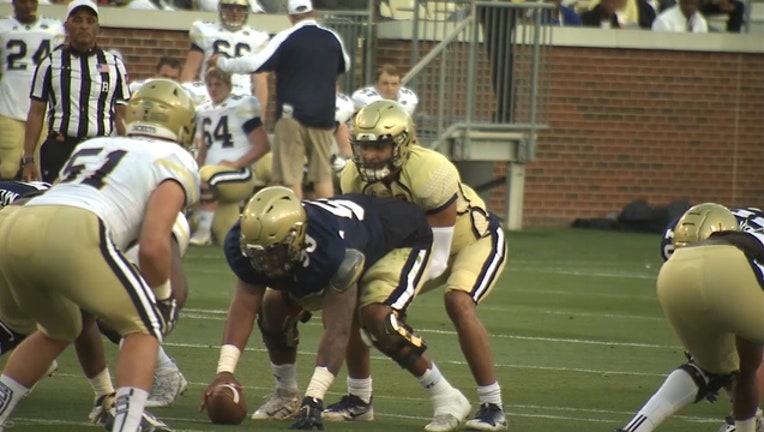 ATLANTA (AP) - New defensive coordinator Nate Woody and his 3-4 scheme were on display for the first time on Friday night at Georgia Tech's spring game.
But it was difficult to gauge the progress, given the number of players on both sides of the ball who were unable to play.
The first-team offense won 24-14.
"Spring games, as a general rule, are to let guys have some fun at the end of spring practice," Georgia Tech coach Paul Johnson said. "We had a pretty grueling spring practice. We were missing a lot of guys on offense and defense."
At least two starters and six regulars missed the game. Starting safety A.J. Gray has missed all spring and defensive lineman Desmond Branch was absent to attend his brother's wedding in New Mexico. Also out with injuries were linebacker David Curry, linebacker Jakob Brashear, lineman T.K. Chimedza and cornerback Jalen Johnson.
The new defense was active, particularly the linebackers, and totaled three sacks and three other runs for loss.
"The difference (from the 4-3 defense) is everybody out there knows what they're supposed to be doing," sophomore linebacker Jaquan Henderson said. "Not a lot of thinking. That's the main thing. Guys are making plays and putting guys in position to make a play."
Senior linebacker Brant Mitchell, who had a game-leading six tackles, said the defense is becoming more comfortable with the new scheme.
"It's growing more and more every day," Mitchell said. "It'll grow more when I learn what's going on around me and the defense learns why we're doing what we're doing. My comfort level increases day by day. There will be more meeting time and film studies in the summer and that will help us put one foot in front of the other and keep progressing."
Starting quarterback TaQuon Marshall was a last-minute scratch when he developed strep throat. That left the two backups to take most snaps. Sophomore Lucas Johnson moved over to run the Blue team and redshirt-freshman Tobias Oliver directed the White.
Johnson may have had the first-team offensive players with him, but he was working without four starting offensive linemen: Andrew Marshall, Kenny Cooper, Jake Stickler and Parker Braun.
Johnson finished with 143 yards passing, completing 5 of 17 with one interception. He threw a 33-yard touchdown pass to Clinton Lynch. Johnson also rushed 10 times for 31 yards and scored on a 14-yard run.
Oliver ran 20 times for 52 yards and completed 3 of 9 passes for 43 yards. Sophomore Jerry Howard rushed 13 times for 63 yards.
Coach Johnson said the new defense is producing the sort of results he wants.
"I think that's what we're looking for, some negative plays," he said. "That's the way the defense is set up, to make some negative plays."