Georgia routs Ga Tech 45-21, Alabama up next for SEC title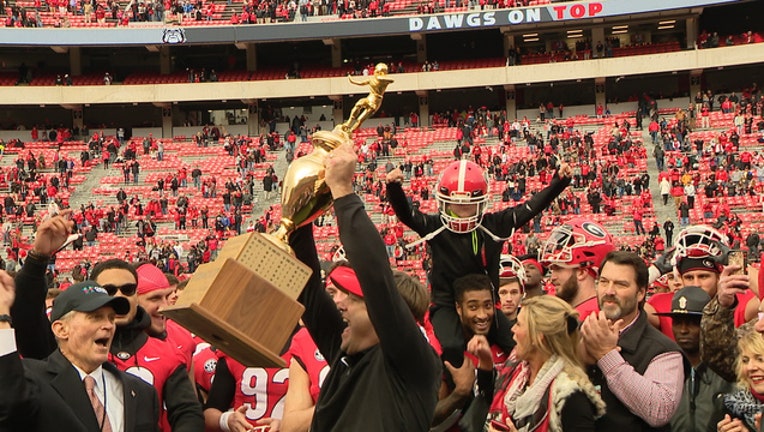 article
ATHENS, Ga. (AP) - Bring on Alabama.
Jake Fromm threw a career-best four touchdown passes, D'Andre Swift ran for 105 yards and No. 5 Georgia romped into the Southeastern Conference championship game with a 45-21 rout of Georgia Tech on Saturday.
The Bulldogs (11-1, No. 5 CFP) couldn't afford a slip-up, not with a rematch against the top-ranked Crimson Tide looming next week in Atlanta.
No worries.
"I was hoping we'd have another chance to play them," said linebacker D'Andre Walker, quickly turning his attention to the team that defeated Georgia in last season's national championship game. "I knew we had a good team to get back to this point and play them again. Now we've got to prepare like no other and take on the challenge."
The rivalry game known as "Clean, Old-Fashioned Hate" was over by halftime.
Georgia went to the locker room with a 38-7 lead - which, in an interesting twist, was the score of last year's dominating victory over the Yellow Jackets. The Bulldogs held a 343-66 edge in total yards, piling up 18 first downs to just four by Georgia Tech (7-5).
Fromm threw a 5-yard touchdown pass to Riley Ridley, a 12-yarder to Jeremiah Holloman and a 44-yarder to Mercole Hardman. Swift chipped in with a 1-yard scoring run, Elijah Holyfield had an 8-yard TD and Rodrigo Blankenship completed the onslaught with a 25-yard field goal on the final play of the half.
Fromm wasn't done yet. On Georgia's first series of the second half, he hooked up with Ridley again on a 4-yard scoring pass that prompted many in the crowd of more than 92,000 to head for the exits on a cold, damp day in Athens.
"We liked our matchups," said Fromm, who went 13 of 16 for 175 yards before giving way to Justin Fields late in the third quarter. "When they were kind of playing the off coverage, we hit some underneath stuff and let guys break tackles. Our athletes, our guys, are really good with the ball in their hands, so let's get it to them quick and let those guys make plays."
Georgia came into the game determined to avoid a repeat of Georgia Tech's last two visits to Sanford Stadium. In 2014, the Yellow Jackets prevailed 30-24 in overtime. Two years ago, they scored with less than a minute remaining for a 28-27 upset.
Both times, they shredded the famed hedges surrounding the field during the celebration.
The greenery looked just fine after Saturday's final home game of the year.
Now, it's on to Atlanta to face Alabama for the SEC title and an expected spot in the College Football Playoff.
Juanyeh Thomas provided Georgia Tech's only points of the first half on a 100-yard kickoff return. The triple-option offense, which came into the game leading the nation in rushing yards, finally reached the end zone on Qua Searcy's 3-yard touchdown run midway through the fourth quarter.
Georgia Tech finished with 128 yards rushing - not even close to its 354-yard season average.
"Nothing was really consistent, so we couldn't really get anything going" said quarterback TaQuon Marshall, who was held to 39 yards on 20 carries.
THE TAKEAWAY
Georgia Tech: The growing talent gap between the schools was on display for the second year in a row. The Yellow Jackets lost those games by a combined margin of 83-28, which is simply unacceptable for coach Paul Johnson and athletic director Todd Stansbury. "We missed a ton of tackles," Johnson said. "We had a hard time blocking."
Georgia: While the Bulldogs have held the upper hand in this rivalry for decades, it's clear coach Kirby Smart has turned the series into a particularly one-sided affair. His recruiting edge has grown to mammoth proportions, which makes it hard to see how Georgia Tech will be able to turn things around in the immediate future.
PUNT-FREE ZONE
Georgia punter Jake Camarda finally got back on the field in the fourth quarter - his first appearance in two weeks.
The Bulldogs went eight straight quarters without a punt going back to the third quarter of their 27-10 victory over Auburn.
They didn't punt at all in last week's 66-27 rout of UMass, and their first seven possessions Saturday resulted in six touchdowns and a field goal.
Finally, Georgia went three-and-out and Camarda came on to boot a 45-yard punt.
CONSOLATION PRIZE
It didn't mean much in the grand scheme of things, but Marshall was feeling good about a 28-yard touchdown pass to fellow senior Brad Stewart with 39 seconds remaining.
"It was a special moment for both of us," Marshall said. "I know how hard he works, and especially being our last game here at Sanford Stadium, just being able to put the ball in the air and see him go up and make a big play, it's super exciting for me. We had a little moment there on the sideline."
UP NEXT
Georgia Tech: A bowl game, likely either the Independence or the Military. "We're going to want to finish on the right note," Marshall said.
Georgia: A chance for redemption against the Crimson Tide, which has been on the radar since Alabama claimed the national title with a 26-23 overtime victory last January. The Bulldogs are still kicking themselves for squandering a pair of 13-point leads, and then giving up Tua Tagovailoa's winning 41-yard touchdown pass on second-and-26.
___
Follow Paul Newberry on Twitter at www.twitter.com/pnewberry1963 . His work can be found at https://apnews.com/search/paul%20newberry
___
For more AP college football: https://apnews.com/Collegefootball and https://twitter.com/AP_Top25