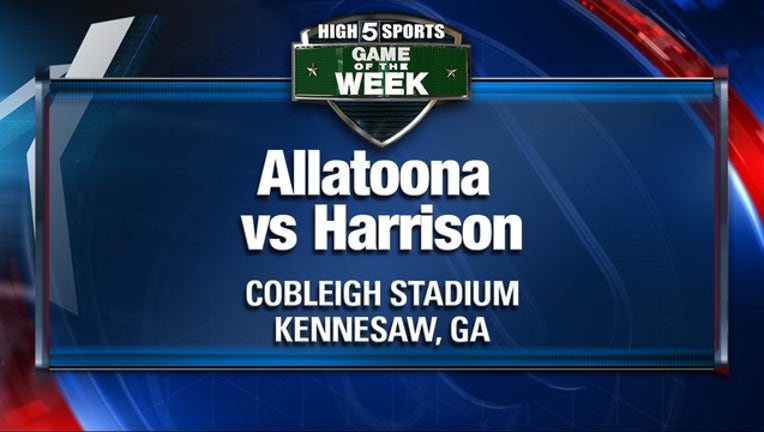 article
KENNESAW, Ga. - The High 5 Sports Game of the Week heads to Kennesaw for the second time this season with an important Region 6-AAAAAA battle between Allatoona and Harrison. The undefeated Hoyas (6-0) host the Bucs (3-2) at Cobleigh Stadium with plenty at stake. Harrison is fighting to stay atop the region with surprising Creekview, while Allatoona needs the win to help improve their chances of making the playoffs.
Last year Harrison Athletic Director Josh Hawk had to deal with Justin Fields recruiting distractions, which often found the Hoyas in the national spotlight, hosting live ESPN games or dodging reality TV cameras following the nation's number one quarterback recruit around campus. This year, he's hoping the team can focus on making a deep run in the playoffs.
"There's not a camera crew following Justin around this year," said Hawk. "But, the vibe and the buzz is still there and the success is showing so far with this team. There's not really one standout, they just rely on each other."
Fields, who would later sign with the Georgia Bulldogs, suffered a hand injury in late October last season, forcing sophomore Gavin Hall to step in and take important snaps behind center.
"Justin's injury was the best thing that ever happened to Gavin," Hawk told High 5 Sports."He got thrown in there and played really well for us. He really has risen to the challenge."
Hall led the Hoyas to the playoffs before losing to Glynn Academy in the third round. Harrison lost a coin toss and had to travel to Savannah to face the Red Terrors or their season could have ended differently according to Hawk.
Head Coach Matt Dickmann always has his teams prepared, so expect Harrison to be a tough out for Gary Varner's Buccaneers. Allatoona has bounced back after opening losses on the road to Cartersville and Creekview, neither of which have lost a game in 2018.
Kickoff is at 7:30 and High 5 Sports will send their "A" team featuring photographer "Super Blaine" Kummet and Atlanta Sports Hall-of-Fame broadcaster Bill Hartman to Kennesaw for all the action.