Falcons crumble late in 41-17 loss to Steelers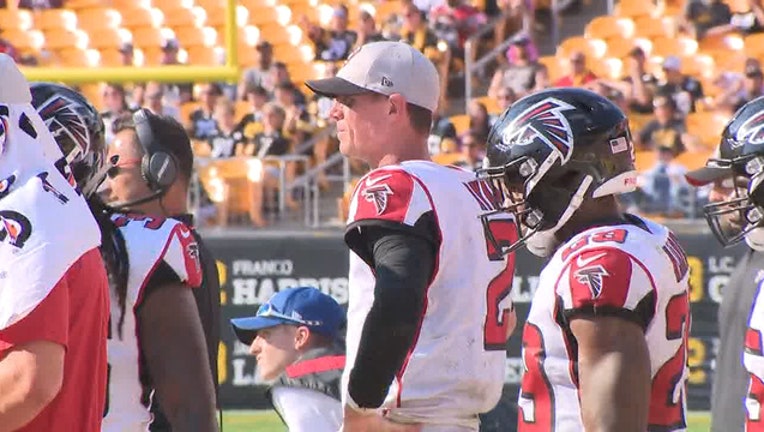 article
PITTSBURGH (AP) - The Atlanta Falcons kept stressing there was no need to panic during their sluggish start. That the small mistakes that kept costing them games would get cleaned up. That their banged-up roster would get healthy. That the team that began the season with Super Bowl expectations would eventually show up.
Time is running out. Quickly. It may already have.
Sloppy early and overwhelmed late, the Falcons were run over by the Pittsburgh Steelers in the second half of a 41-17 loss on Sunday that dropped Atlanta to 1-4 and left coach Dan Quinn scrambling for answers.
"Truth is, the second half clearly we missed the standard that we uphold for one another today," Quinn said. "We completely missed our mark."
Repeatedly.
Playing in a city where they'd never won, the Falcons appeared to have a chance after they walked into the half down just 13-10 following safety Damontae Kazee's leaping end zone interception of Pittsburgh's Ben Roethlisberger in the waning moments of the second quarter.
Then it all fell apart. The league's 28th-ranked defense couldn't stop the Steelers on the ground or in the air. The offensive line couldn't protect Matt Ryan, who himself couldn't find a way to get the ball to star wide receiver Julio Jones when it mattered.
Shadowed by Pittsburgh cornerback Joe Haden all afternoon, Jones finished with five receptions for a season-low 62 yards, all of them coming in the fourth quarter with the Falcons down double digits.
"They had a good game plan for me," Jones said. "Lot of (double coverage), things like that. Discouraged Matt early on in the game that two guys were going to be on me throughout the whole game."
Jones came in leading the league in yards receiving but was targeted just four times while the game was competitive. Though Ryan found intermittent success elsewhere while completing 26 of 38 passes for 285 yards and a touchdown, the inability to get anything going with Jones helped Atlanta fall to 0-7-1 all-time in Pittsburgh.
"Obviously we want to get (Jones) involved," Ryan said. "They made a pretty concerted effort take him out and that created opportunities elsewhere."
Just not nearly enough, particularly in the second half. Atlanta managed just 130 yards over the final two quarters. Running back Devonta Freeman ran eight times for 32 yards in his return after missing three games with an injury, and Ryan was sacked six times in all. His final snap encapsulated his team's nightmarish day.
Ryan scrambled to his left to avoid Pittsburgh linebacker T.J. Watt only to have Watt slap the ball free. Pittsburgh's LJ Fort fell on it in the end zone with 3:35 remaining to produce the final margin.
"When you have success (blitzing) early, you know they are going to go back to the well throughout the game and so they did a nice job today," Ryan said.
Even the special teams was not immune, allowing a blocked punt midway through the third quarter that let the Steelers to score a pair of touchdowns in a span of 2:03 to break it open.
"Our run game was not up to the standard that we hold one another to," Quinn said. "I thought the pass protection wasn't what we wanted, and the third down defense I thought was a problem, not just in the second half, but for the entire day."
The list goes on and on. The Steelers converted 9 of 12 third downs, ran for 131 yards and in general pushed Atlanta around. The Falcons, who lost their first three games by a combined 13 points, crumbled.
The loss kept Atlanta in last place in the AFC South. Not exactly where a team that won a combined 21 games in 2016 and 2017 expected to be as mid-October approaches.
"We're going through a little funk right now," Falcons linebacker De'Vondre Campbell said. "It happens. But it's about how we respond to it. If we sit here and feel sorry for ourselves, we're going to continue to lose. But if we lose and make corrections and the changes we need to make, then we'll be just fine."
___
More AP NFL: https://apnews.com/tag/NFL and https://twitter.com/AP_NFL