'El Tata' thanks fans for support ahead of Atlanta farewell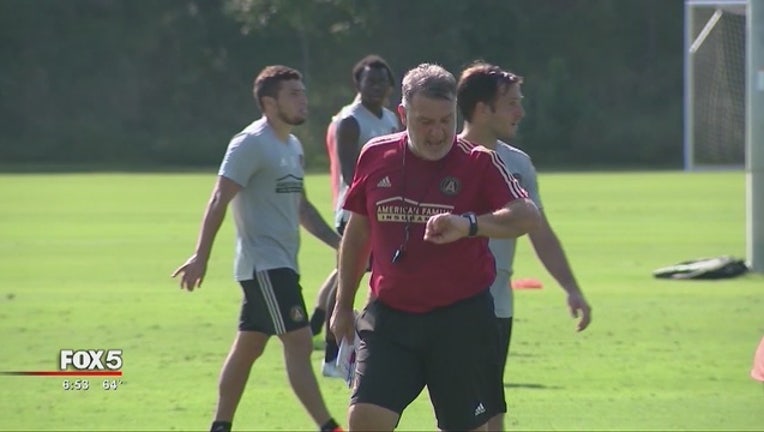 article
ATLANTA (AP) - Tata Martino's love affair with Atlanta's soccer fans didn't have to last long to have meaning.
On Thursday, Atlanta United's coach expressed his appreciation for the fans' record-breaking support as his team prepared for Saturday's MLS Cup final against the Portland Timbers.
"First I just want to say thank you to Atlanta for letting me participate from the very beginning in the birth of this new club," Martino said through a translator.
Martino's leadership played a lead role in Atlanta's meteoric rise as a MLS power. Led by MLS MVP Josef Martinez , Atlanta United is trying to win the MLS title in only its second season as an expansion franchise.
Along the way, Atlanta has set MLS attendance records for a single game and season. Another record is expected Saturday when a crowd of more than 70,000 is expected to pack Mercedes-Benz Stadium.
Atlanta United set a single-game attendance record of 72,243 against Seattle on July 15.
Martino was voted MLS coach of the year after announcing this would be his final season. Saturday will be his farewell to Atlanta fans, leaving behind a legacy that will be difficult for his successor to match. The former Barcelona and Argentina national coach reportedly is headed to Mexico's national team.
Veteran midfielder Jeff Larentowicz said Martino has been the foundation of the new franchise.
"He's the leader, he's the pillar in the middle," Larentowicz said Thursday.
"His message from Day 1 has been the same. When he speaks, we listen. That's really it. Without getting too technical, he's the boss. What he says goes, and we've all bought in."
Larentowicz said Martino won instant respect, even as a newcomer to the MLS, through his "knowledge of the game."
"His management and style is at times uncompromising but I think it's always best for the team," Larentowicz said. "His ability to sit down after having never coached in the MLS and to break down a team you've played against a million times, and he tells you something you've never seen before."
Atlanta fans honored Martino with a towering, statue-like tribute that showed the coach in his trademark pose, his arms crossed and a sweater tied over his shoulders. "El Tata" was written on the base.
"My first reaction was to smile because I thought it was very nice and affectionate," Martino said Thursday, smiling.
"I'm always someone to highlight respect. Aside from the amount of affection I've been shown from the fans, the amount of affection they have shown me and continue to show, that they always will show me, that feeling is mutual. Aside from that affection, I value respect a lot and it has always been a mutual respect ever since I came to Atlanta between myself and the fan base."
Players say Martino has not made this Cup final about him. There is ample incentive without challenging players to win one for the coach.
"For us, the most important thing is we are very excited to play this game in front of our home fans and with all the emotion and hype going into this match," Martino said. "We view it as our reward for this season but also these two years of hard work we've put in."
__
MLS Cup coverage begins exclusively online with an hour-long pre-match show on the FOX 5 Atlanta Facebook page, at FOX5Atlanta.com, and the FOX 5 Atlanta app.
Then tune into FOX 5 Atlanta at 8 p.m. to watch the most nail-biting 90 minutes of soccer Atlanta has ever seen.