Eagles struggling post Super Bowl, Giants still losing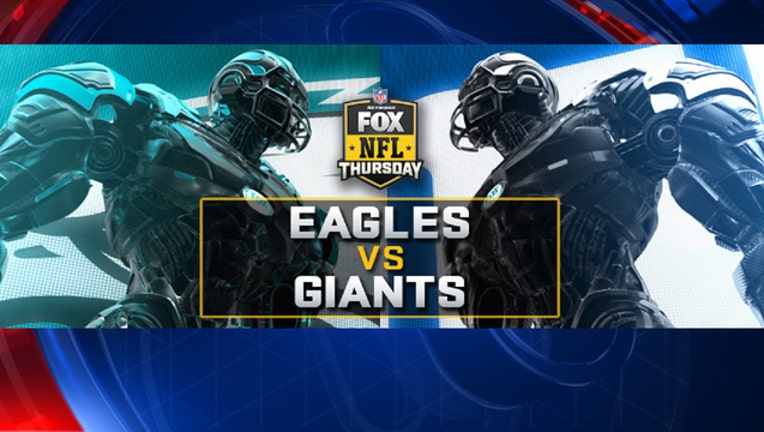 article
EAST RUTHERFORD, N.J. (AP) - After turning over half their roster, it's not surprising the New York Giants are losing.
The defending Super Bowl champion Philadelphia Eagles are another story. They were expected to make a run at being the first team to repeat since the New England Patriots won title games after the 2003 and 2004 seasons.
WATCH: FOX 5's Thursday Night Kickoff starting at 7 p.m. followed by Thursday Night Football coverage on FOX 5 Atlanta.
The Eagles (2-3) head into Thursday night's game at MetLife Stadium against the Giants (1-4), looking to avoid their first three-game losing streak since the 2016 season. A fourth loss would be more than they had last season.
While some might point to a Super Bowl hangover, it's also a combination of having a target on their backs, injuries and bad play.
"We know we're going to get everybody's best and we've seen it already this season," Eagles coach Doug Pederson said.
"I've addressed the team that way. It doesn't mean we have to; it's not about panic mode or anything in that nature, it's just a heightened sense of urgency. The mistakes we're making are self-inflicted and it's keeping us from possibly winning a game or two here or there, and we understand that."
So do the Giants. They have not played horribly in coach Pat Shurmur's first season. They are not making enough plays, and too many mistakes.
Odell Beckham Jr., who caught a touchdown and threw another in the Giants' 33-31 loss to Carolina last weekend, is glad this is a short week and the Eagles are the opponent in the weak NFC East where no team has a winning record.
"Defending Super Bowl champs coming in here, Thursday night game, but right now the focus is more on this just one game, and not putting so much pressure on what it could do for us," Beckham said. "But this is a game that we need to win against a division rival."
The Eagles have won the past three against New York and seven of eight.
Beckham doesn't care.
"There's always a team each and every year where everything is right for them," Beckham said of the Eagles.
"Even watching them last year, there was third downs, third-and-7s - they got all of them. It's just the little stuff that was going on for them all year that was happening that allowed them to win each and every game. I don't know if I've seen that in the past games."
Here are a couple of things to watch:
STOPPING ERTZ
Eagles tight end Zach Ertz has at least 10 catches and 100 receiving yards in each of his past two games. He is looking to become the fifth player in league history to record three consecutive 10-catch, 100-yard games. The Giants have the league's eighth-best pass defense, and that's with only six sacks this season. New York safety Landon Collins also does a good job in slowing down opposing tight ends. Expect to see him go against Ertz.
SCOUTING SAQUON
Eagles defensive end Michael Bennett compared Saquon Barkley to a combination of Marshawn Lynch, LeSean McCoy and Jamaal Charles. Linebacker Jordan Hicks said the defense has to make sure it's aware of Barkley on every snap. Philadelphia had the NFL's best run defense last season and opponents are averaging 66.4 yards this year, with 42.4 yards by running backs.
"He's a dynamic player," Hicks said. "He's used in many ways, he's a strong, physical runner and can make every cut. We have to contain him."
STERLING EFFORT
Giants wide receiver Sterling Shepard has played against the Eagles four times and caught a touchdown in every game. He had two big games last season, catching a total of 18 passes for 272 yards and two touchdowns. Shepard might have something to prove this week. He ran the wrong route Sunday and it led to an interception. The third-year pro took out his frustration on a bench and a garbage can. "I really wanted to win that game. That's the bottom line. I felt it kind of slipping away right there."
WHERE'S THE RUSH?
The Eagles only have 12 sacks this season and the inability of the front four to bring down quarterbacks has hurt because coordinator Jim Schwartz doesn't like to blitz and relies on the linemen to get sacks. As a result, the pass defense has suffered. Eli Manning gets the ball out quickly, but he's been sacked 16 times this season.
"We can rush better, we can get to the quarterback more," three-time Pro Bowl defensive tackle Fletcher Cox said. "The defensive line drives this team. We have to do better."
KICKING GAME
Jake Elliott of the Eagles has made seven straight field goals. He also beat the Giants with a 61-yarder last season. Coincidently, Graham Gano beat New York with a 63-yarder last weekend. Aldrick Rosas of the Giants has been perfect this season making all 11 of his field goals and seven extra points. He has an injured quad and his status is uncertain. Marshall Koehn, who was in training camp, was signed to the practice squad Tuesday. He has kicked in one NFL regular-season game.
___
AP Pro Football Writer Rob Maaddi contributed to this story.
___
More AP NFL: https://apnews.com/tag/NFL and https://twitter.com/AP_NFL