d'Arnaud brothers face off as Braves host Mets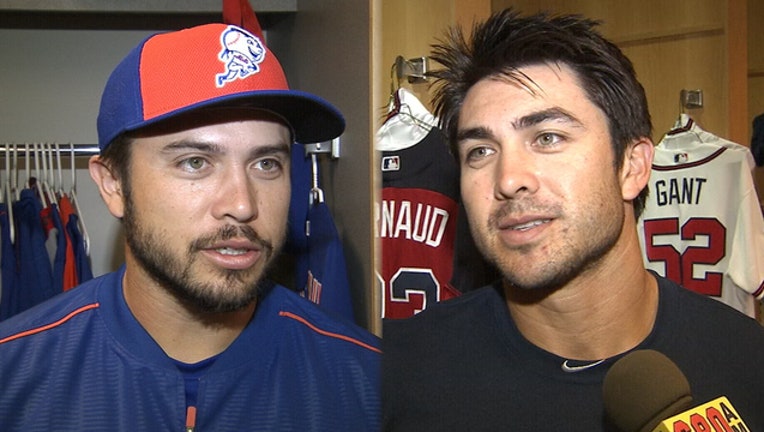 article
ATLANTA - This weekend's series is enough to make Braves infielder Chase d'Arnaud feel like he's a kid again.

"We invented our own little variation of baseball in the front yard while denting cars that were passing by and our parents cars," said d'Arnaud. "They'd get quite upset with us but what are you going to do?"

Chase is brought back in time by one of the players his Braves are facing: his younger brother Travis, the starting catcher for the New York Mets.

"I still remember vividly being 3 and watching him as a 5-year-old play in tee ball, so for us to be at the ultimate stage and being able to play against each other is pretty surreal and a lifelong dream of both of ours," said Travis.

The two brothers have only played one MLB game against one another where both played in the game, and that was before this season -- Chase was not on the Braves during the team's first series against New York this year, then Travis was on the disabled list the other times Atlanta played the Mets.

"We love playing against each other, obviously," said Chase. "What brothers wouldn't? It's not an opportunity that comes often."

Baseball isn't a one-on-one game, so it's not like one brother will be pitching to the other -- however, since Travis is a catcher, he'll get a chance to needle his big brother when Chase comes up to bat.

"Of course [I'll say something]! He's my older brother. "I throw jabs at him when I can, but it'll be a lot of fun when he steps in that box."

The d'Arnaud brothers went out to lunch on Thursday before the series opener near the hotel where the Mets are staying. It's all business this weekend, but they're able to offer each other advice throughout the season, especially when one finds himself in a slump.

"Through our struggles we help each other," said Chase. "Even when things are going great we help each other. It's good to talk about the good and the bad because when things are going bad and you can't seem to find it, I can use Travis as a point of reference, and he'll say, 'well when things were going good, you were thinking about this,' and vice versa. I've seen his swing so much I can say, 'your hands are in a certain spot.' We help each other out as much as we can."

The on-field reunion, however, is still on hold. While Travis started both of the first two games of this series at catcher for the Mets, Chase was not in the starting lineup in either game and did not appear in Atlanta's series opening win.