Cowboys RB Ezekiel Elliott suspended six games by NFL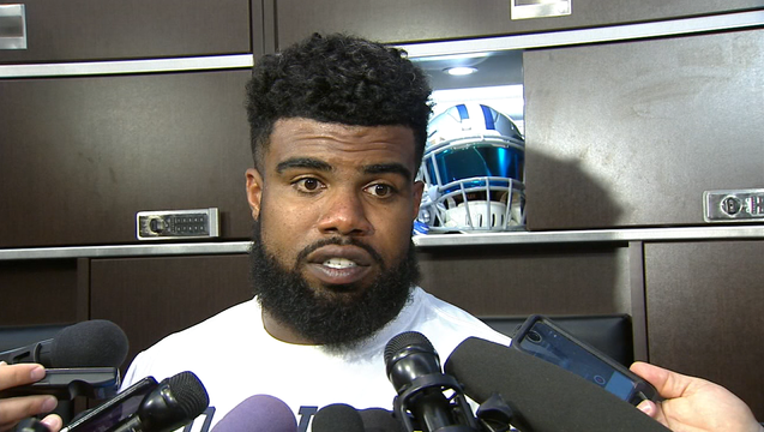 article
Dallas Cowboys running back Ezekiel Elliott has received a six game suspension from the NFL for personal conduct
ESPN was the first to report the lengthy suspension, which was much longer than most writers and analysts had predicted. Elliott has three days to appeal the suspension, which will happen according to his lawyers.
The suspension is due to accusations against Elliott of domestic violence before the start of his rookie season last year. The charge came from a former live-in girlfriend in Columbus, Ohio. Police in Ohio investigated and did not file charges.
But the league said in a statement that special advisors who looked into the case "were of the view that there is substantial and persuasive evidence supporting a finding that [Elliott] engaged in physical violence against Ms. Thompson on multiple occasions during the week of July 16, 2016."
The NFL said it had spoken with more than a dozen witnesses, including the ex-girlfriend. It also examined "photographic and digital evidence, thousands of text messages and other records of electronic communications."
Reps for Elliott said in a statement they were "extremely disappointed" with the league's decision. They said they've been working with authorities in Columbus, Ohio and the NFL on the investigations and are "fully aware of the full body of evidence that exists in connection with this matter."
"The NFL's findings are replete with factual inaccuracies and erroneous conclusions and it 'cherry picks' so called evidence to support its conclusion while ignoring other critical evidence," the reps said.
It said during the appeal to the NFL, "a slew of additional credible and controverting evidence will come to light."
ESPN reported that Cowboys owner Jerry Jones is reportedly "furious" at the length of the suspension for Elliott.
At the team's opening press conference before training camp, Jones said, "I have reviewed everything, and there is absolutely nothing -- not one thing -- that had anything to do with domestic violence."
             Ezekiel Elliott's twitter response to the suspensions