Column: As Falcons head to Super Bowl, remember Mike Smith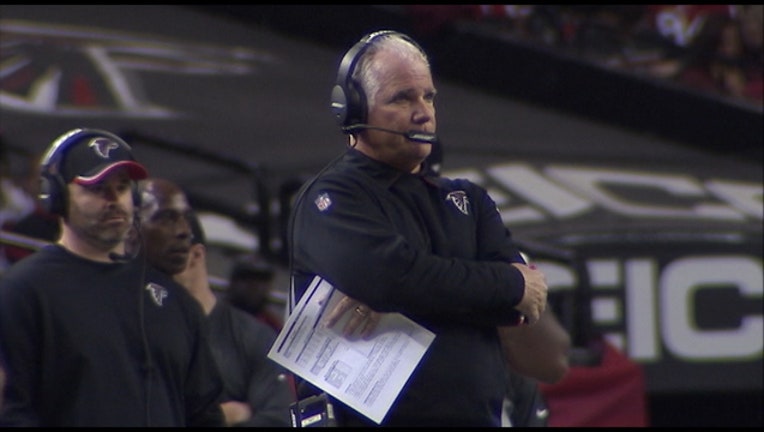 article
ATLANTA (AP) - Mike Smith never made it to the Super Bowl with the Atlanta Falcons.
Came up 10 yards short .
But let's not underestimate the impact he had on the Falcons, who are one win away from their first NFL championship.
The white-haired coach known as Smitty helped turn this franchise into something it had never been before.
A consistent winner.
For that alone, he deserves another chance at having a team of his own.
"Coach Smith was the best coach in the history of our franchise," said Falcons owner Arthur Blank. "We'd never had back-to-back winning seasons. With Coach Smith, we had five in a row. A great credit to him."
Blank, of course, was the one who fired Smith after back-to-back losing seasons. He was replaced by Dan Quinn, who has received widespread acclaim - and rightly so - for guiding the Falcons to their second Super Bowl.
Smith, meanwhile, awaits another head coaching chance that may or may not come.
After being dumped by Falcons in 2014, he sat out a year before returning this season as Tampa Bay's defensive coordinator. After the Bucs went 9-7, just missing out on the playoffs. Smith was a candidate for Jacksonville's head coaching job. He was beaten out by interim coach Doug Marrone, whose record is not nearly as impressive as Smith career mark of 66-46.
The other vacancies were filled by young assistants with no real head coaching experience - most notably, 31-year-old Sean McVay to the Los Angeles Rams, perhaps signaling a new generation that has left the 57-year-old Smith behind.
"I think he'll get another opportunity, I really do," Falcons quarterback Matt Ryan said. "He showcased what he can do here for seven years, and he's done a great job at Tampa."
Through the Bucs, Smith turned down any interview requests about his time with the Falcons. But, before the first of two regular-season meetings between the division rivals, he expressed no bitterness about the way things ended. In fact, he seemed to relish the chance to work again as an assistant.
"I sleep better at night," he said.
Even though there's been a huge turnover on the Falcons roster the last two years, it's worth remembering where Atlanta was when Smith was hired in 2008.
The team was coming off one of the most horrific seasons in its 51-year history, and that's saying something. Star quarterback Michael Vick was sent to prison for running a dogfighting ring. Coach Bobby Petrino abandoned the team only 13 games into his tenure. The Falcons staggered to a 4-12 finish and seemingly faced a rebuilding job that would take years to complete.
Instead, with Thomas Dimitroff coming aboard as general manager and Smith in his first head coaching job after a career spent largely as an overlooked assistant, the Falcons turned things around quicker than anyone could've imagined. They went 11-5 and claimed a wild-card berth.
It helped to land Ryan, another franchise quarterback, with their first draft pick. But he was far from the player he would become, so Smith relied heavily on Michael Turner and a bruising ground game. Smith also brought a fire the team was desperately lacking, best epitomized by at least two sideline confrontations with opposing players.
While Atlanta didn't make the playoffs the next year, it might've been an even better coaching job by Smith. When Ryan missed two games with an injury and the Falcons dropped out of postseason contention, it would've been easy for the team to pack it in. Yet they won their final three games to finish 9-7.
It was the first time the team ever had consecutive winning seasons.
"He's a helluva coach," Ryan said. "I really, really loved playing for him."
The best years were still to come. A 13-3 mark and a division championship in 2010. A repeat of that in 2012, when the Falcons finally won a playoff game and hosted the NFC championship against the San Francisco 49ers.
Turns out, that was the summit of Smith's tenure in Atlanta.
The 49ers rallied from 17 points down for a 28-24 victory, stopping the Falcons' final chance at the 10-yard line.
"We were close with Smitty here," said star receiver Julio Jones, another holdover from the previous regime. "He instilled that mentality in us of working hard and going hard."
Unfortunately for Smith, they didn't come anywhere close his final two seasons.
Poor drafts and wasted free-agent signings - largely Dimitroff's responsibility - finally caught up with the team, especially on the offensive and defensive lines. Smith made some horrible clock-management decisions that turned wins into losses. He was already on a bit of a short leash, regarded as a coach who turned timid in the big games, resulting in only one victory in four playoff appearances.
From Super Bowl contender, the Falcons plummeted to 4-12 in 2013. The team showed only marginal improvement the next year, going 6-10. Amazingly, because a weak division, Atlanta could've make the playoffs with a victory in its final game.
A humiliating 34-3 home loss to Carolina sealed Smith's fate.
"We decided for a variety of reasons after two very difficult years for the franchise, and for him personally, that long-term it was the right time to make a change," Blank said.
No one is questioning that decision now.
Quinn has done a magnificent job.
But that doesn't take away what Smith accomplished in Atlanta.
He deserves a few props.
He deserves another head coaching job.
___
Paul Newberry is a sports columnist for The Associated Press. Write to him at pnewberry@ap.org or at www.twitter.com/pnewberry1963 . His work can be found at http://bigstory.ap.org/content/paul-newberry .
___
For more NFL coverage: www.pro32.ap.org and www.twitter.com/AP_NFL