Cleveland Browns unveil white helmet as part of 'throwback' look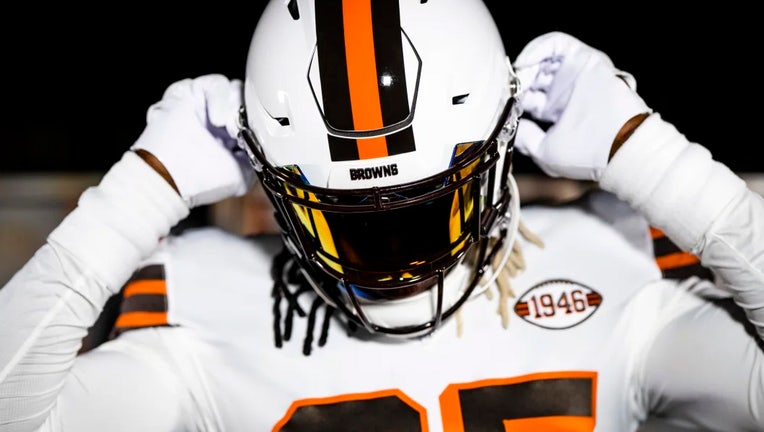 article
CLEVELAND - For the first time in over 70 years, the Cleveland Browns will hit the field wearing something other than their signature orange helmet.
The team unveiled a new white helmet Tuesday that will be paired with a white throwback uniform reminiscent of the team's 1946 debut look.
When the original Browns joined the AAFC that year, they wore white uniforms and an all-white helmet. They changed to their iconic orange helmets in 1950 due to league requirements for contrasting helmets.
Hall of Famers Otto Graham, Marion Motley, Dante Lavelli, and Lou 'The Toe' Groza are among the original Browns players from that successful era.
"We decided to go with the white helmet for a couple reasons — it harkens back to our past, and a lot of our greatest players wore white helmets," the team's executive vice president and partner, JW Johnson, said in a press release about the plan.
While the orange-helmet look varied slightly through the years, they remain the only NFL team to never use a logo on their helmet.
The updated version includes brown and white stripes down the middle of the helmet. The uniform combo will debut on the road in a Week 2 matchup with the rival Steelers, then will be worn at home Week 6 against the 49ers and Week 17 against the Jets.
The NFL resumed allowing teams to use a secondary helmet again last year, making such throwback looks more practical. 
The Tampa Bay Buccaneers announced last week that their infamous 'creamsicle' jerseys would return this year for the first time since 2013. Former Browns top draft pick Baker Mayfield, now with the Bucs, was among the players showcasing the classic look.
The Seahawks, Eagles, and Titans are expected to play at least one game in their new throwback looks this season as well.
This story was reported from Tampa, Fla.