Chase Elliott Wins Pole at Talladega 30 years After his Dad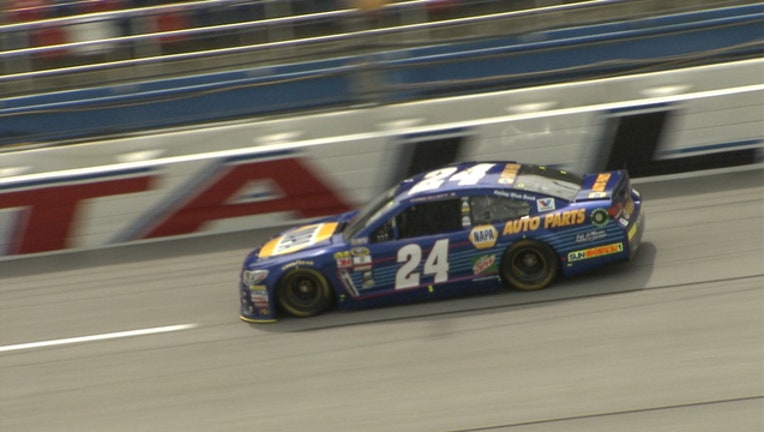 article
TALLADEGA, Ala. (AP) - Chase Elliott wasn't born yet when his father turned a record-setting lap to win the pole at Talladega Superspeedway.
He'll get to experience leading the field to green just like his dad did, though, after winning the pole himself on Saturday, 30 years after Bill Elliott's blistering qualifying run.
Elliott turned a lap at 192.661 mph to put his Hendrick Motorsports Chevrolet in the top position for Sunday's race. Bill Elliott won the pole in 1986 with a lap at 212.229 mph.
"This is definitely a special place," said Chase Elliott, who grew up in Dawsonville, Georgia, which is 170 miles from Talladega. "This has always been a special place to him and it's certainly great to be here and have the opportunity."
Elliott also won the pole for the season-opening Daytona 500, but he crashed and finished 37th. He's back in the same car he drove at Daytona, and he credited his No. 24 team and the Hendrick engine department for giving him such a good car.
"Man, this is cool," he said. "Those guys do such a good job. And as I said in Daytona, this had nothing to do with me. This is the car that we had. This is the same car we had in Daytona. They brought another fast one here."
It's the fifth pole in the last six restrictor-plate races for the No. 24 Chevrolet. Jeff Gordon won three of those poles before he retired and turned the car over to Elliott this season.
Elliott is eager to finish his first plate race in the Sprint Cup Series.
"Obviously I have a lot to learn," he said. "The race last time at Daytona didn't go so good. Hopefully for me, I'll just try to take what I learned and try to cut down those dumb mistakes that I made in the Daytona 500 this year and just try to be smarter. The first thing is making it to the end and obviously I didn't do a very good job of that in February. Our first goal is to try to get to the end of the race; and if we can get there, just try to be smart."
Austin Dillon qualified second for Sunday's race with a lap at 192.424 mph. Driving the No. 3 Chevrolet that the late Dale Earnhardt drove to nine of his record 10 Talladega victories, Dillon hoped to give grandfather Richard Childress another trip to victory lane.
"There's a lot of history here with Dale and RCR," Dillon said. "A lot of good stuff happened with RCR here, so hopefully we can continue that streak of good runs for RCR here. We've got a car capable of doing that, obviously, with the qualifying effort, and I'd love for it to be my first Cup win."
Defending race winner Dale Earnhardt Jr. qualified third to give Hendrick three cars in the top five. Jimmie Johnson qualified fifth.
Matt Kenseth qualified fourth in a Toyota, Ricky Stenhouse Jr. and Brad Keselowski were sixth and seventh in Fords, and Daytona 500 winner Denny Hamlin qualified eighth.
Carl Edwards qualified ninth to join Joe Gibbs Racing teammates Kenseth and Hamlin in the top 10.
OTHER NOTES OF INTEREST:
DILLON-STEWART: Tony Stewart will race Sunday only until the first caution, then he'll turn the car over to relief driver Ty Dillon.
Stewart missed the first eight races of the season with a back injury, returned to competition last week and doesn't want to risk hurting his back again at Talladega. Dillon qualified the car 14th, but Stewart will drop to the rear of the field at the start on Sunday because of the driver change.
The car is fit for Dillon, who said, "I'm really comfortable in the car."
Dillon believes he has a shot to win the race, which would count toward Stewart's victory total.
"If all goes well with the switch and we stay on the lead lap and stay out of trouble, it's Talladega, anything can happen and maybe we can get that win," Dillon said.
___
JGR SLOWDOWN?: Joe Gibbs Racing was the class of the field in the season-opening Daytona 500, but the Chevrolet camp believed it made some gains on the Toyotas since February.
"I don't think they have the same speed as they did at Daytona," Austin Dillon said. "They lost something from the time they came from Daytona to Talladega. We will see how it goes."
Kyle Busch was the lowest-qualifying JGR driver at 17th and called his lap "horrible."
"It doesn't matter where you qualify, but just expected to have a little more speed," Busch said. "It's every man for himself and wide open times out there."
The Toyota group had a team plan at Daytona, where the JGR cars worked in tandem with Martin Truex Jr., who finished second in a photo finish to Hamlin. Busch wasn't sure that strategy will work at Talladega.
"I'm not sure if it will have the same effect here," he said. "I still think that if you can coordinate enough of a group to stick together for a long enough group of time, that that's going to overcome some of those that are trying to get through to you."
___
DRIVER COUNCIL: The 9-member driver council met for three hours Friday night and the session was attended by NASCAR chairman Brian France.
Some drivers have been critical of France skipping the meetings, so his presence was welcome.
"There is a tremendous amount of good faith that is earned when Brian comes to the meeting like that," Brad Keselowski said.
Earlier in the day, France met privately with Stewart to discuss the $35,000 fine Stewart was hit with last week for questioning NASCAR's safety standards. Stewart has repeatedly said he doesn't know why he was fined, but he told The Associated Press on Saturday he got it after meeting with France. He declined to elaborate.
___
MISSED THE RACE: Only one driver, Josh Wise, failed to qualify for the 40-car field.