Braves' offense hits another low point in a bad season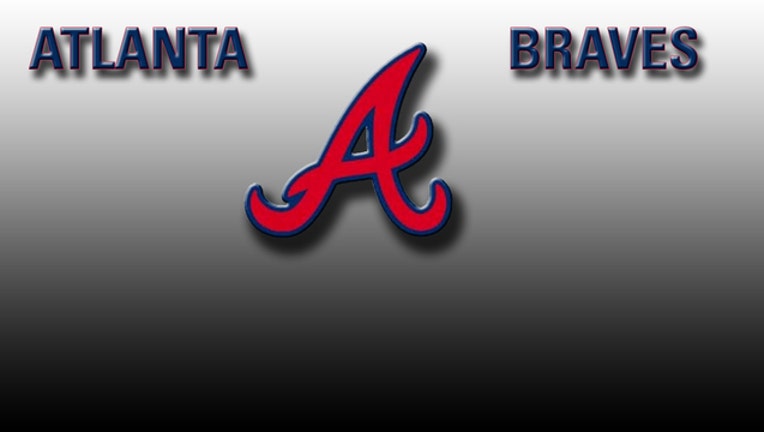 ATLANTA (AP) — Interim Braves manager Brian Snitker keeps waiting on his team's offense to wake up.
Sooner or later, Snitker tells himself, but time is running out. Atlanta's 12-34 record ties the 1906 and 1911 teams for the worst start in franchise history.
"We're getting (runners) on," he said. "It's just trying to pierce a gap and have a big inning. That would relax everybody. We're having a rough time right now finding that."
The Braves lost 6-2 to the Milwaukee Brewers on Thursday night and are hitting .075 in their past 53 at-bats with runners in scoring position.
Those numbers are bad enough, but Atlanta's lineup has struggled all season, ranking last in the majors in homers, RBIs and runs scored.
Ryan Braun and Jonathan Villar homered for the Brewers, who earned their first sweep in Atlanta. The Brewers began the three-game series with a 6-14 road record, but they found the right matchup at Turner Field.
Atlanta is 2-20 at home, worst in the majors.
Rain delayed the game 1 hour, 17 minutes in the seventh inning.
Milwaukee took a 3-2 lead in the fifth on Braun's ninth homer. Braun has hit safely in 17 of his past 18 games for a .383 average, four homers and 13 RBIs.
Villar's second homer of the season came off reliever Ian Kroll in the seventh, right before the rain arrived, to put the Brewers up 4-2. Pinch-hitter Hernan Perez added a two-run triple for a 6-2 lead in the ninth.
Carlos Torres pitched the last two innings to earn his second save.
Braves starter Matt Wisler (2-4) had a tough fourth, intentionally walking Martin Maldonado with two outs to get to pitcher Wily Peralta, whose two-run bloop single made it 2-2. Wisler said he guessed wrong by throwing a slider instead of a fastball.
"That was the biggest mistake of the game right there," Wisler said. "Besides that, I thought I threw the ball pretty well."
Wisler allowed six hits, three runs, two walks and struck out seven in six innings. The right-hander, one of the few bright spots for the last-place Braves, has a 2.25 ERA in six starts this month.
Tyler Flowers hit a two-run homer in the first to give the Braves a 2-0 lead, but Atlanta missed a chance to do damage in the sixth and the seventh, stranding five runners against Brewers reliever Jhan Marinez.
"We've just to continue to bear down and find a way to get those runs in," Flowers said. "We definitely can't afford to not score off a leadoff double or something like that."
Peralta (3-5) gave up seven hits, two runs, two walks and struck out four in 5 1-3 innings. The right-hander began the game with a 6.99 ERA and a .363 opponents' batting average in nine starts this year, and he was 1-8 with a 5.77 ERA in his past 13 road starts.
But against the weak-hitting Braves, Peralta commanded his mid-90s mph fastball with relative ease in his last four-plus innings to improve to 2-1 with a 1.65 ERA in five starts against Atlanta.
With the Braves moving to a new suburban stadium next year, the Brewers played their last game at Turner Field. They went 27-41 at the Braves' 20-year-old ballpark.
SUSPENSION
Atlanta's dismal season took another turn for the worse before the game when outfielder Hector Olivera was suspended through Aug. 1 for his arrest on domestic violence charges.
The suspension, announced by commissioner Rob Manfred, is without pay and covers 82 games, retroactive to April 30.
Olivera was arrested April 13 at a hotel outside Washington, D.C., charged with assault and battery of a woman and immediately placed on leave. He will not appeal the suspension.
STRUGGLING
Nick Markakis, Atlanta's leader with 24 RBIs, is hitting .159 in 82 at-bats this month. He went 0 for 9 in the series and lined out as a pinch-hitter in the sixth. ... Braves first baseman Freddie Freeman went 1 for 15 in the series and is hitting .083 in his last 26 at-bats with runners in scoring position. Freeman led the majors in that category last year with a .376 average.
TRAINING ROOM
Brewers: LHP Chris Capuano, the only lefty on the staff, was placed on the 15-day disabled list with elbow soreness. ... RHP David Goforth was recalled from Triple-A Colorado Springs.
UP NEXT
Brewers: RHP Zach Davies (1-3) is 0-1 in one start against Cincinnati. Opponents have hit .297 against him in seven starts.
Braves: RHP Williams Perez (2-1) is 0-1 with a 6.75 ERA in two starts against Miami.