Braves greats help celebrate opening of new SunTrust Park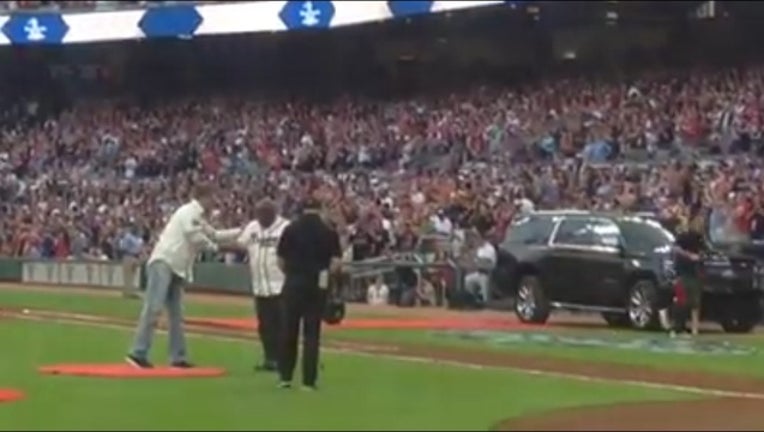 article
ATLANTA (AP) - The Atlanta Braves leaned heavily on some of the biggest names from their past to help open their new park.
The first pitch before Friday night's opener at SunTrust Park was delivered from one Hall of Famer, Hank Aaron, to another, Bobby Cox.
The 83-year-old Aaron used a cane as he walked onto the field in front of the mound. Aaron tossed the underhand pitch to Cox, the former manager who had a new bronze statue unveiled at a stadium entrance on Thursday. The Braves also have a new Aaron statue at the park.
Aaron and Cox joined other five other former Braves stars in the pregame ceremony: Phil Niekro, Dale Murphy, Chipper Jones, Tom Glavine and John Smoltz.
Braves first baseman Freddie Freeman said the show of force from the team's former stars was impressive.
"Sometimes you take for granted what this organization has," Freeman said. "To see everybody come back, you just kind of step back and realize what kind of organization you are a part of. There is a lot of history and now we're going to start a new ballpark.
"Seeing all these guys come back, you just kind of step back and take it all in."
The Braves' most distinguished fans, former President Jimmy Carter and his wife, Rosalynn, attended the game.
Jones, who retired following the 2012 season, played when the Braves opened their former park, Turner Field, in 1997. The Braves played in the old stadium, built for the 1996 Olympics, for only 20 years.
Jones scanned the new park before Friday night's game against the San Diego Padres and said he was "very jealous."
"I was born 10 years too early," Jones said, adding he believes the Braves' new home will be better for hitters.
"There weren't too many cheap homers at Turner Field," Jones said. "This place, I don't think you're going to have to necessarily crush one to get it out of here."
Commissioner Rob Manfred welcomed fans to "baseball's newest gem."
Fans seemed to agree with Manfred's review of the $622 million park, which is flanked by an expansive mixed-use development offering restaurants, apartments, office space, a concert venue and a hotel which will open next year.
"I've been waiting on them to come," said Chris Witzel, who now has a short drive from his home in Smyrna, Georgia.
Witzel said he wasn't a regular at Turner Field but bought season tickets at the new park. He said the park has made a good first impression.
"I like the way they have taken different aspects from different parks," Witzel said. "I've been to a lot of parks and I think it has a little bit of the feel of PNC Park in Pittsburgh and Camden Yards in Baltimore with the green seats and the brick. It has that ambiance."
Added Michael Fort, who drove to the game with his wife, Crisa, from Savannah: "I like all the seats, the way they've got them angled so you can see real good."
The suburban park is located at the interchange of two major interstates, prompting concerns about traffic. Those worries increased when a fire under an underpass of another Atlanta interstate two weeks ago closed a section of that highway.
A sellout of about 41,000 was expected, and most seats were filled before the first pitch.
The Braves hope fans take advantage of the dining and shopping options in the complex around the park.
Freeman said walking into the stadium from the mixed-use development "is the big wow factor."
"It's going to be a better experience for the fans and for us, too," he said.