Big Show recap - Week One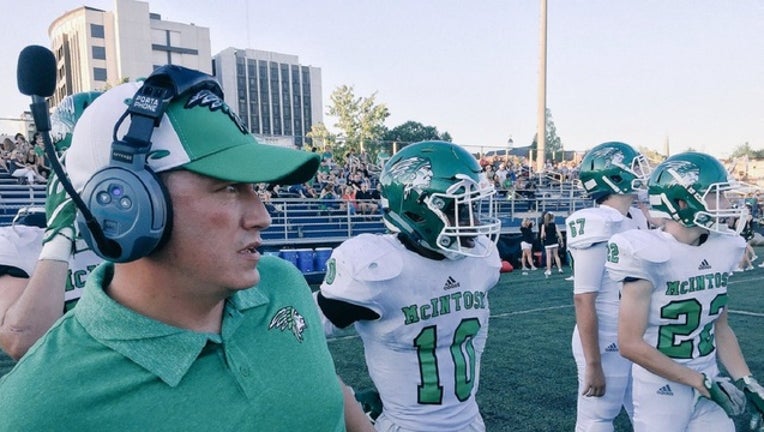 article
ATLANTA - Can you believe it? It's already time for HIGH 5 Sports! Soon the weather will turn cooler, the days will be getting shorter, and everything will taste of pumpkin spice.
But before that happens, north Georgia turns up the heat on the north Georgia gridiron and for those who waited nine months for the best in high school football, they won't be disappointed!
Here's a recap of the Big Show from Week One:
%INLINE%
Play of the Night
First up, it's the first Play of the Night of the season was in the Battle of the Wolverines: Woodstock at West Forsyth.
Not a bad play for the first week of action, right?
HIGH 5 Sports is gathering the action from all angles.
That was caught as part of the weekly Friday Night Heights segment.
Well, it doesn't end there!
%INLINE%
Stephenson at Cedar Grove
Let's get cranking with the defending AAA Champions, the Cedar Grow Saints playing the Stephenson Jaguars at Hallford Stadium.
WATCH FOR:
- Jimmy Smith
- Xavier Dennis to Rashad Preston
- Darrell Neal scores
%INLINE%
Landmark Christian at BEST Academy
The Landmark Christian War Eagles took on the B.E.S.T. Academy Eagles at Lakewood Stadium.
WATCH FOR:
- Blaine Gibson end around to Mason Wallace
- Jalen Cannon rush TD
- Nakia Davis Jr to Katerian Legrone TD
%INLINE%
McIntosh at Decatur
It was a good AAAAA opener for the McIntosh Chiefs who were visiting the Decatur Bulldogs.
WATCH FOR:
- Bradley Ector nice run
- Dane Kinamon to Ector for TD #INYOURFACE
- Brayton Reed picked by Javier Morten
%INLINE%
Lithonia at Carver-ATL
The Lithonia Bulldogs came to do battle against the Carver-Atlanta Panthers.
WATCH FOR:
- Kaveh Brantley fake punt, first down
- Tareq Shaw to Brantley
- Quandarius Malcom to Quindarious Monday TD
%INLINE%
Cartersville at Allatoona
The 680 The Fan Call of the Week with Carl Werl and Brandon Joseph was a good one this week. It was between two-time defending AAAA Champion Cartersville at Allatoona to face the Bucs. And as always photojournalist Eli Jordan delivered the #INYOURFACE pictures.
WATCH FOR:
- Trevor Lawrence
- Lawrence to EJ Turner, fumble
- Rico Frye
- Dante Marshall to Asante Das TD reception
- Lawrence to TJ Horton
%INLINE%
Rockdale County at Berkmar
The Rockdale County Bulldogs were at Berkmar to face the Patriots.
WATCH FOR:
- David Baros long run
- Tristan Sentmore rush TD
%INLINE%
Parkview at The Ridge
Parkview came to play in the Lion's Den against Peachtree Ridge.
WATCH FOR:
- Payton Bowens TD catch
- Fred Payton nice pass
- Demetrius West TD
%INLINE%
GAC at Lovett
More Lions to face down, this time at Lovett as the state AAA runner-up last season, the GAC Spartans, look set their eyes on another winning season.
WATCH FOR:
- Kyle McMichael rush TD
- Crawford Schwieger to KJ Wallace TD
- Josh Rose to Trey Morrison TD
%INLINE%
Alpharetta at Milton
Some folks reach for new heights, the HIGH 5 Sports Team actually achieves them. Friday Night Heights had two stops with the first one in Milton as the Eagles hosted the Alpharetta Raiders.
WATCH FOR:
- Jordan Yates long pass
- Yates rush
- Alpharetta field goal
%INLINE%
Woodstock at West Forsyth
SKYFOX 5 then flew up to West Forsyth for a battle between Wolverines as Woodstock paid a visit.
WATCH FOR:
- Double pass, Louis Hall to Noah Frith
- Bass picked off by Cade Vela--
- Rushing TD
%INLINE%
Blessed Trinity at Westminster
The mighty, mighty Blessed Trinity Titans started their season on the road at Westminster.
WATCH FOR:
- Steele Chambers rush
- Steele rush TD
%INLINE%
Chestatee at North Hall
The North Hall Trojans battled the Chestatee War Eagles.
WATCH FOR:
- Storm Yarbrough to Nick Lyles TD
- Lyles rush TD
%INLINE%
Rockmart at Cedartown – Game of the Week
HIGH 5's Bill Hartman headed to probably one of the most heated rivalries around for this week's Game of the Week.
WATCH FOR:
- Tony Mathis rush TD
- Cruz Rodriguez fumble recovery
- Joseph Gibbons catch
- Marcus Smith rush TD
- Mathis kickoff return TD
- Zabrion Watley TD
%INLINE%
North Clayton at Riverdale
The North Clayton Eagles visited the Riverdale Raiders.
WATCH FOR:
- Phalon Daniels first down.
- Avon Rucker intercepted by Ryan Brown
- Isaia Bell to Bryce Fraiser big gain
- Bell to Onuma Vieke TD
%INLINE%
East Coweta at Lovejoy
Twelve Oaks Stadium was the site of the battle between the Lovejoy Wildcats and the Indians of East Coweta.
WATCH FOR:
- Zion Custis 20 yard rush
- Custis rush TD
%INLINE%
Newnan at Carrollton – Mic'D Up
Newnan Head Coach Chip Walker got stuck with the wire this week.
Formerly a multiple state champion winner at Sandy Creek, Walker had some work to do following the Cougars first game against Carrollton.
Take a listen to how this game went down.
%INLINE%
LaGrange at Callaway
And you know that the HIGH 5 Sports Team always has some hidden magic. This week their extra game was from just south of metro Atlanta.
Check out Callaway's Kedrick Ramsey go deep to Courtney Williams for the touchdown. And then Ramsey keeps it to himself for the touchdown.
The final score was Callaway 26 to 0!
And that's it. Week Two… Next week. Same Hand Time… Same Hand channel!
Until then, don't forget to vote for the HIGH 5 Sports Team of the Week and Game of the Week at Facebook.com/HIGH5Sports.