Big Show Recap - Week Four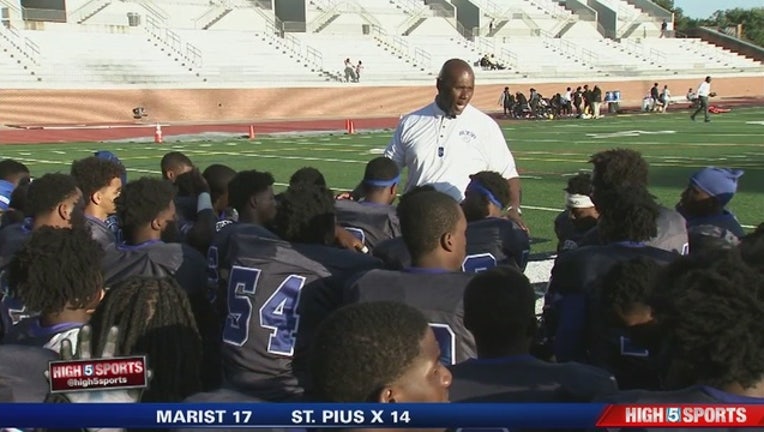 article
ATLANTA - As the threat from Irma loomed for Florida and Georgia on Friday, we paused to celebrate the last bit of nice weather we'll see in a hot minute with some high school football.
The show went on despite some teams canceling their games ahead of the impact of Irma.
Here is the recap from the Big Show from Week Four:
%INLINE%
Play of the Week
First up, it's the first Play of the Night. It comes from the Griffin-Upson Lee game.
Griffin's Avious Nelson goes deep to Terrell Jester who hauls it in for the 50-yard touchdown.
More highlights from that came later.
%INLINE%
North Atlanta at Dunwoody
Okay, let's get started with a former HIGH 5 Sports Team of the Week, the North Atlanta Warriors visiting Dunwoody.
WATCH FOR:
%INLINE%
McNair at Therrell
To Lakewood we go. Undefeated McNair and winless Therrell.
WATCH FOR: 
- Javonte Moore interception
- Andre Martin TD
- Double pass intercepted by DaQuan Evans
%INLINE%
Druid Hills at Lakeside
Somebody getting their first win Friday night at Adams Stadium in DeKalb. Druid Hills and Lakeside.
WATCH FOR:
- Matthew Holt homecoming king
- Jeffrey Powell Jr. fumble return TD
- Matthew Holt long rush
%INLINE%
Marist at St. Pius X
The Marist War Eagles take on St. Pius X Golden Lions.
WATCH FOR:
- Nick Joiner INT
- Jason Jones rush TD
- Chase Abshier long rush
- Abshier TD
%INLINE%
North Gwinnett at Norcross - Call of the Week
Time now for our HIGH 5 Sports Call of the Week. Our Photographer Chris Rosenthal matching the pictures of Norcross and North Gwinnett to the words of 680 The Fan's Chris Mooneyham and Doug Konkel.
WATCH FOR:
- Tyler Goodson rush
- Jimmy Urzua short TD
- Tyler Goodson run
- Double pass to Josh Downs
%INLINE%
Cartersville at Westlake
A huge showdown at Westlake Friday night, AAAA's number 1 team Cartersville taking on the 7-A Westlake Lions. Cartersville hasn't lost a regular season game since September 2014!
WATCH FOR:
- Rico Fry TD
- Trevor Lawrence to Fry TD
%INLINE%
Northside-Warner Robins at Lanier
Northside-Warner Robins coming up from Middle Georgia to take on Lanier. The Eagles ranked 6th in Class 6A.
WATCH FOR:
- Zach Calzada to Christopher Lockett TD
- Kevin Kinsley upset
- Alijah Maghee recover fumble
%INLINE%
Oconee County at Morgan County
They say the eye in the sky doesn't lie. So, let's see some truth bombs from Madison. Morgan County hosting Oconee County and SKYFOX 5 peeking in.
WATCH FOR:
- Trey Patterson to Taylor Knight
- Travis Noland
- Dareon Goodrun fights off block for tackle
%INLINE%
Washington Mic'D Up
Let's head back down to the Bunker now where Justin Felder has our Mic'D Up segment which featured some extracurriculars.
WATCH FOR:
%INLINE%
Forsyth Central at Meadowcreek
How about our HIGH 5 Sports Team of the Week, the Meadowcreek Mustangs. 2-0 for the first time since the early 90's. They were hosting Forsyth Central  Friday night.
WATCH FOR:
- Chauncey Williams rush
- Jake Bump interception
- Alonzo Howard punt return
%INLINE%
Cambridge at the Hooch
When one is coming off the sidelines into a big role like Cody Chaffins was Friday night, he depends on veterans to carry some of that load and who better than our man who has been there and done that. Bill Hartman. He and Super Blaine have our game of the week!
WATCH FOR:
- Jack Corrigan to Isaiah Bivens near end zone
- Jack Corrigan to Isaiah Bivens TD
- Hogan Dykes TD pass called back
- Vince Strine cutaway
- James Poinsette punt return TD
- Corrigan to T Lee
- Corrigan to T Lee TD
- Max Webb TD run
- T Lee interception
%INLINE%
Roswell at Colquitt County
These highlights just in from Moultrie, a 7A top 10 showdown. Roswell ranked 9th and Colquitt County ranked second!
WATCH FOR:
- Cordel Little John picked by Kamrin Woods
- Jay Ward to KT Wilson TD
%INLINE%
Campbell at Sprayberry
To Cobb County now where the Campbell Spartans are coming off a win. For the first time in a long time. Visiting the Sprayberry Yellow Jackets.
WATCH FOR:
- Kameron Smith to Ray DeCosky for TD
- Kaleb Bailey TD run
%INLINE%
Columbus at Callaway
We love the Callaway moms. Cheering on their Cavaliers Friday night as they host Columbus. Nobody has scored on Callaway all year!
WATCH FOR:
- DJ Atkins rush TD
- Cartavious Bigsby rush TD
%INLINE%
Griffin at Upson-Lee
It was a big time showdown down in Thomaston where Upson-Lee and Griffin both tried to stay undefeated.
WATCH FOR:
- Tim Alford stuffs the run
- Avious Nelson to Terrell Jester TD
- Lavarier Moore TD
- Demarcus Carter INT
And that's it. Week Five… Next week. Same Hand Time… Same Hand channel!
Until then, don't forget to vote for the HIGH 5 Sports Team of the Week and Game of the Week at Facebook.com/HIGH5Sports.