Atlanta United routs New York Red Bulls 3-0 in East final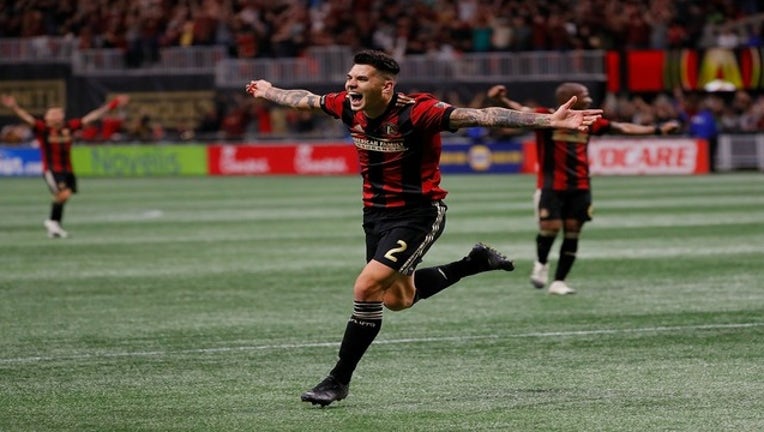 article
ATLANTA (AP) - After the final whistle blew, the Atlanta players lingered in the middle of the pitch, doling out hugs and soaking up the cheers of more than 70,000 fans.
Everyone knew this was a huge step toward the MLS Cup.
Everyone knew how much this meant to a city that has known so much sporting heartbreak.
Josef Martinez, Franco Escobar and Hector Villalba scored for Atlanta United to lead a 3-0 rout of the Supporters' Shield-winning New York Red Bulls in the opening leg of the Eastern Conference final Sunday.
"We've just raised our game," captain Michael Parkhurst said. "We've raised the energy, the desire, the fight."
Atlanta has a huge edge heading into the second leg Thursday night in Harrison, New Jersey. The winner of the two-game, cumulative-goals series will host the MLS Cup final Dec. 8 against either Portland or Sporting Kansas City.
In just its second season and already wildly popular, United is hoping to give Atlanta its first pro sports championship since the Braves won the 1995 World Series. That remains the city's lone major title, its history defined mostly by performance such as the Falcons squandering a 25-point lead in the Super Bowl.
"Play with passion," Parkhurst said. "Play for the city."
Before a crowd of 70,016 at Mercedes-Benz Stadium, United defeated the Red Bulls for the first time in franchise history after three losses and a draw in their previous meetings. Atlanta also got a bit of redemption after losing the Supporters' Shield to New York on the final day of the regular season.
Of course, it's not over yet.
Atlanta can afford to play conservatively in the second leg, but doesn't want to totally abandon the attacking style that has served it so well.
"You go and play the game," Jeff Larentowicz said. "You can't sit on top of your goal and think you're going to defend for 90 minutes. It's not going to work."
A matchup between the two best teams in MLS was a one-sided affair. Atlanta dominated much of the game and could have won by an even bigger margin. While a New York goal was waved off after a video review and goalkeeper Brad Guzan made a clutch save in the closing minutes, this game was played mostly in the Red Bulls' end of the field.
United finished with a 14-6 edge in shots. That late stop by Guzan was New York's only official shot on goal.
New York is facing another postseason flop. A charter member of MLS and one of the league's most successful teams during the regular season - including three Supporters' Shield titles in the last six years - the Red Bulls have never won the cup.
Now, they need to match their second-leg performance in the conference semifinals, when they overcame a 1-0 loss at Columbus by winning 3-0 at Red Bull Arena. New York went 14-2-1 at home this season, including a 2-0 victory over Atlanta on Sept. 30.
"At home, we are very confident," Sean Davis said. "We love playing at home in front of our fans and we have been great there all year. It is important for us to get a first goal early, and then press for the game. It is going to require absolutely everything from us to get the result."
After controlling play from the opening whistle, Atlanta finally broke through in the 32nd minute.
Of course, it was Martinez who got the honors .
Larentowicz set up the play with a towering pass into the penalty area toward the Golden Boot winner and MVP finalist, who set an MLS scoring record with 31 goals during the regular season. Martinez wound up with the ball between two defenders after Tim Parker missed an attempted header, settling it with his chest and blasting a left-footed shot inside the far post that left keeper Luis Robles with no chance.
The Red Bulls appeared to tie it in the 53rd.
The ball was lofted into the area, where Aaron Long was able to head it back toward the front of the net. One New York player let it go by - straight to an unmarked Bradley Wright-Phillips, who sent a right-footed shot past a diving Guzan. But when referee Kevin Stott took another look at the play on video, it clearly showed Alex Muyl lingering offsides behind the last Atlanta defender as Wright-Phillips connected with the shot.
"It took me by surprise," Parkhurst said. "Pleasantly."
Atlanta padded its lead in the 72nd , this time on a play set up by its other MVP candidate, Miguel Almiron. He split the defense up top and threaded a pass down the left wing to Julian Gressel, who crossed it back in front toward Martinez. The United star unselfishly let it go by him, knowing Escobar was racing in all alone off the opposite wing.
Escobar ripped a shot past Robles to give United a two-goal edge.
Villalba provided an extra cushion when Atlanta hits the road , scoring in stoppage time with a brilliant shot that curled past two defenders and left Robles standing flat-footed.
With New York pressing for a goal, United had two other good scoring chances. Almiron shot wide on a 4-on-2 break, and Villalba hit the post with another attempt after brilliantly eluding two players and breaking in all alone on Robles.
___
Follow Paul Newberry on Twitter at www.twitter.com/pnewberry1963 . His work can be found at https://apnews.com/search/paul%20newberry
___
For more AP soccer: https://apnews.com/apf-Soccer and https://twitter.com/AP_Sports