Athens, UGA legend Andy Johnson dies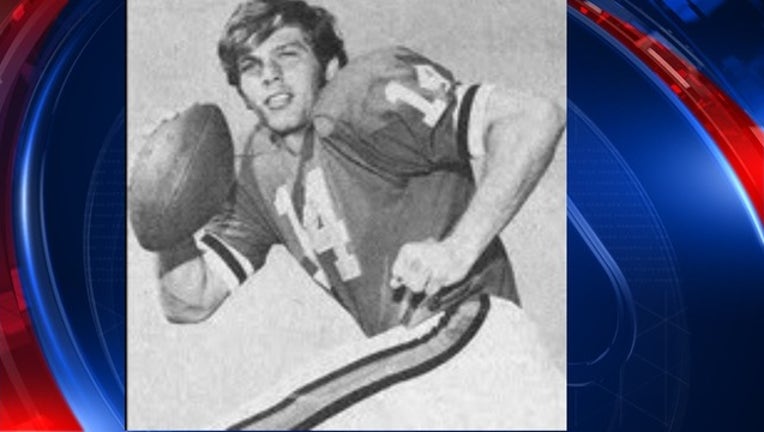 ATHENS, Ga. - If you asked any boy growing up in Athens in the 1960's who their favorite football player was, there's a good chance they would have said 1 of 2 names.
The first was Fran Tarkenton, who grew up in Athens, played quarterback at Athens High, led Georgia to the 1959 S.E.C. Championship, and became an All-Pro and eventual Hall of Famer in the N.F.L.
The second was still in high school in 1960's but he followed Tarkenton's footsteps in many ways.
He was Andy Johnson.
Johnson died Wednesday at his home in Athens after a long illness. He was just 65.
Growing up in Athens and going through a strong Y.M.C.A. youth sports program led by the legendary Coburn Kelley, Johnson quickly established himself as one of the greatest athletes in the city's history.
In 1966, Johnson joined the Athens High football team as a freshman and quickly made his mark on a team that was the runner-up the previous season for the state AAA championship.
Athens High teammate Rick Allen, who was a senior on the 1966 team, said, "As a freshman, he was the best football player I'd ever seen. He was outstanding."
Johnson quickly became the starting quarterback for Athens High, leading the team to a state AAA co-championship in 1969 after a tie game with state powerhouse Valdosta.
He was also All-Region in basketball, baseball, and a sprinter on the track team.
Atlanta attorney Tom Harrold who was an Athens High quarterback himself in the early 1960's said, "Andy was the best athlete I have ever seen -- and one of the nicest and most humble guys who ever played at UGA."
Considered by many the top high school quarterback in the country, Johnson committed to his hometown school, the University of Georgia, in 1970 on a football scholarship despite being drafted by the Atlanta Braves as a shortstop.
After learning about his death, legendary Georgia football coach and athletic director Vince Dooley who coached Johnson told FOX 5, "Andy is an inspiration to me and all the Bulldogs."
Johnson was the starting quarterback on the Bulldog freshman squad in 1970. Setting the total offense record of 1,078 yards in five games.
Moving to the varsity in 1971, Johnson quarterbacked Georgia to an 11-1 record and a top 10 ranking.
In November of that year, Johnson squared off against Auburn QB Pat Sullivan in a nationally televised battle of undefeated teams in Athens. Auburn won the game 35-21, and many believe the win propelled Sullivan to the Heisman Trophy.
On Thanksgiving night, Johnson led the Bulldogs to a last minute road win over Georgia Tech in another nationally televised game, 28-24.
The season ended with a 7-3 win over North Carolina in the Gator Bowl.
Johnson set the S.E.C. sophomore rushing record and was second in the conference in rushing. Football News named him the nation's most outstanding sophomore player and the Jacksonville Journal awarded him the S.E.C.'s outstanding sophomore player trophy.
While the Georgia teams in 1972 and 1973 didn't approach the success of the 1971 team, Johnson led both squads to winning records and wins both seasons over Georgia Tech.
He finished his college career in Atlanta, leading Georgia to a win over Maryland in the Peach Bowl at Atlanta-Fulton County Stadium.
When he graduated, he had 431 career rushing attempts for 1799 yards, at the time setting a record for most rushing yards for an S.E.C. quarterback.
Johnson was a multi-sport athlete at Georgia, playing shortstop for the baseball team for three seasons and compiling a .281 career batting average.
The New England Patriots drafted Johnson in the 5th round as a running back in 1974.
His best season with the Patriots was in 1976 when he scored 10 touchdowns and had 1,045 yards of total offense.
After nine seasons with the Patriots, he played one season with the Boston Breakers of the U.S.F.L in 1983 before retiring.
He was named to the New England Patriots All-1970s Team in 2009
Johnson is a 1996 inductee into the Georgia Sports Hall of Game and 2000 inductee into the Athens Athletic Hall of Fame.
Johnson is survived by his wife Charlotte (Chot) and children Kristy, Brent and Brooke.
Visitation is scheduled for Saturday, May 19th, from 3-5 p.m. at Bernstein Funeral Home in Athens. A graveside service will be held Sunday, May 20th at 3:30 p.m. at the Oconee Hill Cemetery in Athens.