Another dominant RB duo has Georgia back in SEC title chase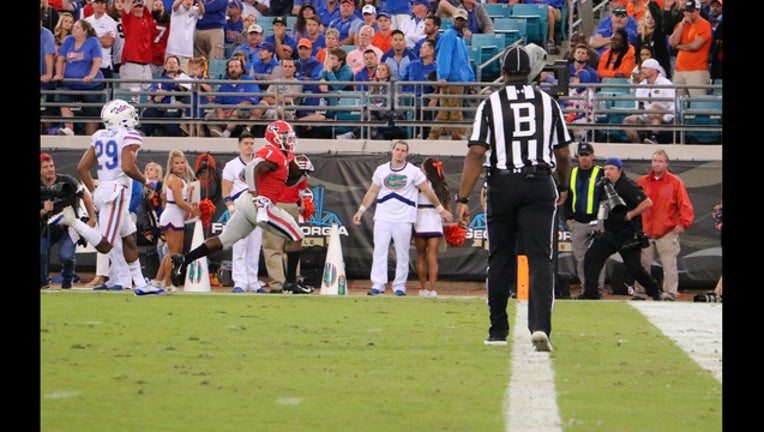 article
LEXINGTON, Ky. (AP) - No. 5 Georgia is heading back to the Southeastern Conference championship game behind a new running back tandem that has capably stepped in for the dynamic duo that led the Bulldogs to the national championship game last year
The Bulldogs had to replace New England Patriots first-round draft pick Sony Michel and Cleveland Browns second-round pick Nick Chubb , who combined to run for 2,572 yards and 31 touchdowns a year ago.
But they still have D'Andre Swift and Elijah Holyfield, who are pretty darn good in their own right. Swift and Holyfield ran for a combined 271 yards Saturday as Georgia (8-1, 6-1 SEC, No. 6 CFP) clinched its second straight SEC East title with a 34-17 victory over Kentucky (No. 9 CFP), which entered the weekend leading the nation in scoring defense.
"I think our one-two punch is one of the best in the country," Swift said.
Swift and Holyfield helped set up an SEC championship game showdown with No. 1 Alabama (9-0, 6-0, No. 1 CFP), a rematch of last year's College Football Playoff final that the Crimson Tide won 26-23 in overtime.
Alabama clinched the SEC West championship Saturday with a 29-0 victory at LSU , the same team that trounced Georgia 36-16 last month. Alabama outrushed LSU 281-12 and is outscoring teams by 37.2 points per game.
"To be able to come in here and play the way we played and have the success we had, I think it just gives us nothing but confidence going into the rest of the season," Alabama running back Damien Harris said.
Both division champions have three straight home games to end the regular season before meeting Dec. 1 in Atlanta. Georgia hosts Auburn, Massachusetts and Georgia Tech to close the regular season. Alabama welcomes Mississippi State, The Citadel and Auburn to Tuscaloosa.
Georgia likely must win out and earn its second straight SEC title to get back to the playoff. That means Swift and Holyfield must maintain their late-season momentum.
Swift rushed for a career-high 156 yards against Kentucky on just 16 carries. That followed a 105-yard performance in a 36-17 victory over Florida .
After bursting onto the scene as a freshman in 2017 by rushing for 618 yards in a complementary role, Swift said Saturday that he's been dealing with nagging injuries much of this year but is now feeling good. He showcased his speed on an 83-yard touchdown and demonstrated his elusiveness while making moves around defenders on a 20-yard score .
Holyfield, the son of former heavyweight champion boxer Evander Holyfield, also had a career high against Kentucky, rushing for 115 yards and a touchdown on 18 carries.
"I don't think there's a whole lot of difference in their styles," Georgia coach Kirby Smart said. "I know one's a slasher and one's a bruiser, but they're both (guys with) really good vision, good backs. They run hard. The best thing they do is protect the ball."
Their season stats are remarkably similar.
Holyfield, a junior, has rushed for 674 yards and five touchdowns while averaging 6.5 yards per carry. Swift has run for 622 yards and seven touchdowns with an average of 6.3 yards per carry.
Holyfield says watching Chubb and Michel last season helped teach him and Swift how to handle sharing the rushing load this year.
"I think we kind of learned how to feed off each other," Holyfield said.
Swift and Holyfield have helped Georgia average an SEC-leading 233.8 yards rushing per game as the Bulldogs have gained 5.76 yards per carry. Last season, Georgia led the SEC with 258.4 yards rushing per game and gained 5.79 yards per carry.
Georgia has continued running the ball effectively even with a much younger offensive line. Georgia's first-team offensive line against Kentucky included one senior (Lamont Gaillard), two sophomores (Andrew Thomas and Solomon Kindley), a redshirt freshman (Isaiah Wilson) and a true freshman (Cade Mays). Freshman Trey Hill replaced an injured Gaillard at center early in the game.
That success has Georgia believing it's capable of more than a division title.
"I still don't think we've scratched the surface of what we really can do," Swift said. "This team has a tremendous amount of talent. The sky's the limit for us."
___
More AP college football: https://apnews.com/tag/Collegefootball and https://twitter.com/AP_Top25
___
AP Sports Writer Brett Martel in Baton Rouge, Louisiana, contributed to this report.