A look at Thursday's opening day of the NCAA Tournament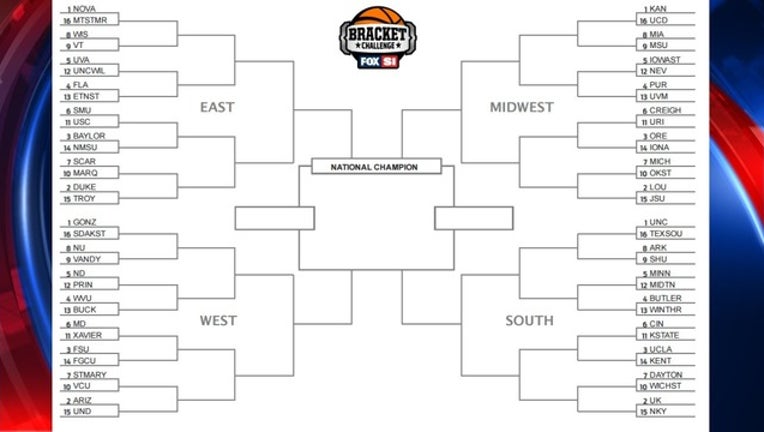 article
A look at some interesting things in Thursday's opening round the NCAA Tournament:
___
CHANCE TO REPEAT
Villanova comes into the tournament not only as the overall No. 1 seed but as defending champion. No champion has repeated since Florida in 2007.
"I think pressure is pressure, so you want to embrace it and try to allow it to make you better," Villanova coach Jay Wright said. "You're a 1 seed, and so you're supposed to win it if you're the 1 seed, right? It's all about how you handle that, and I think having that pressure last year and having pressure this year, I think makes it a little bit easier to handle."
___
SHORT STUFF
Mount St. Mary's Junior Robinson is the shortest player in Division I at 5 feet, 5 inches.
"I've embraced it," Robinson said of the constant height difference. "It's kind of like a chip on my shoulder to prove people wrong that height really doesn't matter. It's about the heart that you have and the passion that you played the game with. I mean, each game, I'm going to probably be the shortest player on the court. Actually, I'm going to be the shortest player on the court."
___
STUDY HALL
Princeton doesn't leave its Ivy League reputation for academic behind just because the Tigers are in the NCAA Tournament.
"This is normal for us. I think we have close to 20 mid-terms this week between the team," said coach Mitch Henderson, a former Princeton player. "We have two rooms in the hotel and one room is for studying. Half the team was in there at 8 a.m. This is what we do. ... So, when we walk out there, we're going to be flying around. And then when we go back to the hotel, we study."
___
WHY NOT?
A No. 16 seed has never beaten a No. 1 seed and Mount Saint Mary's Junior Robinson has an interesting take on it.
"I mean, records are meant to be broken," he said, "and we have the confidence going into this game, that if we take care of things the way we're supposed to and handle ourselves in the manner that we can, why not?"
___
BEAUTIFUL BUFFALO
While plenty joke and comment about spending time in the winter in Buffalo, West Virginia coach Bob Huggins isn't one of those people.
"I really like Buffalo," he said. "I actually came up here and went fishing. How about that? I bet no other coach here has been fishing."
___
COLSON UPDATE
Notre Dame's Bonzie Colson turned his ankle in the Atlantic Coast Conference championship game against Duke.
"He's much better," Fighting Irish coach Mike Brey said. "We had some swelling on Sunday and Monday and it's come down a lot. He's made great progress, doing a little bit more every day. You know, I think by noon tomorrow, he's one of those guys, he's such a warrior, that you tape him, you give him a couple Advil, and cut him loose."
___
A MIDDLE TENNESSE REPEAT?
Middle Tennessee drew a ton of attention in last year's tournament when the then-15th-seeded Blue Raiders beat second-seeded Michigan State in the opening round. This year, it's another Big Ten team facing 12th-seeded Middle Tennessee in fifth-seeded Minnesota.
"It's kind of felt the same," senior forward Reggie Upshaw said. "Of course this year we're not going to be able to sneak up on anybody like we did last year. But I felt like we have a good team who is very mature and have a couple good days of practice leading up to tomorrow's game. You know, as far as just our preparation and stuff like that, I feel like it's all been the same."
___
FLORIDA FRENZY
Third-seeded Florida State and No. 14 Florida Gulf Coast meet in Orlando, Florida, in the first round.
FGCU made its NCAA Tournament name in 2013 when it won two games and reached the Sweet 16.
The Eagles have become a fashionable pick by bracketeers.
"I don't know who we're favored by, but we don't really look at those things," junior forward Brandon Goodwin said. "People see us as the underdogs. People see it as David versus Goliath, all that type of stuff. We know where we're at. We know what we want to do coming into the tournament. We're happy to be here. We think we belong here. Should be exciting coming in.
"Hopefully, it should be a good amount of dunks for us, not for them, but we'll see how it goes."
___
DIFFERENT ZAGS
Gonzaga, the No. 1 seed in the West Region, is in its 19th consecutive NCAA Tournament and the Bulldogs can no longer hide in waiting as they chase their first Final Four appearance.
"We came in, we had guns a blazing, nothing to lose, and especially that first run to the Elite Eight," Gonzaga coach Mark Few said. "It was all new to us. And we were excited and giddy and felt like we were playing with house money. And now it's more a measured, leveled, and we know we've got a job to do. We've got to take care of the job."
___
FIRST TIME
No school's trip to the NCAA Tournament was more public than Northwestern's. The Wildcats earned an at-large bid, the school's first appearance in 77 years.
"I think we can't emphasize enough that this isn't the end goal. It's one of our goals to make the tournament, but we're not just satisfied to be here," junior guard Bryant McIntosh said. "We're going to go out and try and win a game and continue playing, playing for our lives, just to continue the season on. So it's been such a special year that you don't want to see it end. And that's why it's just a single goal and not the end goal."