Winter Storm Warning - The latest headlines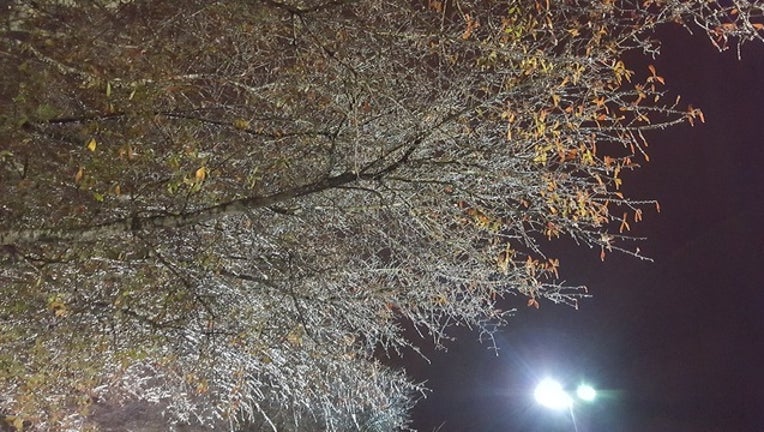 article
ATLANTA - A Winter Storm Warning went into effect Friday evening as the first winter weather threat moved into Georgia. Here are the latest headlines:
App users: Click here for the closings list
SATURDAY
12:48 a.m. - Atlanta Fire Rescue: "3 yr old rescued from home on Saint Charles Ave. Trapped by fallen tree that fell into bedroom. No injuries to child."
12:19 a.m. - Georgia Power reports nearly 12,000 customers are without service at this hour. Most are inside the Perimeter, an outage in Duluth, one in McDonough, and one near Social Circle.
FRIDAY NIGHT
11:46 p.m. DeKalb County EMA reports power lines are down near Womack Rd and Shadow Glen Dr in the city of Dunwoody.
10:54 p.m. - Douglas County reports bridges, overpasses and steep roadways in the county are icing. They are treating.
10:28 p.m. - GDOT said ice has become a bigger issue as far south as Newnan along the I-85 corridor. 
10:24 p.m. - Atlanta police warn of bridges and overpass freezing.
10:21 p.m. - DeKalb County announces the DeKalb County Emergency Management Agency will have several warming centers available for citizens to use during the expected cold temperatures this weekend.
9:38 p.m. - Georgia Power said they are on standby for any possible outages. Nothing significant reported yet.
7:54 p.m. - Alert from Calhoun County EMA: "Roads are extremely hazardous at this time. Please do not travel unless an emergency. Check social media for road closures."
7:47 p.m. - Fulton County Public Works Department said they have treated the following roads:
• Flat Shoals Road over I-85
• Bethsaida Road over Bear Creek
• Welcome All Road over South Fulton Pkwy
• Cascade Road over South Utoy Creek West Road
• Fairburn Road over South Utoy Creek
• Flat Shoals Road
• Old National Road
7:35 p.m. - A Red Cross Shelter was opened in Douglas County at Douglasville First United Methodist Church, 6167 Prestley Mill Road, Douglasville 30134
7:34 p.m. - Milton Public Works said they have pretreated several key routes around the city.
-----
Keep up with the latest watches and warnings by downloading the FREE FOX 5 Storm Team app and following @FOX5StormTeam on Twitter.
DOWNLOAD the FREE FOX 5 Storm Team app to keep up with this extreme weather