TIMELINE: Remnants of Ida bringing flooding, possible tornadoes to Georgia
ATLANTA - It's a FOX 5 Storm ALERT Day as the strongest punch from Ida will be felt all across north Georgia and metro Atlanta throughout the day on Tuesday.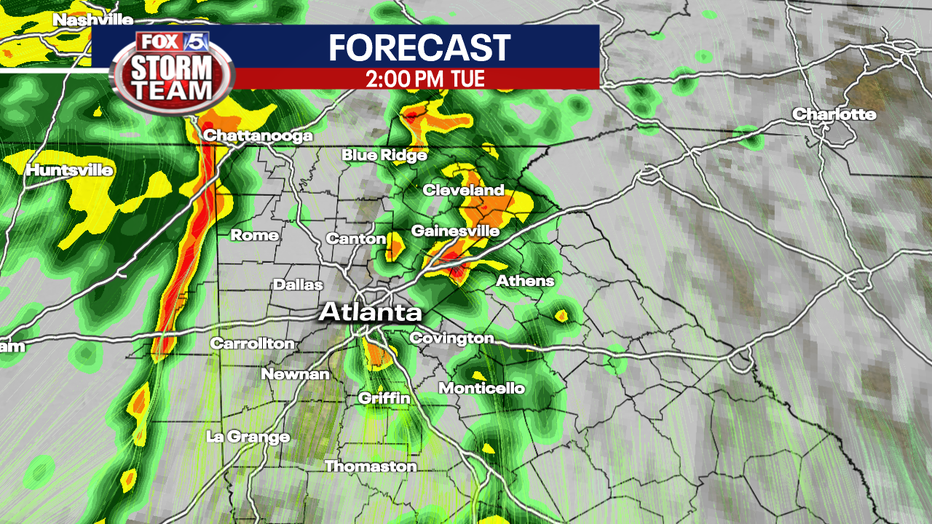 Models are now favoring the second line of storms to be the strongest out of the multiple rounds of storms throughout the day. 
Most of Georgia will be under a slight risk for severe weather on Tuesday with a threat for spin-up tornadoes and damaging winds.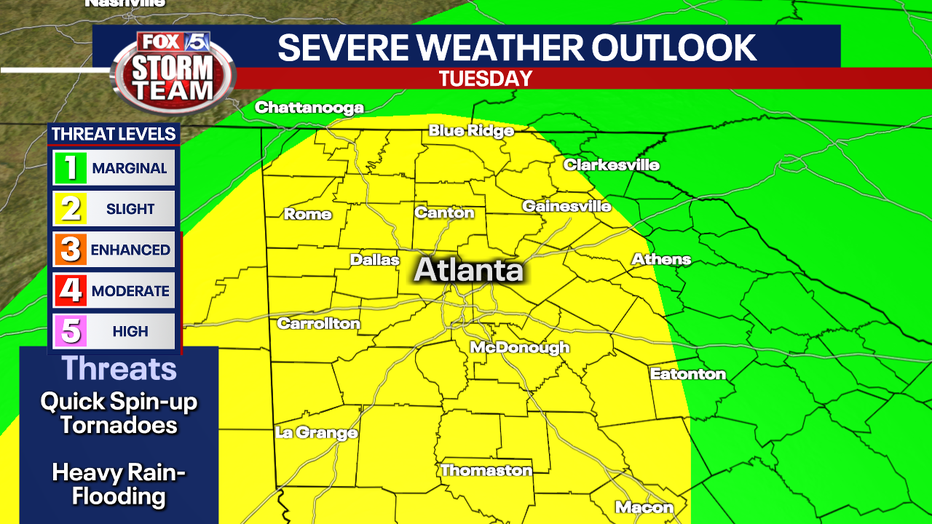 The remnants of Tropical Storm Ida will bring sever weather potential to Georgia on Aug. 31. (FOX 5 Atlanta) (FOX 5 Atlanta)
Rainfall could be heavy. Totals could be between 2 to 3 inches or more in the mountains, where some flash flooding is possible.
A Flash Flood Watch will in effect from 8 a.m. Tuesday until 2 p.m. Wednesday for counties west of Atlanta and north into the mountains.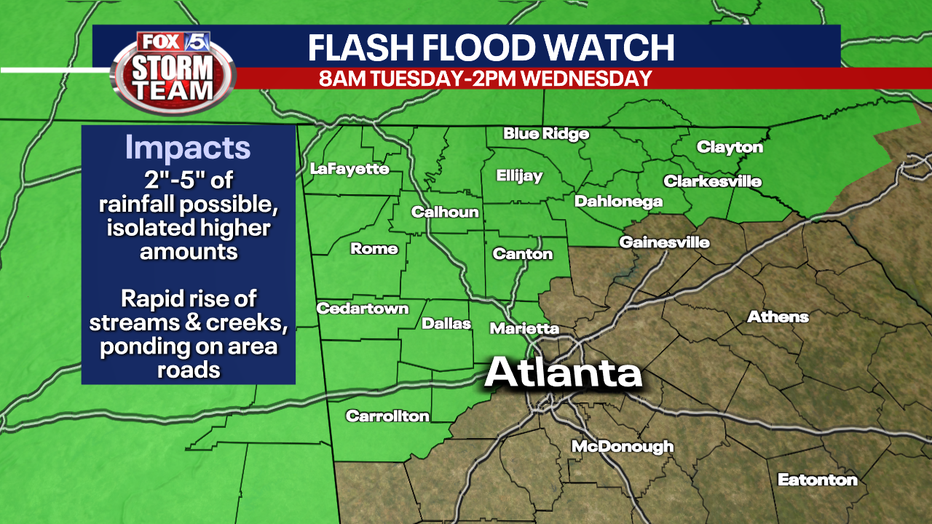 Flash Flood Watch across north Georgia on Aug. 31. (FOX 5 Atlanta) (FOX 5 Atlanta)
The biggest threats are possible tornadoes, damaging winds up to 60 miles per hour, and periods of heavy rain.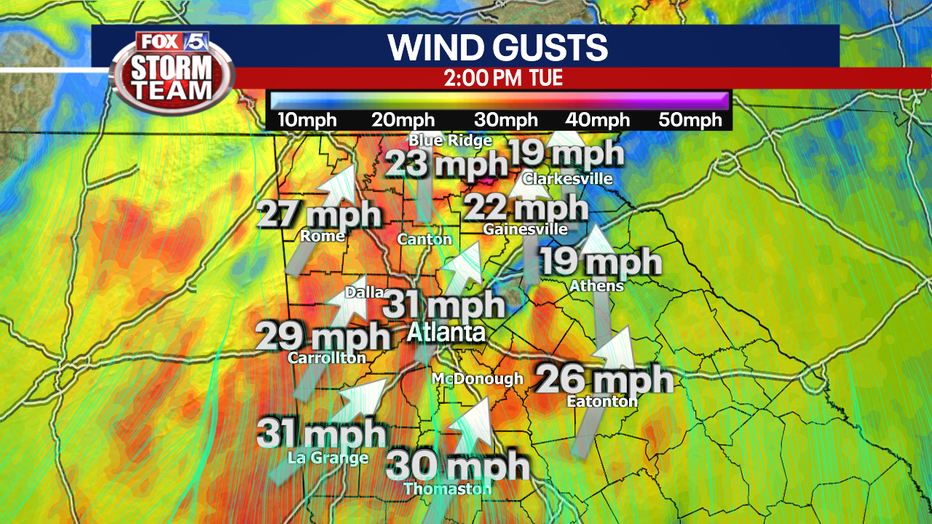 Tuesday is a FOX 5 Storm Alert Day. Download the FOX 5 Storm Team app for the latest weather alerts in your area. 
Showers are expected to end on Wednesday, then drier and much more pleasant for the rest of the week and holiday weekend.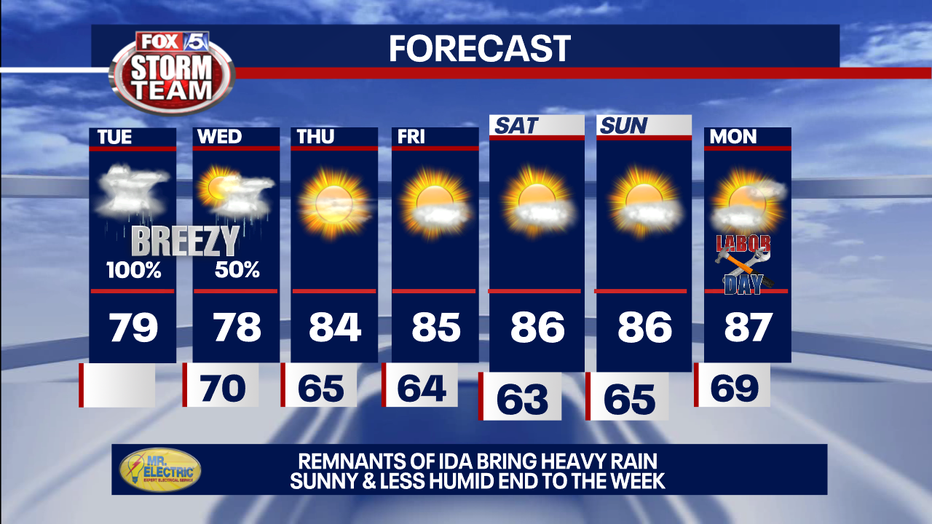 Even though Ida was one of the strongest hurricanes to make landfall along the Louisiana Coast on record, the major hurricane was downgraded to a tropical storm just 16 hours later. 
Northwest Georgia felt the most severe weather on Monday. Some heavy rain and thunderstorms on Monday afternoon included tornado warnings in Gordon, Gilmer and Pickens counties.
A thunderstorm with strong winds swept into Floyd County and through Chattooga County in the evening.
When it was a hurricane, Ida was one of the strongest hurricanes to make landfall along the Louisiana Coast on record.
In 2020 Laura tied The 1856 Last Island Hurricane for the strongest on record with 150 mph max winds. 
Ida made landfall on the same day as Hurricane Katrina did 16 years ago within miles of the same area of Louisiana with about the same wind speed.
"Ida will most definitely be stronger than Katrina, and by a pretty big margin," said University of Miami hurricane researcher Brian McNoldy. "And, the worst of the storm will pass over New Orleans and Baton Rouge, which got the weaker side of Katrina."
Hurricane Katrina made landfall on Louisiana as a strong Category 3 storm, leaving a trail of destruction across the South and unprecedented flooding after levees failed in the New Orleans area.
Katrina is blamed for an estimated 1,800 deaths from the central Louisiana coast to around the Mississippi-Alabama state line. A massive storm surge scoured the shores and wiped houses off the map. 
As the storm approached on Sunday morning, Ida was already a strong Category 4 storm with 150 mph winds and forecast to hit 155 mph before landfall, "a sneeze away from becoming the fifth Category 5 landfall on the continental U.S.," McNoldy said.
Only four Category 5 hurricanes have made landfall in the United States: Michael in 2018, Andrew in 1992, Camille in 1969 and the Labor Day Hurricane of 1935. 
Both Michael and Andrew were upgraded to category 5 long after the storm hit with further review of the damage.
Stay with the FOX 5 Storm Team for the latest.
Keep up with the latest by downloading the FREE FOX 5 Storm Team app and following @FOX5StormTeam on Twitter.
The Associated Press contributed to this report.
WATCH: FOX 5 Atlanta live news coverage
_____
Sign up for FOX 5 email alerts
Download the FOX 5 Atlanta app for breaking news and weather alerts.