Watch: Legally blind toddler bursts with joy after seeing parents clearly for 1st time
A boy who is legally blind was recorded seeing his parents clearly for the very first time and it is precious. 
Theo Zgoda, 11 months old, of Buffalo, New York, was given a pair of glasses that would allow him to see the world around him clearly for the first time in his life. 
Theo's father, Jeremy, captured the sweet moment his son put on the new glasses.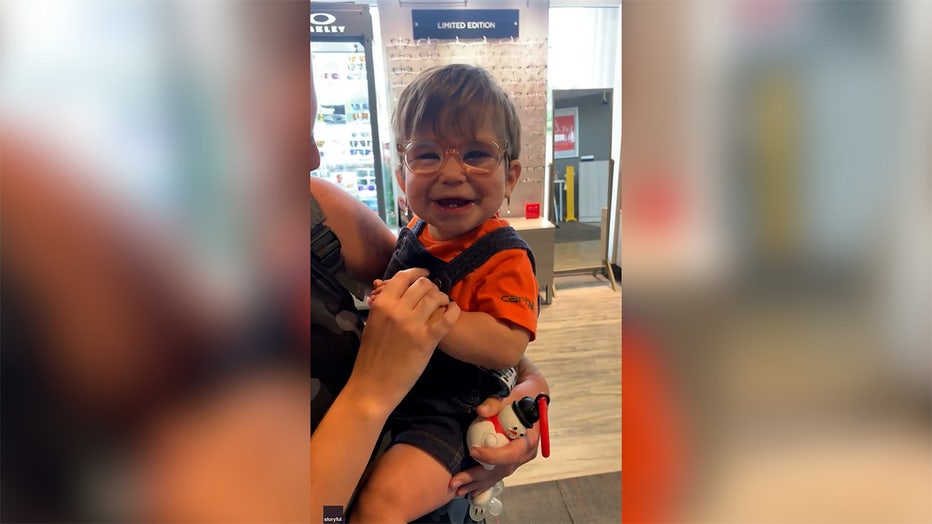 Theo Zgoda, an 11-month-old from Buffalo, New York, got a new pair of glasses that allowed him to see his parents clearly for the first time.
In the video, after the glasses were placed on his face, Theo looked around him and burst into a huge smile. 
"We are so excited for our little man to be rocking his glasses for years to come!" the family wrote on TikTok. 
Approximately 12 million people who are 40 years or older in the United States have vision impairments, according to the Centers for Disease Control and Prevention. 
As of 2012, 4.2 million Americans suffer from vision impairments that are unable to be corrected, the CDC said. And by 2050, the number of people who have uncorrectable vision impairments is expected to double to 8.96 million. 
The increase, the CDC suggests, is due to the growing numbers of people being diagnosed with diabetes and other chronic diseases. 
Approximately 6.8% of children younger than 18 in the U.S. have a diagnosed eye or vision condition, the CDC said. 
Nearly 3% of children younger than 18 are blind or visually impaired. 
"Vision disability is one of the top 10 disabilities among adults 18 years and older and one of the most prevalent disabling conditions among children," according to the CDC. 
Storyful contributed to this report. This story was reported from Los Angeles.