UNC students protest decision to ban 'Cop City' activist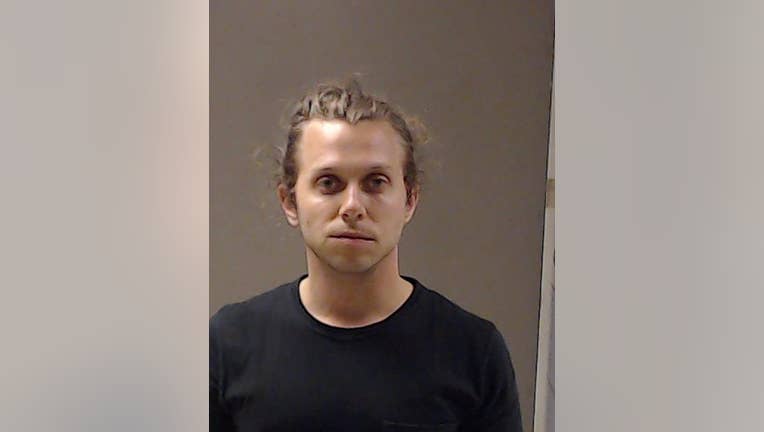 article
Students at North Carolina's flagship public university walked out of class Thursday to protest school officials' decision to ban a law school student from campus after she was charged with domestic terrorism last month following a violent protest at the planned Atlanta Public Safety Training Center in DeKalb County.
University of North Carolina-Chapel Hill law school student James "Jamie" Marsicano, 30, was one of 23 people arrested on domestic terrorism charges March 5 after a large group of masked activists stormed a Georgia construction site and proceeded to bash equipment, torch a bulldozer and throw rocks and fireworks at retreating law enforcement officers, according to police surveillance footage. Since being released on bond last month, Marsicano has been barred from attending class in person.
ZONING BOARD DENIES APPEAL TO HALT ATLANTA PUBLIC SAFETY TRAINING CENTER CONSTRUCTION
On Thursday, more than 100 protesters marched across UNC's campus chanting, "Jamie's not in class! We are not in class!" The demonstrators then entered an administrative building and read aloud an open letter urging university officials to reverse the decision against Marsicano, a second-year law student whom classmates described as a loving, supportive member of the school community.
Marsicano's attorney, Erin King, has said the charge against her client is baseless, noting that, by prosecutors' own admission, authorities do not have any evidence directly tying Marsicano to the scene. The arrests occurred near a music festival about 0.75 miles away, more than two hours after the attack took place, according to jail records. According to King, Marsicano was arrested near a food truck while eating dinner at the festival.
"To be clear, we do not have video surveillance of (Marsicano) on the scene or running from the scene," prosecutor Lance Cross said during a hearing last month at which Marsicano was granted a $25,000 bond. Prosecutors had called for Marsicano to be denied bond, saying she is an "anarchist" who was wearing muddy, black clothing and had been arrested in connection with protests in North Carolina in 2016 and 2017
Officers who stormed the festival following the attack looked for people who had muddy clothing, reasoning the vandals had gotten wet while crossing a creek to flee the construction site and blend in with the concertgoers, according to prosecutors. Activists, however, have called that evidence into question, noting that it had rained two days before and there were numerous patches of mud on the festival grounds.
Meghan Rankins is a friend and classmate of Marsicano's who helped organize Thursday's protest. Rankins said the university's Emergency Evaluation and Action Committee made a "ridiculous" decision in banning Marsicano from school grounds. Marsicano is a dean's fellow who mentors first-year law students.
"The judge that granted Jamie bond clearly deemed that Jamie was not a threat to any community," said Rankins, who uses they/them pronouns.
Atlanta Police say a group of 'violent agitators' left an area music festival and changed in the woods before charging the future site of the Atlanta Public Safety Training Center on March 5, 2023. (Atlanta Police Department)
University spokesperson Chloe McCotter declined to comment on Marsicano's status, citing the federal Family Educational Rights and Privacy Act, which protects educational records.
Rankins said Marsicano "challenges us to think in class" and is a resource for many who are facing struggles both inside and outside the classroom, especially when it comes to supporting those struggling with mental health.
"Jamie is just this glowing, bubbly, wonderful personality," they said. "She's deeply missed."
A trooper told FOX 5 that a protestor threw a Molotov cocktail. (Credit: FOX 5 Photojournalist Billy Heath)
From: FOX 5 Atlanta
Rankins said Marsicano has been living off-campus and is barred from attending in-person classes or participating virtually via Zoom, though Marsicano is able to watch livestream feeds of class.
School officials, in deciding to ban Marsicano from campus, have unfairly presumed Marsicano to be guilty, Rankins said.
"A primary tenet of our justice system is that we presume innocence," they said.
Activists from across the country have joined the "Stop Cop City" protest movement, arguing that officers at the 85-acre center would be trained to become more militarized and quell dissent, all while hundreds of trees are cut down, damaging the climate and flood mitigation in a poor, majority-Black neighborhood.
The Atlanta City Council approved building the training center in 2021, saying a state-of-the-art campus would replace substandard offerings and boost police morale, which is beset by hiring and retention struggles.