Trumps donate $1 million to 12 organizations for Harvey relief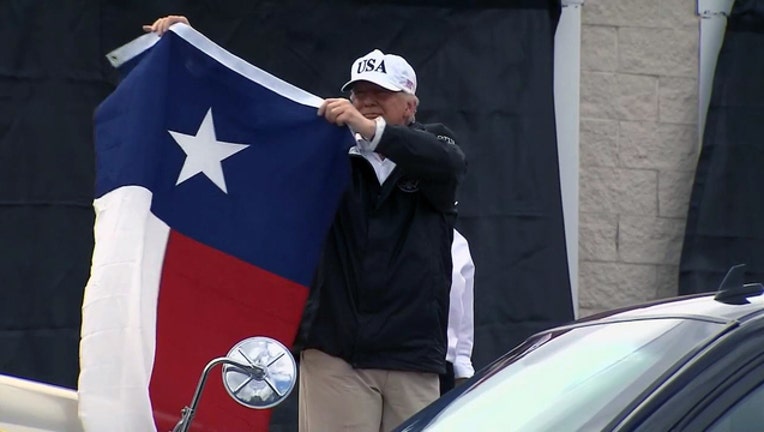 article
WASHINGTON (AP) — President Donald Trump and first lady Melania Trump are donating a total of $1 million to a dozen organizations involved in Harvey relief work, including the American Red Cross, the Salvation Army and Habitat for Humanity, the White House announced Wednesday.
The American Red Cross and Salvation Army will each receive $300,000; Samaritan's Purse and Reachout America will collect $100,000 each.
The Trumps are giving $25,000 each to eight other organizations: the American Society for the Prevention of Cruelty to Animals, Catholic Charities, Direct Relief, Habitat for Humanity, Houston Humane Society, Operation Blessing, Portlight Inclusive Disaster Strategies and Team Rubicon.
The White House said the donations are coming from the president's personal funds.
Harvey slammed into the Gulf Coast of Texas on Aug. 25 as a Category 4 hurricane. It was soon downgraded to a tropical storm but lingered for days, dropping up to 50 inches of rain on Houston and the surrounding area before moving eastward to Louisiana. Homes and roads spent days under feet of water.
The Trumps visited Corpus Christi, Texas, and Austin on Aug. 29. They returned to the region Saturday, visiting Houston and Lake Charles, Louisiana, which also was battered by Harvey. Vice President Mike Pence and his wife, Karen, also visited Texas.
"Our hearts are heavy with sadness for those who lost everything," Trump said Wednesday at an event in North Dakota to pitch his plan for overhauling the tax code.
"They've also filled us with hope," he said, speaking of having witnessed the "unyielding strength and resilience of the American spirit."
White House spokeswoman Lindsay Walters said the Trumps saw some of these groups in action while visiting with hurricane survivors, first responders, volunteers and government officials during their visits to the region. She said Trump and Mrs. Trump continue to pray for all who have been affected.
The American Red Cross said it is "grateful to the Trumps for their generous support of our mission."
The White House first said last week that Trump wanted to make a donation, and sought suggestions from journalists on where he should contribute.
"He would like to join in the efforts that a lot of the people that we've seen across this country do," White House press secretary Sarah Huckabee Sanders told reporters last week, two days after Trump first visited post-Harvey Texas.
"And he's pledging a million dollars of personal money to the fund," Sanders said "And he's actually asked that I check with the folks in this room, since you are very good at research and have been doing a lot of reporting into the groups and organizations that are best and most effective in helping and providing aid, and he'd love some suggestions from the folks here."
Trump met with three relief groups — the American Red Cross, Southern Baptist Relief and Salvation Army — in the Oval Office last Friday.
___
Follow Darlene Superville on Twitter: http://www.twitter.com/dsupervilleap