Trump, SKorea's leader returning to talks on trade, NKorea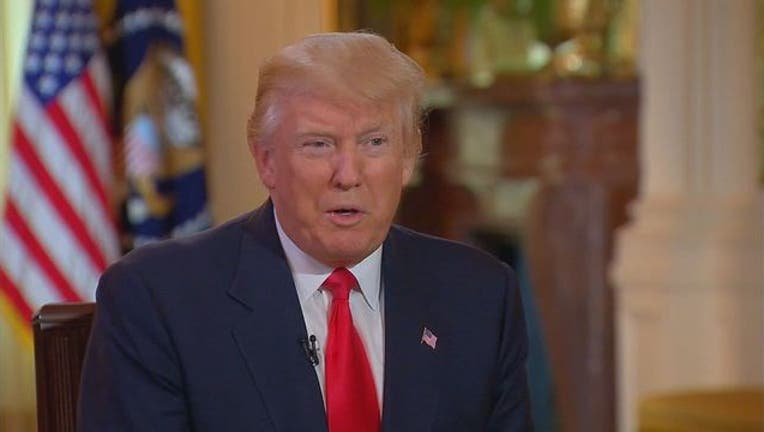 article
WASHINGTON (AP) - President Donald Trump on Friday will discuss North Korea and trade with South Korea's new leader, whose pro-engagement stance toward the North could clash with the U.S. administration's intent to crank up sanctions.
Trump welcomed South Korean President Moon Jae-in for formal talks at the White House. The two leaders had their first meeting over dinner Thursday, shortly after the Treasury Department blacklisted a Chinese bank accused of conducting millions in illicit business with North Korea.
The South Korean leader has sought to make clear to the U.S. that he is serious about dealing with his neighbor's threat, despite his inclination to restart dialogue with the North to address its nuclear weapons development.
Trump and Moon are meeting one-on-one in the Oval Office, then will hold talks involving other officials. Afterward, the two leaders will make statements to reporters.
Moon appeared to try to break the ice early on during Thursday's dinner, telling Trump that he also suffers from "fake news" coverage, prompting laughs. Trump has used the term to describe media reports he doesn't like.
Trump wrote on Twitter that they had a "very good meeting" and that they discussed North Korea and trade. Those discussions are expected to continue Friday.
As well as the shared concerns over Pyongyang's technological progress toward a nuclear-tipped missile that could strike the continental U.S, and the threat it already poses to Seoul, Trump will be pushing for a narrowing of the U.S. trade deficit with South Korea, which was $17 billion last year. He has been critical of a 2012 bilateral free trade agreement and barriers to U.S. auto exports.
South Korean companies on Thursday announced plans to import more American shale gas and build new factories in the U.S. that could help fend off the criticism.
Before Friday's talks at the White House, Moon laid a wreath at the Korean War Memorial monument near the Washington Mall. He was accompanied by Vice President Mike Pence, whose father served in the U.S. Army during the 1950-53 Korean War. Under the pale blue morning sky, they observed a moment of silence as a lone trumpeter played "Taps."
It was the second occasion during Moon's four-day visit that he has paid tribute to American veterans of that conflict. On Wednesday, he visited a memorial to Marines who fought in rearguard U.S. action in 1950 that enabled a mass evacuation of Korean civilians, including Moon's parents.
Moon then pledged to stand firmly with Trump. "Together we will achieve the dismantlement of North Korea's nuclear program, peace on the Korean Peninsula and eventually peace in Northeast Asia," he said.
Moon's conservative predecessor, who was impeached in a bribery scandal, took a hard line toward North Korea. Moon has sought to allay concerns that his softer stance could open fissures with Washington. In recent interviews he has said sanctions alone cannot solve the problem of North Korea's nuclear and missile programs, but the "right conditions" are needed for dialogue.
Adding to those concerns he has delayed the full deployment of a U.S. missile defense system, which is intended to defend South Koreans and the 28,000 U.S. troops based in the country, pending an environmental review.
__
Associated Press writers Josh Boak, Jill Colvin and Ken Thomas contributed to this report.