Trump can't say 'Hasta la vista' to 'Celebrity Apprentice'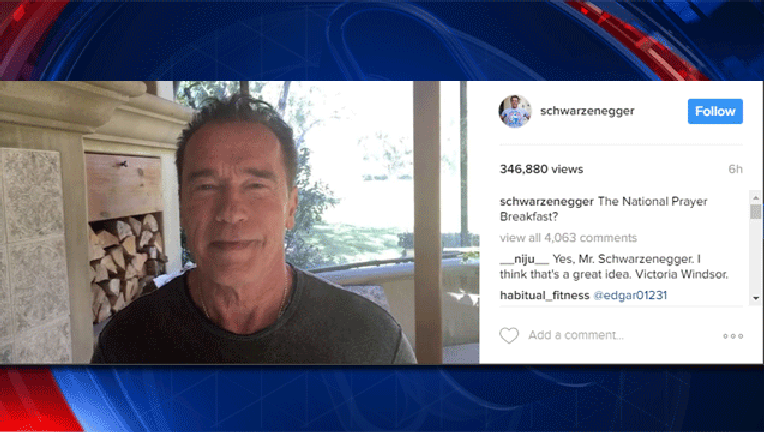 article
WASHINGTON (AP) - President Donald Trump can't seem to bring himself to say "Hasta la vista, baby" to "Celebrity Apprentice."
Twice in the past month, Trump, who once hosted the NBC reality TV show, has taken pot shots at the current host, actor and former California Gov. Arnold Schwarzenegger, over a ratings nosedive.
Trump's latest dig at his fellow Republican came as the president made his first appearance at the National Prayer Breakfast, an unusual forum for TV talk. But it just goes to show that when it comes to the program Trump helped create, it almost seems as if he wishes he could say "I'll be back" instead.
"When I ran for president, I had to leave the show," Trump told the more than 2,000 people attending the breakfast at a Washington hotel. "They hired a big, big movie star, Arnold Schwarzenegger, to take my place. And we know how that turned out. The ratings went right down the tubes."
"It's been a total disaster, and Mark will never, ever bet against Trump again," the president said, referring to Mark Burnett, the show's producer who hired Schwarzenegger after NBC severed ties with Trump in August 2015 following his comments about Mexican immigrants.
"I want to just pray for Arnold if we can," Trump said.
Schwarzenegger responded quickly in a brief video on his verified Twitter account, suggesting that he and Trump switch jobs.
"You take over TV because you're such an expert in ratings," the "Terminator" star says in the video, captioned "The National Prayer Breakfast?" ''And I take over your job and then people can finally sleep comfortably again. Hmm?"
Schwarzenegger's audience for his early January debut as the show's host was a disappointing 5 million viewers, according to the Nielsen company. Viewership dropped to 3.9 million viewers in the second week.
The season-to-date average for the first month was 4.7 million viewers, compared to 7.6 million viewers for Trump's final season in winter 2015.
White House spokesman Sean Spicer later explained Trump's "Apprentice" comments by saying he was just trying to have a "light-hearted moment" with Burnett, a personal friend of Trump's and a longtime supporter of the breakfast. Burnett introduced Trump at the event.
The back-and-forth between Trump and Schwarzenegger had the feel of a WrestleMania "feud" meant to drive up audience interest - and ratings. Trump, who helped conceive and build the "Apprentice" franchise with Burnett, retains a financial stake in the shows and is listed as an executive producer.
Trump has said it's a courtesy title for which he is doing no work. He has not detailed how much money he's making from this season.
Financial disclosures Trump filed during the campaign show his company, Trump Productions, earned about $5.9 million from "The Apprentice" shows in 2015.
Daniel Ketchell, Schwarzenegger's representative, said he learned about Trump's remark right after it happened. Then he called Schwarzenegger. The actor watched a replay and posted the video response within a half hour, Ketchell said.
"It's become an unfortunate part of my job," Ketchell said with a laugh, "to call Arnold at six in the morning to tell him what the president has said about the 'Apprentice' ratings."
Thursday wasn't the first time Trump has criticized Schwarzenegger over the ratings. Trump tweeted last month that Schwarzenegger was "swamped" in his "Celebrity Apprentice" debut "by comparison to the ratings machine, DJT."
Schwarzenegger responded then, too. He urged Trump to work as hard for the American people as he did for his ratings.
___
AP Television Writer Frazier Moore in New York and Associated Press writer Julie Bykowicz in Washington contributed to this report.
___
Follow Darlene Superville on Twitter: http://www.twitter.com/dsupervilleap