Trump blasts Russia sanctions bill -- but still signs it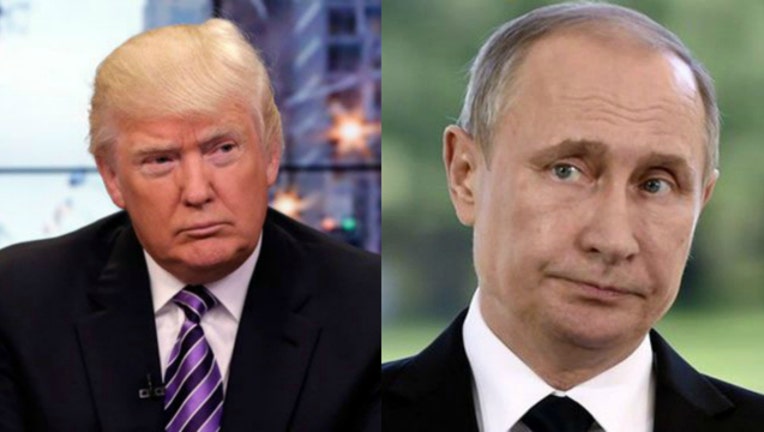 article
WASHINGTON (AP) — Dealt a striking congressional rebuke, Donald Trump grudgingly signed what he called a "seriously flawed" package of sanctions against Russia on Wednesday, bowing for the moment to resistance from both parties to his push for warmer ties with Moscow.
Trump signed the most significant piece of legislation of his presidency with no public event. And he coupled it with a written statement, resentful in tone, that accused Congress of overstepping its constitutional bounds, impeding his ability to negotiate with foreign countries and lacking any ability to strike deals.
"Congress could not even negotiate a health care bill after seven years of talking," he said scornfully of lawmakers' recent failure to repeal "Obamacare" as he and other Republicans have promised for years. "As president, I can make far better deals with foreign countries than Congress."
Still, he said, "despite its problems, I am signing this bill for the sake of national unity."
It was powerful evidence of the roadblock Congress has erected to Trump's efforts to reset relations with Russia at a time when federal investigators are probing Moscow's interference in the U.S. presidential election and possible collusion by the Trump campaign.
The legislation is aimed at penalizing Moscow for that interference and for its military aggression in Ukraine and Syria, where the Kremlin has backed President Bashar Assad.
The law also imposes new financial sanctions against Iran and North Korea.
Trump said the law will "punish and deter bad behavior" by the governments of Iran and North Korea as well as enhance existing sanctions on Moscow. But he made no secret of his distaste for what the bill does to his ability to govern.
"The bill remains seriously flawed — particularly because it encroaches on the executive branch's authority to negotiate," he said.
Last week, the House overwhelmingly backed the bill, 419-3, and the Senate rapidly followed, 98-2. Those margins guaranteed that Congress would be able to beat back any veto attempt.
Trump has repeatedly cast doubt on the conclusions of U.S. intelligence agencies that Russia meddled in the 2016 campaign with the intention of tipping the election in his favor.
He's blasted the federal investigation as a "witch hunt."
Sen. John McCain, R-Ariz., called the president's concerns over the bill misplaced.
"Vladimir Putin and his regime must pay a real price for attacking our democracy, violating human rights, occupying Crimea and destabilizing Ukraine," McCain said. "Going forward, I hope the president will be as vocal about Russia's aggressive behavior as he was about his concerns with this legislation."
Trump's talk of extending a hand of cooperation to Putin has been met by skeptical lawmakers looking to limit his leeway. The new measure targets Russia's energy sector as part of legislation that prevents Trump from easing sanctions on Moscow without congressional approval.
Russia wasn't pleased. Putin responded on Sunday by announcing the U.S. would have to cut 755 of its embassy and consular staff in Russia. And Prime Minister Dmitry Medvedev said in an emotional Facebook post Wednesday that "Trump's administration has demonstrated total impotence by surrendering its executive authority to Congress in the most humiliating way."
The congressional review section of the bill that Trump objects to was a key feature for many members of Congress.
Trump will be required to send a report explaining why he wants to suspend or terminate a particular set of the sanctions on Russia. Lawmakers would then have 30 days to decide whether to allow that.
Secretary of State Rex Tillerson echoed the president's sentiments that the measure poses more diplomatic hindrances than solutions.
"Neither the president nor I are very happy about that," Tillerson said Tuesday. "We were clear that we didn't think that was going to be helpful to our efforts, but that's the decision they made."
Sean Kane, a former official with the Treasury Department's Office of Foreign Assets Control, said the Obama administration had sought similar wiggle room when negotiating Iran sanctions with lawmakers.
"These issues have come up before where an administration wants flexibility in place in a deal that would potentially lift sanctions, and Congress wants to tie the administration's hands in some ways," said Kane, now at the law firm Hughes Hubbard & Reed.
Trump said that Congress had "included a number of clearly unconstitutional provisions."
Last winter, just before Trump was sworn in, a bipartisan group of senators unveiled a bill designed to go beyond the punishments already levied against Russia by the Obama administration and to demonstrate to Trump that forcefully responding to Moscow's election interference wasn't a partisan issue.
Action on Russia sanctions didn't really pick up until late May, when Sen. Bob Corker, R-Tenn., chairman of the Foreign Relations Committee, threw his support behind the effort. The bill underwent revisions to avoid inadvertently undercutting U.S. firms or interfering with how European allies acquire energy.
Lawmakers on both sides of the aisle celebrated the passage and signing.
House Speaker Paul Ryan, R-Wis., said the bill sends a "powerful message to our adversaries that they will be held accountable for their actions."
But the House's top Democrat said Trump's statement calling the bill "seriously flawed" raises questions about whether his administration will follow the law. Minority Leader Nancy Pelosi said the Republican-led Congress must not allow the White House to "wriggle out of its duty to impose these sanctions for Russia's brazen assault on our democracy."
___
Associated Press writer Josh Lederman contributed to this report from Washington.