Trucking company, driver indicted in crash that killed 5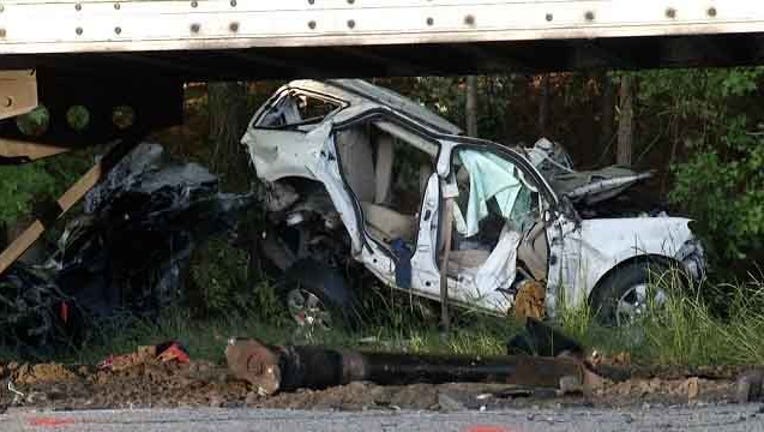 article
ATLANTA (AP) — A grand jury has indicted a tractor-trailer driver and his employer accused of causing a fiery interstate crash that killed five Georgia Southern University nursing students.
The Bryan County grand jury on Wednesday indicted John Wayne Johnson of Shreveport, Louisiana, on nine counts and truck company Total Transportation on seven counts in the April 22, 2015 crash. A tractor-trailer on Interstate 16 slammed into the students' car during stop-and-go traffic backed up by an unrelated wreck.
The victims included Amber DeLoach, Emily Clark, Caitlyn Baggett, McKay Pittman and Morgan Bass. All of the women who died were between 20 and 21 years old.
Johnson and Total Transportation of Mississippi were charged with five counts of homicide by vehicle in the first degree and serious injury by vehicle, the indictment stated. Johnson was also charged with one count of reckless driving, one count of failure to exercise due care and one count of following too closely.
Total Transportation is also separately charged with one count of serious injury by vehicle in the first degree and one count of criminal responsibility of corporations. A second indictment seeks to hold Total Transportation criminally responsible under a Georgia law that allows charges to be brought against corporations.
Vehicular homicide in the first degree carries a penalty of three to 15 years in prison for each count.
David Dial, an attorney for Total Transportation, declined to comment. An email to the lawyer of Johnson was not immediately returned.
After civil lawsuits were filed in the crash, legal depositions revealed that Total Transportation hired Johnson even after the truck driver disclosed he was fired by a previous employer for falling asleep at the wheel. Johnson acknowledged under oath the deadly I-16 crash was his fault, but insisted he was awake.
The Georgia crash happened just before 6 a.m. He said the cruise-control on his truck was set at 68 mph and other vehicles had been passing him before the collision.
Johnson said his truck was equipped with a collision warning system that was supposed to beep if he got too close to other vehicles, but he never heard it. Johnson also told lawyers he didn't recall crashing into the two vehicles carrying the nursing students, just hitting the back of a tanker truck that had been idling in front of them.
Johnson walked away from the crash uninjured.
In April, attorney Render Freeman, who represents the mother of crash victim McKay Pittman, said the Pittman family alone would receive $14 million in a settlement with Total Transportation.
___
Associated Press writer Russ Bynum in Orlando contributed to this report.