The Latest: Trump, May meet to discuss trade, security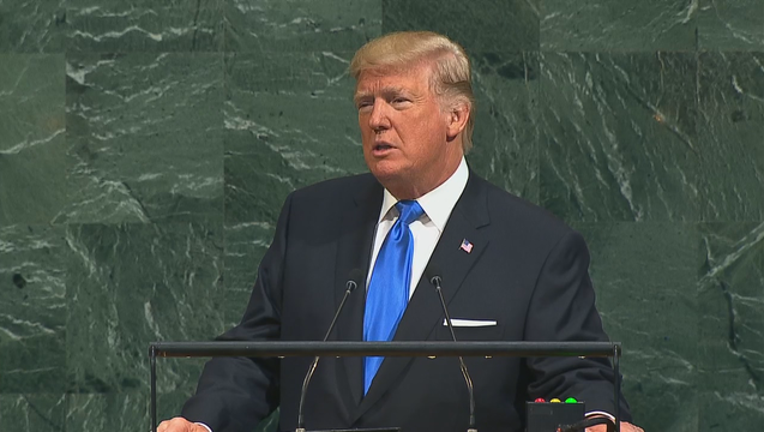 UNITED NATIONS (AP) - The Latest on President Donald Trump (all times local):
3:45 p.m.
President Donald Trump and British Prime Minister Theresa May are meeting on the sidelines of an annual United Nations gathering.
They spoke briefly to the news media Wednesday before taking their talks behind closed doors. Trump focused on trade matters. May said they would also discuss security and defense issues.
Trump appeared to anger May last week after a bombing attack on the London subway. No one was killed, but Trump tweeted that the attack was carried out by "sick and demented people who were in the sights of the British police." May responded that it's never helpful to speculate on an ongoing investigation.
Neither leader addressed the attack in their public remarks Wednesday in New York.
___
2 p.m.
President Donald Trump says he's interested in boosting U.S. investment in Africa to help create jobs and opportunity on both sides of the Atlantic.
He's also telling African leaders at a luncheon in New York that he hopes their businesses will consider investing in the U.S., too.
Trump says Africa has tremendous business potential. He says he knows that because "I have so many friends going to your countries trying to get rich."
The president is hosting the leaders of Ghana, South Africa, Nigeria, Ivory Coast, Ethiopia, Guinea, Senegal, Namibia and Uganda for lunch during the annual U.N. General Assembly session.
Trump says when he sees these leaders he sees "partners" for promoting prosperity and peace.
___
1:55 p.m.
German's chancellor Angela Merkel is rejecting President Donald Trump's approach to dealing with North Korea.
Angela Merkel (AHN'-geh-lah MEHR'-kuhl) tells a told German broadcaster that she "clearly" disagrees with Trump.
Trump - in a speech to the United Nations - pledged to "totally destroy North Korea" if the U.S. is forced to defend itself or its allies against the North's nuclear weapons.
Merkel is offering help negotiating a solution with North Korea. She notes that Germany played a role in talks with Iran to limit its nuclear program.
___
12:45 p.m.
President Donald Trump has spoken to the president of Mexico about the earthquake that struck Mexico.
White House press secretary Sarah Huckabee Sanders says Trump "had a lengthy call" with Enrique Peña Nieto.
More than 220 people have been confirmed killed by the 7.1 magnitude earthquake that hit Tuesday.
It's Mexico's deadliest earthquake since 1985.
Trump received some criticism for waiting days to call Peña Nieto after a previous earthquake struck Mexico earlier this month.
Trump blamed it on the Mexican president's poor cell service in a mountainous region.
____
10:01 a.m.
President Donald Trump and the king of Jordan are vowing to continue working together to fight terrorism in the Middle East.
The meeting was the first of several scheduled for Trump in New York along the sidelines of the United Nations on Wednesday.
Trump touted the ties between the two nations, saying "never has the relationship been better than it is right now."
He also praised King Abdullah II's efforts to take in a wave of refugees from war-torn Syria.
In turn, the king praised the two nations' "special relationship" and denounced terrorism as "a scourge around the world."
Trump and the king have forged close ties and the Jordanian leader assured the president that his nation would "always stand beside you and your country."
____
8:00 a.m.
Former Secretary of State John Kerry says President Donald Trump's United Nations speech may have put America in isolation and danger.
Appearing on MSNBC's "Morning Joe" show Wednesday, Kerry criticized Trump's harsh rhetoric against North Korean leader Kim Jong Un.
Kerry said, "You have to ask yourself: Is America safer because of 'rocket man?" He was referring to Trump's characterization of Kim.
Kerry said that kind of harsh language will make it harder for the United States to engage in diplomacy on North Korea and other international issues.
Kerry also charged that Trump emphasized his "America First" mantra mostly to please his supporters at home rather than the world community. "You give a speech at the United Nations to bring people to the table," he added.
___
3:40 a.m.
President Donald Trump has vowed to "totally destroy North Korea" if the U.S. is forced to defend itself or its allies against the renegade nation's nuclear weapons program, making his case in a combative debut speech to the U.N. that laid out a stark, good-vs-evil view of a globe riven by chaos and turmoil.
Trump's broadsides Tuesday against "rogue regimes," North Korea chief among them, drew murmurs from the assembled world leaders and served as a searing salute to his nationalism during diplomatic prime time. He said it was "far past time" for the world to confront Kim Jong Un, declaring that the North Korean leader's pursuit of nuclear weapons poses a threat to "the entire world with an unthinkable loss of human life."
"Rocket man is on a suicide mission for himself and his regime," Trump said, mocking the North Korean leader even as he sketched out potentially cataclysmic consequences. The president himself decided to work the nickname into his speech just hours before he took the dais, according to aides.