13-year-old girl kidnapped from Texas waves 'help me' note to people passing by in LA County
LONG BEACH, Calif. - A man who allegedly kidnapped a 13-year-old girl at gunpoint in Texas, then repeatedly sexually assaulted her while driving her to Long Beach, where she was rescued by waving a "help me" note to passersby, was indicted Thursday on a pair of federal charges.
Steven Robert Sablan, 61, of Cleburne, Texas, was charged in the indictment with one count each of kidnapping and transportation of a minor with intent to engage in criminal sexual activity, according to the U.S. Attorney's Office. He is scheduled to be arraigned in downtown Los Angeles July 31.
STORY UPDATE: New video shows moments after alleged kidnapping of girl holding 'help me' sign comes to dramatic end
According to federal prosecutors, the girl was walking in San Antonio on July 6 when Sablan pulled alongside her in a gray Nissan Sentra, pointed a gun at her and ordered her into the car. He drove away with the girl and allegedly asked how old she was, and she told him she was 13, prosecutors said.
The girl also told him she had a friend in Australia, and Sablan allegedly told her that he could take her to a cruise ship so she could visit the friend, "but she had to do something for him first," prosecutors said. Sablan allegedly repeatedly sexually assaulted the girl and began driving her to California, sexually assaulting her at least two more times along the way, according to prosecutors.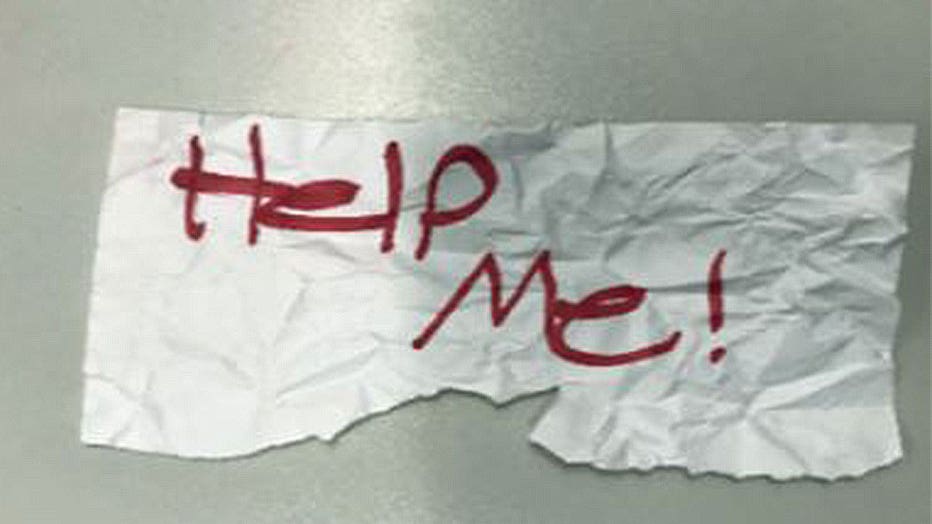 In this undated photo released by the U.S Department of Justice is a "Help Me!" sign used by a 13-year-old girl kidnapped in Texas. The girl was rescued in Southern California on July 9, 2023, when passersby saw her hold up the sign in a parked car,
On July 9, Sablan parked the car in Long Beach and went into a laundromat to wash their clothes, prosecutors said. While he was away, the girl -- still in the car -- wrote "Help Me" on a note and showed it to people passing by, prompting one of them to call police.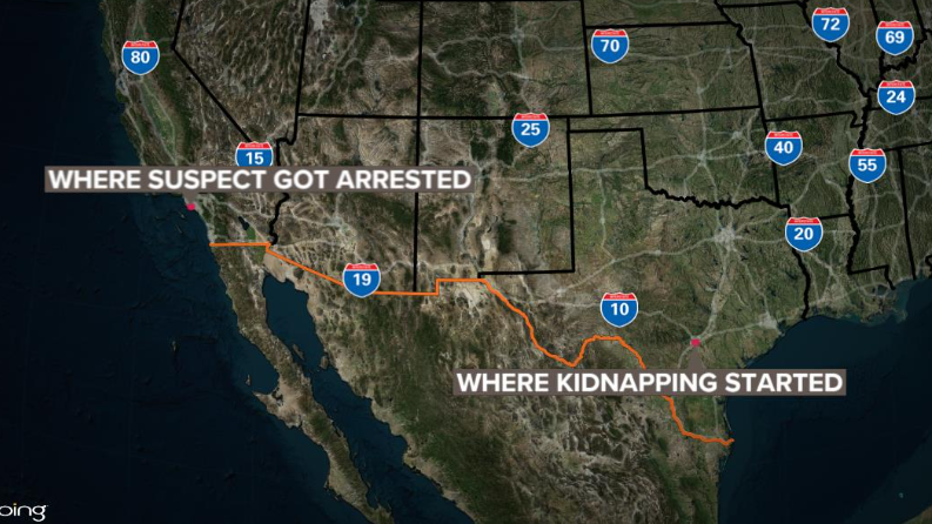 Responding officers found the girl, and she mouthed the word "help" to them, according to prosecutors.
Long Beach police located and arrested Sablan.
"I want to commend our community members for their vigilance and willingness to get involved by calling 9-1-1," Long Beach police Chief Wally Hebeish said in a statement. "This incident highlights the critical role community members play in keeping people safe. I would also like to acknowledge our officers for their swift response and actions which led to getting this victim to safety."
Officers searching the suspect's car found the girl's "help me" note, as well as a black BB gun and a pair of handcuffs, according to the U.S. Attorney's Office. Prosecutors said the girl had been reported as a runaway in San Antonio.
Sablan could face life in federal prison if convicted as charged, prosecutors said.
Are you or someone you know a recent survivor of sexual assault? Help is available. Rape, Abuse & Incest National Network (RAINN) provides a 24/7 national sexual assault hotline, which can be reached at 1-800-656-4673.