Ted Lerner, Washington Nationals owner and real estate tycoon, dies at 97
WASHINGTON - Ted Lerner, the billionaire real estate developer who became the principal owner of the Washington Nationals and who controlled the team in the years leading up to their World Series championship run, has died. He was 97.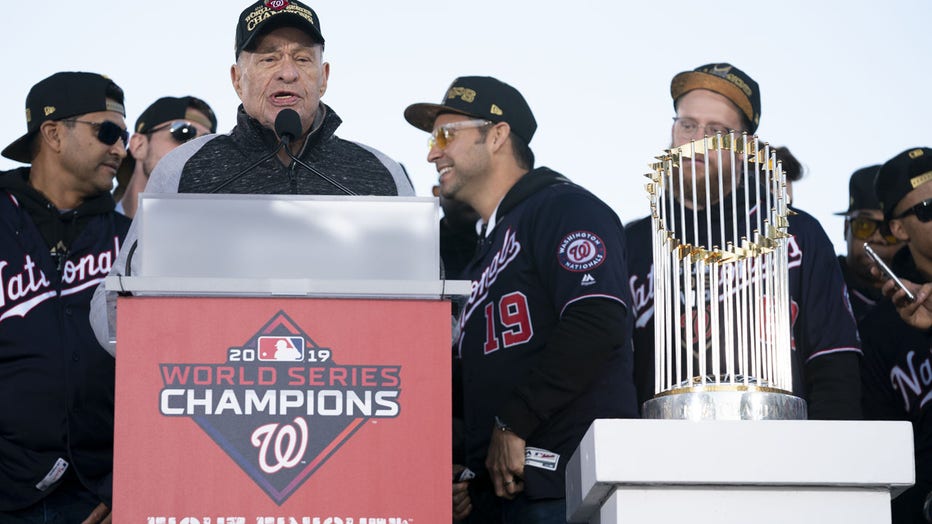 Washington Nationals owner Ted Lerner speaks during a parade to celebrate the Washington Nationals World Series victory over the Houston Astros on November 2, 2019 in Washington, DC. This is the first World Series win for the Nationals in 95 years. (
The news was confirmed by the Nationals Monday.
Lerner bought the team from Major League Baseball in 2006, the year after the franchise moved from Montreal.
He stepped aside as managing principal owner in 2018 and was succeeded by his son Mark Lerner.
At the time, Lerner told the Associated Press that owning a team in his hometown was always a dream and he knew his son eventually would run the club.
The Nationals went on to win the World Series in 2019.
In 2022. the Lerner family announced they were exploring the possibility of selling the franchise.
Forbes valued the team at $2 billion.