Tavores Henderson's mom, her boyfriend in custody after bond raised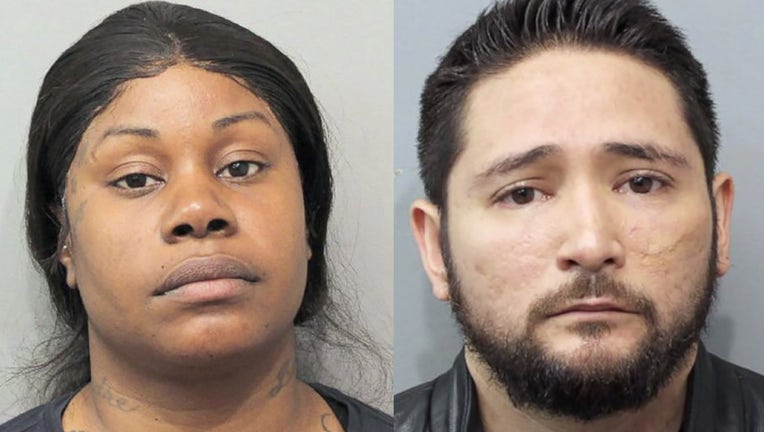 article
HOUSTON - The mother of Tavores Henderson and the mother's boyfriend were taken into custody Monday morning after a judge raised their bonds.
Tavores Henderson is charged with capital murder for the death of Nassau Bay police Sgt. Kaila Sullivan.
According to investigators, Henderson's mother Tiffany Henderson and her boyfriend, Geoffrey Wheeler, helped Tavores hide from officers after he killed Sgt. Sullivan.
Tiffany Henderson and Geoffrey Wheeler are charged with hindering apprehension. They were both out on bond this weekend.
On Monday, a judge raised Tiffany and Wheeler's bond, and they were both taken back into custody. Wheeler was taken into custody on a $50,000 bond. Tiffany's bond went up to $125,000. Tiffany also has a $60,000 bond for an assault charge from October 2019.
"It has been a tragic situation to everyone. Especially to the victims of this situation and everyone is so sorry about that. Our hearts go out to them. My son's heart is heavy," says Malou Wheeler.
"He was just at the wrong place at the wrong time with the wrong people. He's a good kid," says Mrs. Wheeler.
Tavores Henderson was also expected to appear in court Monday morning, but the date was reset to February 27. Tavores is charged with capital murder and is being held without bond.
According to court records, Henderson told officers he was in Nassau Bay "to get drugs" and was on the phone with his mother when officers tried to arrest him. The document goes on to say Henderson told officers he "took off because he was scared," running over Sgt. Sullivan. 
"We express our deepest sympathy to the family of the victim, Sgt. Sullivan. May her gentle soul rest in peace but I won't say anything about the case at this time," says Wheeler's attorney, Stella Andrews.
Tavores was taken into custody Thursday afternoon after a manhunt that lasted more than a day.
Sgt. Sullivan's 16th anniversary with Nassau Bay would have been two days after Christmas. A funeral service will be held this week.