After her second defeat, Stacey Abrams reveals she 'will likely run again'
During her appearance on "The Drew Barrymore Show," Democratic gubernatorial candidate Stacey Abrams revealed her intentions to run for political office again.
The failed Georgia gubernatorial candidate appeared on the talk show Monday where the topic focused on Abrams' voter initiatives. Barrymore, who previously called Abrams an "amazing" gamechanger, questioned whether she plans to run for office.
"So what's next? Are you gonna run again? Do we get to look forward to this and galvanize again?" Barrymore asked.
"I will likely run again," Abrams answered to cheers from the audience.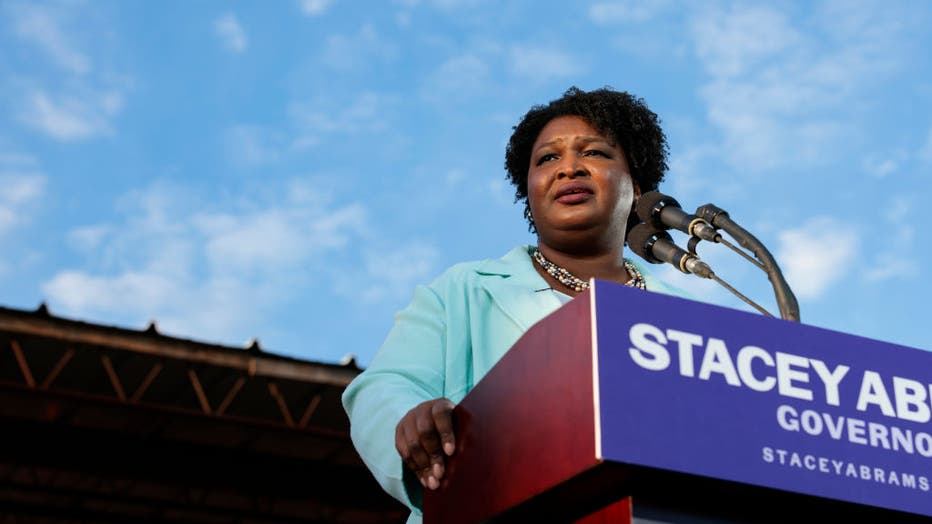 Stacey Abrams speaks during a campaign rally on March 14, 2022 in Atlanta. (Photo by Anna Moneymaker/Getty Images)
Though Abrams admitted that she didn't know "when" she'd run again, Barrymore applauded the answer and questioned whether she plans to run against "tough men" who "don't always play fair."
"Well, if at first you don't succeed, try, try again. And if it doesn't work, you try again. But this issue is, what did you learn? Did you learn about yourself? What did you learn about your opponent and making sure you're always remembering why you're doing it," Abrams said.
Abrams recently lost her second bid for Georgia governor against Gov. Brian Kemp, R., in November. It was a rematch from 2018, where she initially refused to concede the election. Abrams has since suggested that Republicans "stole" the election from her through voter suppression tactics and has continued to attack Kemp for pushing voter suppression through his election security law.
During the show, Abrams continued to push her efforts to promote voter registration.
"Part of my job, I run for office yes, but my first responsibility is to make sure anyone who wants to vote can, who is eligible. I want you to vote for me when you get in there, but protecting democracy is not about a person. It's about the ideal. Our democracy is this collective hallucination we have where we say we're going to work together to help each other and if anyone blinks and comes out of it like the Matrix, it starts to fall apart. That's why it's so vital that regardless of who you vote for, your voice matters because your silence is also permission," Abrams said.
She added, "We have to remember the reason that voting was denied to so many for so long, women, people of color, young people, non-property owners, every time we advance access to the vote, we're advancing access to society."
Although several media members similarly criticized Georgia's election security, the state reported record levels of voter turnout for the primary, general and runoff elections.