Smartphone catches fire in Roswell, fire department issues warning
ROSWELL, Ga. - The Roswell Fire Department has issued a warning after they responded to a fire on Wednesday that was caused by a smartphone that overheated.
Firefighters responded to a call at a home on Mansell Road at 8:49 a.m. Upon arrival, they discovered the resident had already extinguished the fire and had moved the burning phone from a bed to a sink. No one was injured during the incident.
"Electronic devices, including smartphones, contain lithium-ion batteries that store significant energy and generate heat during use," explained Roswell Fire Chief Joe Pennino. "To prevent potential hazards, it is crucial to exercise caution and adhere to safety guidelines. Placing electronic devices on flammable surfaces with limited ventilation, such as beds or upholstered furniture, can lead to heat accumulation and increase the risk of fires."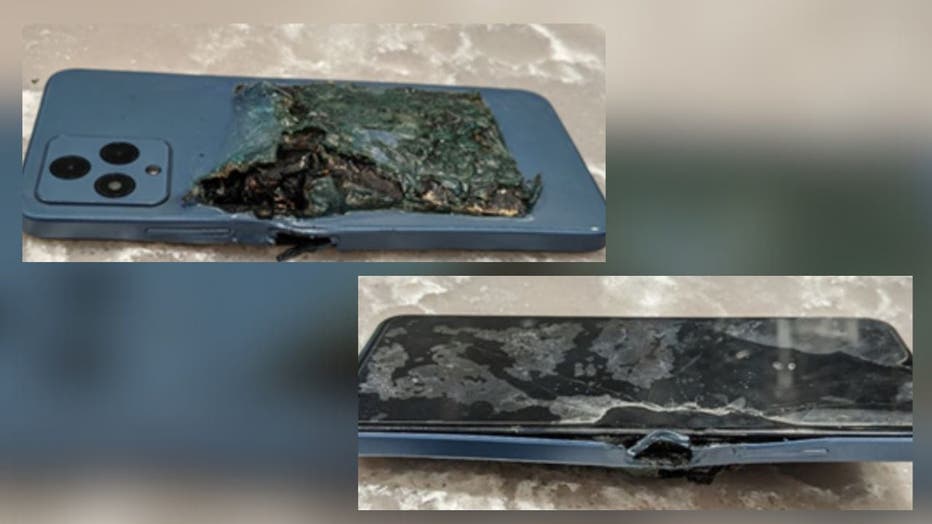 Tips to avoid fires sparked by cellphones
The following tips are how to avoid the most common ways that cellphone can spark fires:
Avoid placing smartphones or any electronic devices on flammable surfaces, including beds, sofas, or other upholstered furniture.
Ensure proper ventilation around electronic devices to dissipate heat effectively.
Never leave electronic devices unattended while charging or during extended usage periods.
Regularly inspect and maintain electronic devices, checking for any signs of overheating, such as excessive heat, unusual sounds, or malfunctioning.
Familiarize yourself with manufacturer guidelines and warnings regarding device usage and charging.
The Roswell Fire Department urges everybody to prioritize safety and take proactive measures to prevent fires from occurring. By exercising caution and practicing responsible device usage, we can minimize the potential for fires in our homes and loved ones.
To learn more about steps you can take to protect your family from fires, please visit www.nfpa.org/public-education.